LOS ANGELES (RNS) — For Melissa Smith, who is from the South and has worked in the hospitality industry, community is a big part of who she is.
"I didn't know anything about coworking, I just knew there was this need to gather," Smith said. "It's very easy to feel isolated in Los Angeles."
But another big part of Smith's life is her faith, so six years ago when she started Epiphany Space, a coworking office for creative professionals in Hollywood, she did so through a Christian lens.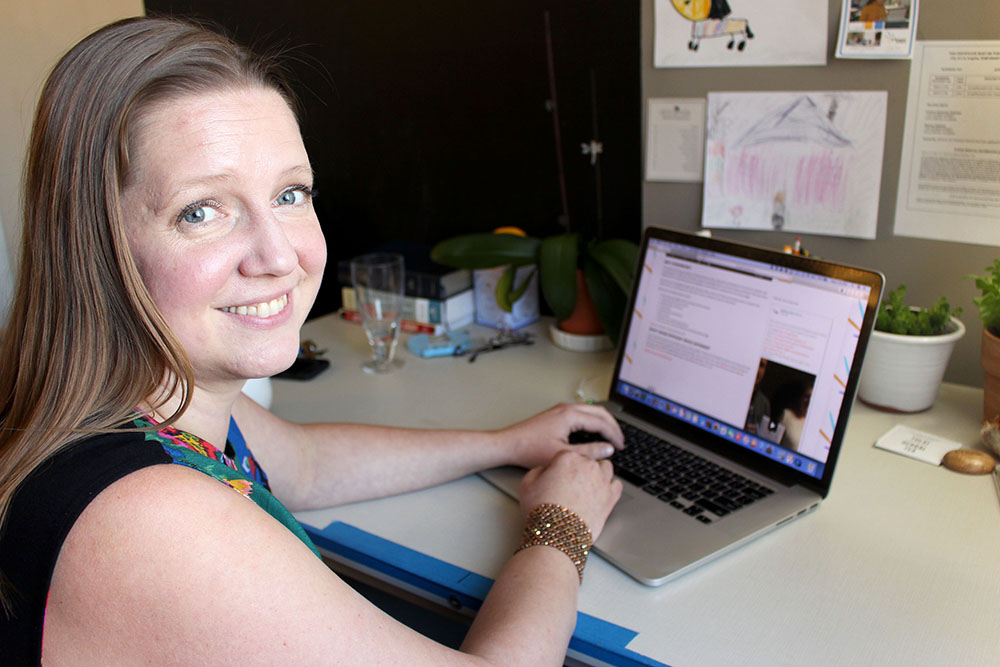 "You can go to a coffee shop, you can go to a library, but those places you're not necessarily building intentional relationships," Smith said.
The number of coworking offices in the U.S. has grown exponentially over the past few years. According to the 2019 Colliers International flexible workspace report, there were fewer than 300 coworking spaces in the U.S. in 2010. At the end of 2017, there were more than 4,000.
In Dallas, Raleigh-Durham, N.C., Boston and Seattle, the number of coworking spaces has doubled in less than two years.
People are flocking to coworking spaces because they are often less expensive than renting out a dedicated office for your business. Plus, many coworking offices come with administrative staff, access to printers, Wi-Fi and meetings rooms. But they are also popular for the social benefits: free coffee and snacks, regular happy hour events, "Zen rooms" and showers.
Building community among the many freelancers, remote workers and small businesses that work in these shared offices is part of the goal for most coworking spaces. It was the goal for Smith too when she started Epiphany Space.
In LA's Epiphany Space those relationships are built with both Christians and non-Christians, through workshops, open-mic nights and simply working alongside each other. Only about half the community at Epiphany Space is Christian and there's no mention of it on the website.
"I never designed Epiphany to be a Christian Club," Smith said. "We have conversations about God, we pray for one another, but we don't force our beliefs or perspectives on anybody."
Instead, Smith's faith and Epiphany Space's Christian connection come out through how she runs it. There are Bibles scattered around and there is a prayer room (though it can also be used for meetings or phone calls). She encourages Christian members to pray for one another. Even so, a visitor might not identify it as having Christian roots until starting to work there and talking to the people. That's how Smith wants it.
"I think it's easy for a Christian to create a bubble and stay in it and not have a sense of what's happening in the world," Smith said. "Our purpose is to create space for people to be able to thrive and for art to be able to be cultivated."
Smith also tries to approach her members with Christian values in mind. One monthly member was out of a job. She knew that at the end of the month she'd also be out of money and her time at Epiphany Space would come to an end.
"I looked at her and said, 'Just come,'" Smith said. "At some point you can pay it forward."
That member soon started getting freelance work and is now back on her feet.
"If we had just said, 'We're a business, too bad, see ya,' she would've spiralled into depression and isolation and it would've made that journey a whole lot more difficult," she said.
All the Epiphany Space users are artists, so Smith understands the importance of affordability — something she's able to provide by keeping things modest. While some coworking offices offer high-end coffee, nice desks and a rooftop deck, Epiphany Space has mostly mismatched, donated furniture and most of the office is dedicated to open common areas. It might not be for everyone, but for the artists at Epiphany Space it has charm.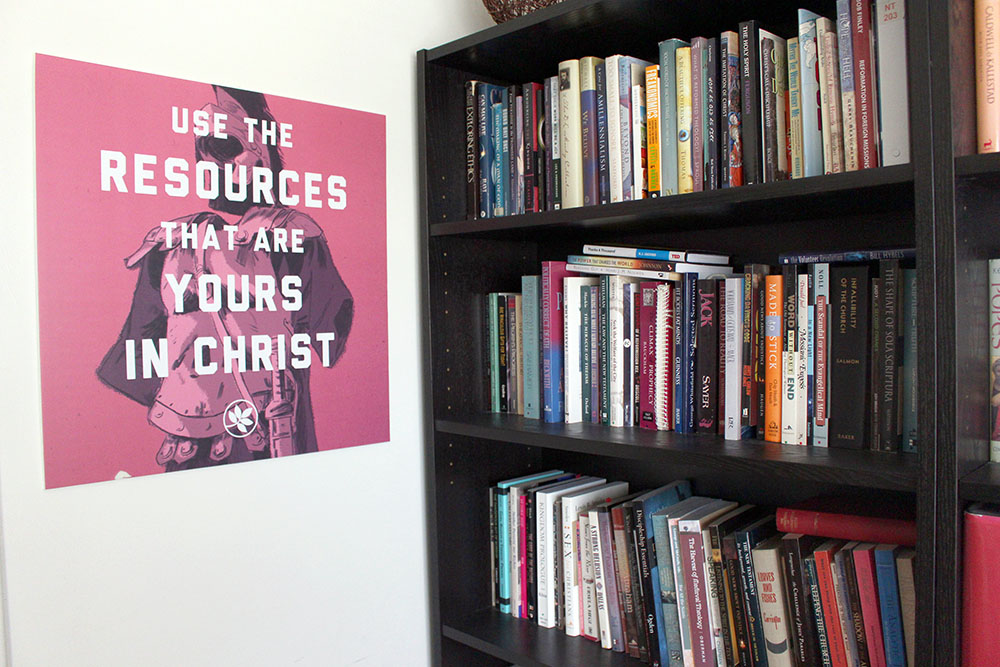 In Los Angeles, WeWork, an established coworking franchise, can cost more than $400 (U.S.) a month to access the office's open floor plan in the common areas and more than $5,000 a month for team offices. But Epiphany Space charges $20 per day, $75 per week or $200 a month for its packages.
It's also important to Smith that Epiphany Space stay in Hollywood. She hopes to continue to grow but has no intention of becoming the next WeWork type franchise.
"Hollywood is an idea. It is an industry. It means something in culture," she said. "Hollywood means so many things."
Christians aren't the only religious faithful who are pioneering these types of coworking communities.
Shahed Amanullah co-founded Affinis Labs, recently acquired by Frost Capital, to help cater to businesses with Islamic values by connecting them to like-minded entrepreneurs and offering classes and networking opportunities.
Some of these companies, for example, are in modest fashion or charitable giving, such as LaunchGood.
Modest fashion, he said, is an Islamic value but the company doesn't market it that way — it's for anyone who wants to dress modestly.
"Even though it comes from this space that was informed by Islamic values and heritage and tradition, maybe there's something in it for everybody," Amanullah said. "We're trying to connect like-minded people so we can have a conversation."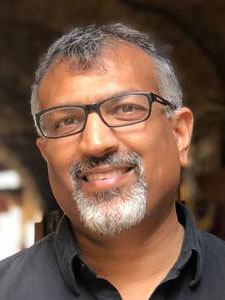 For Amanullah, though, he isn't interested in supporting businesses that only cater to the Muslim community, adding that Affinis Labs turned down people who have come to him with ideas or business ventures like a Muslim Facebook or a Muslim YouTube.
"Are you just seeking to wall yourself off from the rest of the world?" he asked. "Or are you seeking to blossom as a religious community so that the rest of the world can benefit from it?"
He said all religious businesses will come to this fork in the road — when they have to decide if they are cutting themselves off from those outside their tradition or trying to benefit a wider community.
But for those who want to be included in Affinis Labs, "The whole point is by us, for everybody," he said.
For Amanullah it's more than the physical building, which is why Affinis Labs created a virtual building, connecting people through a platform all over the world.
"If we have a coworking space in DC, that's a tiny piece of the global market that can actually come to our physical space," he said. "We realized early on we have to think way beyond a coworking space."
But for SketchPad, a coworking space in Chicago dedicated to Jewish nonprofit companies with a social mission, the physical location is important.
For many of the people now at SketchPad, their organizations were already working together constantly but their offices weren't near each other — and many of them were in buildings that didn't fit their needs. Irene Lehrer Sandalow, SketchPad's director, had a vision to bring the companies together to fit all their needs and be able to easily collaborate on projects that overlap.
"We spend so much time scheduling," Sandalow said. "Instead, people here can just walk over and say, 'I'm thinking about this. What do you think? Can we talk about it?'"
It's also useful to know what companies are out there, so they aren't duplicating efforts, Sandalow said.
Beyond encouraging collaboration, SketchPad puts a significance on Jewish values in how the coworking space is operated.
One such Jewish value is hospitality — hachnasat orchim. SketchPad works hard to make sure everyone feels welcome. For example, the bathrooms are ADA accessible and gender neutral. SketchPad also values environmental justice, so the coworking space recycles and composts.
SketchPad plans to keep expanding who and what it embraces.
"We keep bringing it up," Sandalow said. "Everybody here is involved in the different elements that makes Sketchpad Sketchpad."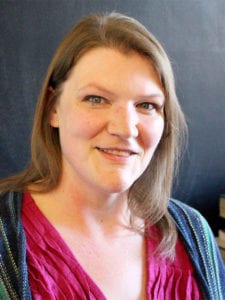 For those invested in these faith-based coworking communities, they can be life-changing.
When Cortney Matz first moved to Los Angeles in 2014, her work wasn't taking off like she'd hoped, and she quickly felt lonely and depressed.
Epiphany Space, she said, gave her the freedom to just create without a destination in mind.
She knew she was artistic and good at singing — always singing in the church choir — but, she said, she thought that being good at art meant painting the church walls or being good at writing meant helping with the church newsletter.
"I love all of my church experiences growing up but somehow I got this idea creativity was for Sundays," she said.
The people at Epiphany Space helped her see past that. Now a singer and songwriter, she's learned that doing what she does best as a career is just as valuable as helping at the church on Sundays.
"Being an artist is what I do," Matz said. "To try to ignore that and try to pick something more 'useful,' like a pastor or a missionary, is just not the plan. It's not God's plan for me — and I've tested that."