When Raven-Chanelle Augustine posts to her Instagram meme page, she usually wants to make people laugh. The video she posted on Oct. 13, 2020 was different. It wasn't one of her typical pairings of a ridiculous image with a funny caption calling out colonialism. Instead, Augustine is staring directly into the camera and she is not laughing.
"Hey guys, it's Raven or junnygirldecolonized as some of you guys may know me as," The then-25-year-old says. She sports a baseball cap with the words 'You are on native land.' Two fiddleheads are tattooed on her chin, divided by a line that meets her lower lip.
In the video, she updates her followers on the latest developments in the lobster fishery dispute that broke out last fall in Nova Scotia – part of the greater Mi'kma'ki territory. A violent confrontation had erupted that day between commercial fishermen and Mi'kmaq treaty defenders.
It would have been difficult to know this before the lobster dispute, but the person running @junnygirldecolonized had been an activist long before she became an Instagram joker.
View this post on Instagram
"I'd already been doing things with other nations in solidarity," she says in a video interview, alluding to her involvement in protests from Standing Rock to the Wet'suwet'en blockades. "So it was time for my nation to like, get a little bit of support from my networks."
Augustine's journey as a land defender began in 2013 when a shale gas company was looking to set up a fracking operation near her reserve, Elsipogtog, in Mi'kma'ki.
"I went to my high school and I went to each room and I was telling people that we have to stop this," says Augustine. That day, she prompted a walk-out and marched her classmates down to a blockade. That was also the day that the Mi'kmaw war chief asked her if she wanted to become a youth warrior – a leader to the young people in her community.
---
More on Broadview:
---
Memes were probably not what Augustine had in mind when she accepted this role, but her page, which has just under 20,000 followers, is a large part of why she's able to "make things happen," as described by her friend and fellow activist, Jade Konwataroni McComber.
"It's crazy to see," says McComber, adding that "she raised so much money for the Mi'kmaq fishermen and it just happened overnight." In total, Augustine raised some $7,000 through Instagram toward supplies for the front lines such as fire extinguishers, since, as she explained, "at the time, commercial fishermen were setting a lot of things on fire." She also bought GoPro cameras so that Indigenous fishers could collect evidence of the harassment they were being subjected to.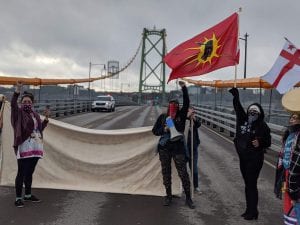 Documentation is an important part of Augustine's activism. Her page no longer contains just memes. Rather, Augustine posts frequent updates to spread information that is too often missed by major news networks, such as the extent of the violence and harassment against the Indigenous fishers. "It's almost like she's kind of her own little news outlet," says McComber.
But Augustine still consistently publishes memes. In her eyes, they're an effective means of communicating Indigenous issues because people will inform themselves in order to be in on the joke.
"The best jokes are the ones that have a little bit of truth behind them," she says.
McComber says her friend will continue building a platform and strengthen her voice. For now, though, Augustine is taking it easy with her page, although this might not last for long.
"We're getting ready to fish again out of season," says Augustine in the March interview. "We don't know what's going to happen."
***
Cassandra Yanez-Leyton is a journalist and student at Carleton University who is interested in issues related to justice, public policy, and racialized minorities in Canada.
---
We hope you found this Broadview article engaging. 
Our team is working hard to bring you more independent, award-winning journalism. But Broadview is a nonprofit and these are tough times for magazines. Please consider supporting our work. There are a number of ways to do so:
Subscribe to our magazine and you'll receive intelligent, timely stories and perspectives delivered to your home 8 times a year. 
Donate to our Friends Fund.
Give the gift of Broadview to someone special in your life and make a difference!
Thank you for being such wonderful readers.
Jocelyn Bell
Editor/Publisher