I wear hijab only some of the time.
I started wearing it in Grade 6, stopped in second-year university, and then started again a few years ago at the age of 30, on a part-time basis. These days, I wear hijab in all of my professional and community work, but I don't wear it when I'm running errands or out for an evening walk. I am what some people call a part-time hijabi.
Because of our society's obsession with Muslim women's clothing choices and the dominant narrative that de-veiling is liberation, I've hesitated to share this aspect of myself. But I believe that my experience can add value to the conversation about Islamophobia in Canada, and so I invite you to walk with me as I move between worlds.
I intimately know what it is like to inhabit and navigate spaces both as a visible Muslim woman and — with relatively more anonymity — as a nondescript South Asian woman. I have seen the difference in how people treat me, how they react to me and what assumptions they make about me in each of these modes. And even though I live in the diverse city of Toronto, I am acutely aware of the added danger and harassment that come when the visible identity of Muslimness is wrapped around my head.
If I wore a body camera and walked around recording footage of a day with my hijab on and a day without it, the resulting videos would reveal two different societies. In the video from hijab day, you would see strange gazes: people would either pass over me as if I were invisible or stare too long in a way that is similar to how one looks at a giraffe while on a safari.
On hijab day, when I make interesting or bold statements in classrooms, conferences or community events, you would see shock flash across some people's faces. Even the most well-meaning and progressive types can be jarred that someone-like-me could say something-like-that. When I ride the subway, you would notice that I stand closer to the wall on the platform, carefully scanning my environment and the people in it, just in case.
Life wouldn't be perfect in the other body-camera video, either — the one recorded on the day that I am not wearing hijab. You would still see incidents of racism and sexism in that recording. But you would notice that I don't stand right next to the wall on the subway platform and that I spend more time reading ads than scanning the crowd.
There is, of course, so much more to Islamophobia than being looked at differently while wearing hijab. Islamophobia is a type of racism that has, in its most extreme manifestations, led to the mass murder of Muslims in spaces of worship, among other atrocities. But for many Muslims living in Canada, there is also a lived, everyday reality of Islamophobia that is revealed in subtleties: in looks, exclusions and shifts in the air that all come together to say, "You don't belong."
These subtleties are how I became acquainted with Islamophobia in Grade 6, when I started wearing hijab full time. Being the only student in my central Toronto elementary school who was wearing hijab at the time, I noticed the stares that came with the added piece of fabric. For me, the hijab I put on every morning felt like a lightning rod for prejudice and stereotypes, and I developed a love-hate relationship with it over the years.
Yet when I stopped wearing hijab at 20 years old, it wasn't because of Islamophobic discrimination. Instead, it was part crisis of faith, part experimentation and part self-hatred. I thought that someone who was queer and who was angry at God was incompatible with hijab. I felt undeserving of being greeted with "Assalaamu alaikum" by fellow Muslim students. So I cut my hair short and started wearing a hat instead.
It isn't an exaggeration to say that I felt naked without my hijab. I was so used to having my head covered; without it, my hair and scalp felt raw and exposed. As my hair grew longer, I was met with new frustrations: how to style and make presentable my decidedly frizzy mane. I felt weighed down by this task; it was so much easier to just tie a hijab on and go.
I also felt naked around my identity. When I walked into a room hijabless in my undergraduate classes, I was just like everyone else. There were no stereotypes to fight against — at least not the ones I was most used to, such as the notion that I was oppressed, meek and submissive. I had trouble finding the strong, activist voice that had been honed over a decade of being veiled.
Newly hijabless, I was also more likely to overhear people's thoughts and comments about Muslims — conversations I was previously not privy to. I almost felt like an undercover agent spying on enemy territory when I heard a man flippantly call Muslims "the dummies" in front of me. I was taken aback by his choice of playground-­taunting words.
I started wearing hijab again on a part-time basis at age 30. I did not contemplate the decision for a long time; in fact, it happened suddenly. I was a youth worker, supporting students in a variety of high schools in the Greater Toronto Area. One day, an Islamophobic film was shown in one of the schools, setting off a wildfire of bullying of the Muslim girls.
It was clear that my job was to support the Muslim youth and try to rectify the situation. But something else tugged at my heart. It was as if my inner hijab-wearing teenager came out and shouted, "You've got to show them that you're with them!" I came to work the next day in hijab and have continued wearing it in all of my professional and community work ever since.
Some might see this decision as my misuse of a spiritual practice for activism. But for me, faith and justice are inextricably linked. It is in helping people where and when they are most hurting that I experience the divine. What I didn't expect was that when I started wearing hijab again, it felt like a moment of coming full circle, of coming home. I felt like myself for the first time in years.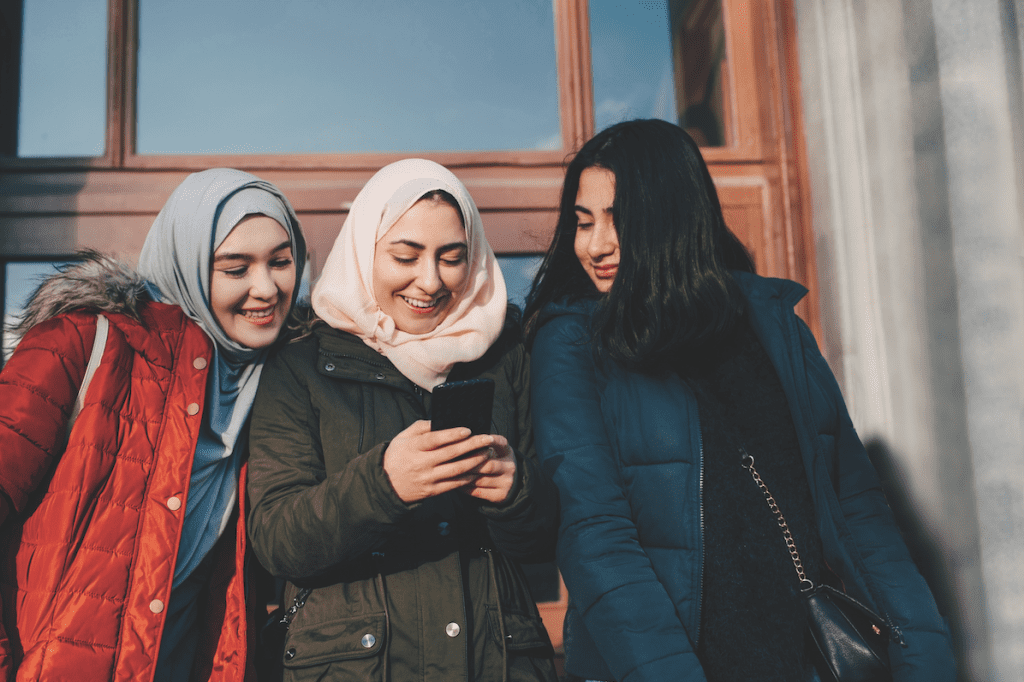 Soon after my return to hijab, alarms started going off in my mind. Being visibly Muslim again awakened my awareness of a new intensity of Islamophobic sentiments. A turning point for me occurred in 2015, when a Muslim mother faced an Islamophobic attack: she was punched in the stomach while picking up her child from a school in Toronto's Flemingdon Park neighbourhood. White supremacist groups and the so-called alt-right were becoming emboldened. And yet it seemed that so much of what Muslims — particularly Muslim women — were being subjected to on a daily basis remained invisible to society at large.
To help shed light on this issue, I launched a research pro­ject in 2017 at the University of Toronto on Islamophobic vio­lence against Muslim women — the first study of its kind in Canada. I interviewed 21 Muslim women survivors of Islam­ophobic vio­lence about their experiences. Collectively, these women told me about over 30 distinct incidents. Even though I thought I was generally familiar with the shape of anti-­Muslim bigotry, I was shocked by what I heard.
The women's stories included attempted murder (a man tried running one woman over with his car while shouting Islam­ophobic slurs at her); physical assault (a man swung a punch at a Muslim woman in the street while shouting Islamophobic slurs); rape (a young girl was raped by a classmate who taunted her with Islamophobic slurs); sexual assault (a univer­sity student was groped by her classmate, who justified it in terms of "liberating" her as a Muslim woman); a co-ordinated attack by a hate group (an anti-Islamophobia community dialogue was disrupted by a group of white supremacists, just months after the massacre at the Islamic Cultural Centre of Quebec City); and frequent verbal harassment and intimidation.
In addition to feeling a deep connection with many of the women I spoke with, I was confronted by my own privilege during these interviews. It was clear that Black Muslim women, Muslim women who wore niqab (face covering) and older Muslim women with language barriers faced greater levels of racist and Islamophobic violence than I had been exposed to, whether I was wearing hijab or not.
Each of their stories added an important dimension to an overall picture that was developing: survivors of Islamophobic violence felt displaced from a sense of being at home in their communities, and many of them were living with the aftermath of trauma. Most never accessed formal supports to process the violence they endured. Overall, anti-Muslim vio­lence constricted their lives and eroded their ability to breathe easy and be themselves.
A few had stopped wearing identifiable Muslim clothing. Amina,* the woman who had survived at­tempted murder, could not be in public spaces while wearing hijab anymore without feeling terror. When she stopped wearing hijab, her anxiety subsided, though she told me that she hopes to wear it again one day.
Najwa,* another participant, stopped wearing niqab after she couldn't stand being shunned in her language classes and on public transportation any longer. She told me that she felt shy and naked showing her face in public, and that if she would be treated the same either way, she would choose to wear niqab again. "I love niqab," Najwa told me. "It is my favourite."
I think back to the existential crisis that led me to remove my hijab many years ago, and how confusing and vulnerable that time was for me. I can't imagine what it would be like to stop wearing it because of an episode of violence or hate. Or because I wanted to keep my job.
Bill 21, the Coalition Avenir Québec's "secularism" legislation, has banned Muslim women and other people of faith who choose to wear religious symbols from teaching in public schools or working in many parts of the public sector. As a result, visibly Muslim women in Quebec have not been hired or promoted because they refused to remove their hijabs. I recall stories I heard from girls in the mosque growing up who had their hijabs ripped off by bullies. What is the difference between those incidents and Muslim women's head scarves being forcibly removed through bureaucratic processes? It is dizzying to see Islamophobic bullying being perpetrated by government with such meagre public outcry in response.
Indeed, it isn't just Islamophobia itself that is distressing; it is the sense that no one else really sees it or finds it worth reacting to. Every woman I spoke with for my research study had something in common: they wanted the public to recognize the reality of the violence they had endured and to take it seriously. They were heartbroken by the sense that no one seemed to care.
One research participant, Tahira,* a Black Muslim woman in her 40s, told me about an incident that was emblematic of many of the stories I heard. A stranger screamed anti-Muslim slurs at her in a crowded Toronto subway; she feared for her safety, and her mind raced to calculate how she would be able to manoeuvre away from her assailant with her children in tow. When Tahira shared this sequence of events with me, she spoke in a factual, almost detached way. But when she told me about the lack of reaction from her fellow subway passengers — how they stood idly by while she was being attacked — her voice broke with emotion. "Nobody showed any interest because I am a Muslim," she said. "You know? It really hurt me."
That is the strange thing about donning a hijab: one becomes at once hypervisible and invisible. Noticed and ignored. Villainized and erased.
I struggle with the question of what to do about Islamophobia in Canada. I know that it will require a deep shift in our society to come to grips with the many forms of racism that are embedded in our everyday lives — but that shift is within reach. I have dedicated myself to learning about effective strategies for bringing about this transformation.
Through my search for answers, I am fortunate to have met people who are reim­agining what anti-Islamophobia activism looks like and leading powerful social change. Bilal Baig, a queer, trans and Muslim writer and actor based in Toronto, created Acha Bacha, a play that features a beautiful depiction of a queer, gender-fluid Muslim protagonist. "When we build more empathy for the complexity of Muslim lives, we are combatting Islamophobia," Baig explains.
I've also been privileged to meet Aima Warriach, a niqab-wearing artist behind the viral Instagram account Niqabae Chronicles. She is unapologetically Muslim and refuses to let her identity be erased. "I don't break stereotypes to break stereotypes," she says. "If my niqab is offensive to you, it's because it forces you to face your biases, racist beliefs and historical amnesia."
Finally, I am inspired by the work of Mustafa Farooq, execu­tive director of the National Council of Canadian Muslims. He is leading a multi-organizational legal challenge of Bill 21. According to Farooq, "Fighting Islamophobia is a systemic challenge; therefore, our change must be sociological and requires a whole-of-society approach."
All of these actions highlight a multiplicity of tools and approaches to challenging Islamophobia. They happen to be led by Muslims, but non-Muslim allies have a crucial role to play as well. Rania El Mugammar, a Toronto-based anti-oppression educator and artist whose work has been instrumental to my own learning, hosts educational workshops in Toronto about Islamophobia, anti-Black racism and ally­ship. "Allies must remember that they do not have the right to comfort while we don't even have the right to safety," she says. "Remember that those of us with the greatest privileges have the responsibility to take the biggest risks."
When reflecting on the experiences that survivors of Islamophobic violence shared with me, I agree that allies have a pivotal role to play. I've heard the common suggestions that allies should speak up when they hear Islamophobic jokes or slurs, intervene if they witness Islamophobic violence, educate themselves and build bridges with Muslim commun­ities. In activist work, it is also commonly suggested that allies take the lead from Muslim-led organizations and individ­uals doing anti-Islamophobia work rather than acting as "saviours."
All of these suggestions describe important aspects of becoming an effective anti-­Islamophobia ally. But perhaps the most important allyship work is internal. Deep self-reflection is required to dig out the ways we might be conditioned to see Muslims as something less than human — those subtle, unconscious ideas that shape how we react to someone in hijab, compared to someone who is not.
While being a part-time hijabi has given me a window into how arbitrary and pervasive discriminatory mindsets can be, it has also pushed me to reflect on the biases I hold. In asking others to be allies against forms of oppression that impact me, I've realized that I also need to look within and examine how I am showing up for other struggles for justice.
I've asked myself what it means to seek acceptance and inclusion on stolen land, and how to connect anti-Islamophobia activism with struggles for Indigenous sovereignty. As a non-Black Muslim, I've committed myself to continually examining and unlearning the ways I am complicit with anti-Black racism both within Muslim communities and in society at large.
When I recognize that I might be part of the bad day on someone else's body-camera video, it becomes clear that the locus for the social change that I seek is often contained within myself. And that is work to carry out on a full-time basis.
*Name changed to protect identity
Broadview is an award-winning progressive Christian magazine, featuring stories about spirituality, justice and ethical living. For more of our content, subscribe to the magazine today.