Climate change and biodiversity loss is having a profound impact on cities across the world in the form of heat waves, flooding, wildfire smoke and more. And these disasters are expected to get worse in the coming decades. As we have seen in Southern B.C., urban areas are particularly vulnerable as widespread use of concrete, asphalt, and other human structures can amplify the risks. Our most vulnerable citizens are most at risk without adequate shelter or resources. 
But some communities are looking to Nature for a solution.
Urban forests, meaning all the trees (public or private) within an urban area, provide many benefits including helping reduce the impacts of heat waves and stormwater runoff. Urban forests are increasingly being recognized for their value to physical, mental and spiritual health. And as our Indigenous partners teach us, we must also reciprocate the many benefits we enjoy from nature. Urban forests give millions of Canadians a chance to connect with local nature and engage in its stewardship, protection and restoration.
Small-scale tree planting efforts in our cities, with their ability to promote healthy soil and rich biodiversity, are excellent opportunities to give back to nature and expand our urban forests. With about 82% of Canadians living in urban areas, designing cities to be more livable through greater urban forest cover is an emerging priority for many municipalities.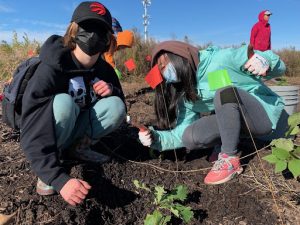 Tiny forests also help address growing inequality in our cities. Research shows there is much less urban tree canopy in racialized and low-income neighbourhoods which deprives these communities of the numerous benefits offered by urban forests and increases their vulnerability to the increasing impacts to climate change and biodiversity loss. 
 The pandemic has given us an opportunity to rethink how we live, including how we live with each other and with nature. By connecting more Canadians with forests we are building a movement for a carbon-neutral, equitable, nature-positive world.
For more information on how you might get involved in planting urban forests in your community, contact Nature Canada's urban forest team at engage@naturecanada.ca.