Every few months, I travel on the bus for an hour and a half to a remote part of Edmonton to give a speech for The Schizophrenia Society of Alberta (SSA), to a class of around 50 police cadets who are still in training. I have been working with the SSA as a lived experience presenter for more than eight years now. 
It is hard to describe the feeling of satisfaction and accomplishment I feel when I have a chance to speak to influential groups about my illness. One of my happiest memories of the past few years was running into a constable who recognized me from one of these talks and said to me, "I just want to thank you. Just today I have had two mental health calls and what you taught me when you came to my class was invaluable."

I didn't always see the police as allies in my recovery journey. When I was a teen, suffering from severe psychosis and poor mental health, I was forcibly taken to psychiatric facilities more than once.  When I look back though, I am not only glad that things are changing with regards to mental health response, but I also feel extremely grateful that, rather than being arrested and charged, I was brought to a hospital. Through my work interacting with young officers, I have come to see the police as people who want to make a positive difference in people's lives, especially our most vulnerable citizens.
Meeting me at the police training centre in North Edmonton is my supervisor Alanna Gemmell and a co-worker who is also a person with lived experience. Our connection at the centre is Tanya Anderson, a registered psychologist with a master's degree in applied psychology. As the supervisor for The Police and Crisis Team (PACT), Anderson works closely with the police. PACT in Edmonton, which started in 2004 as a partnership with Alberta Health Services and the Edmonton Police Service, is part of Addiction and Mental Health Access 24/7. It is the section of Alberta Health Services which provides a single point of access to adult addiction and mental health supports, and community-based programs.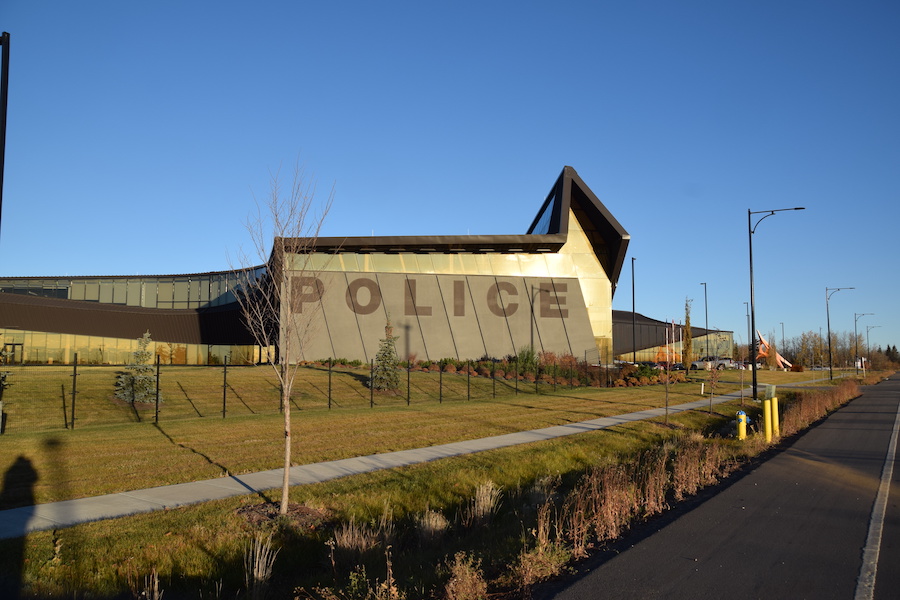 The PACT team responds to many mental health calls made to police. According to Anderson, all police recruits receive training in addiction and mental health as well as how to deal with individuals in distress or crisis. 
"The PACT team responds to as many as ten-plus calls in a day. We are trained to use de-escalation which is often extremely effective in crisis situations," she said. "However each day is different. There are many more calls to police that involve mental health or addiction concerns."
Brian McCune, one of the eight officers assigned to the PACT team, said in addition to the standard training he received at the police academy, he took courses in suicide prevention and trauma-informed care.
---
More on Broadview:
---
Along with his police training in mental health and addiction response, McCune has also worked with multiple school boards, social workers, psychologists, nurses, churches, media, and charities. During these collaborations, he felt that the most important lesson he learned was, "to respect these outside agencies and learn what each one brought to the table to best maximize everyone's abilities."
Over the past years, jurisdictions in Alberta such as Calgary, Grande Prairie, and Cochrane, as well as rural areas, have established similar partnerships like PACT. There are also similar teams in Vancouver, Saskatoon, Halifax, and Hamilton, Ont. Although it seems counter-productive to do so, some cities in North America have formed movements to completely replace police with crisis response workers for mental health and addiction matters. 
---
Want to read more from Broadview? Consider subscribing to one of our newsletters.
---
It has been a long road for me since I was first diagnosed with a mental illness 33 years ago. When my first episode of psychosis occurred, I faced a great deal of stigma and humiliation from my peers and the people around me. The RCMP officers who took me to the hospital didn't talk to me at all and a struggle ensued. A lot has changed since then, and one of the things I am most grateful for is how I was treated during my most recent hospitalizations. Alberta Health Services staff monitored my situation, and when the time was right, they made it very easy for me to step into an ambulance to get the care I needed. In my most recent hospitalization, only police officers responded, but they weren't aggressive or angry. They talked to me as a fellow human being and encouraged me to get help. I hope to never have to go to a psychiatric facility again, but I am comforted in knowing that if I am in crisis,  the responding officers will understand how difficult and terrifying it can be to be in mental health distress.
If you are struggling or know someone who is, here's where to get help:
Talk Suicide Canada: Call 1-833-456- 4566, 24 hours a day, seven days a week, or text 45645 between 4 p.m. and midnight Eastern time. Starting Nov. 30, Canada will have a free nation-wide, bilingual calling and texting crisis hotline, 9-8-8, available 24 hours a day and seven days a week.
Kids Help Phone: Call 1-800-668-6868 for phone counselling, or chat with a crisis responder by texting CONNECT to 686868. Available for any issue, big or small, for people 18 and under. Indigenous responders available.
The Canadian Association for Suicide Prevention website has a directory of support services by province.
The Centre for Addiction and Mental Health has a wealth of information, including a guide on what to do if a family member is in distress.
***
Leif Gregersen is a writer in Edmonton.
---
We hope you found this Broadview article engaging. 
Our team is working hard to bring you more independent, award-winning journalism. But Broadview is a nonprofit and these are tough times for magazines. Please consider supporting our work. There are a number of ways to do so:
Subscribe to our magazine and you'll receive intelligent, timely stories and perspectives delivered to your home 8 times a year. 
Donate to our Friends Fund.
Give the gift of Broadview to someone special in your life and make a difference!
Thank you for being such wonderful readers.
Jocelyn Bell
Editor/Publisher