Leonard Cohen worked on the song Hallelujah during his 40s, writing dozens of verses. 
He recorded it for his 1984 album Various Positions, which was released on an independent label after his record company rejected it. There the song languished until it was covered by a series of artists, including Bob Dylan, John Cale and Jeff Buckley, starting in 1988. By 2001, it was sung at many 9/11 memorials. In 2010, k.d. lang performed it at the Vancouver Olympics opening ceremony. It has even become a standard on recent Christmas albums, despite the lack of any connection, either secular or religious, to the holiday. 
The song was the subject of its own biography in 2012. That book, by music journalist Alan Light, has now inspired a documentary, Hallelujah: Leonard Cohen, A Journey, A Song, which was released in July. The film traces the evolution of the beloved hymn while telling a story about the late songwriter.
Hallelujah the song is a prayer with erotic and biblical symbolism. It can be seen as Cohen's autobiography; a man looks at his life without cheap sentiment. He knows and understands the light and the dark of his own mythology, which has been explored in various documentaries dating back decades. The films mythologize Cohen, just as he mythologized himself.
In 1965, he was the subject of a now-famous National Film Board of Canada documentary, Ladies and Gentlemen…Mr. Leonard Cohen. The film follows Cohen around Montreal as he tells jokes at readings, hangs with friends, goes shopping, all the time opining on poetry and life and spirituality. He was 30, with three poetry collections and a novel.
---
Interested in more stories like this? Subscribe to Broadview's weekly newsletter.
---
Not yet a singer-songwriter, and little known outside Canada, he was already Leonard Cohen, the poet, the lover, the seeker and also the Montrealer. In one scene, he tells journalist Pierre Berton: "When I get up in the morning, my real concern is to discover whether or not I'm in a state of grace.…If I discover that I'm not in a state of grace, I try to go to bed."
At the end of the 1965 film, he warns the viewer, "Caveat emptor, let the buyer beware." His portrayal in the documentary "is not entirely devoid of the con." Playing the trickster also folds into the myth. Still, the filmmaker is more interested in the poet and the lover. The film closes with the narrator intoning, "And so it is time to go. Back to Greece and the girl, and the sun. And always back to the work. Or as Leonard Cohen says, there are dreams of glory whispering through the wires of his spine." The philosopher, laureate, lothario touches Montreal and leaves.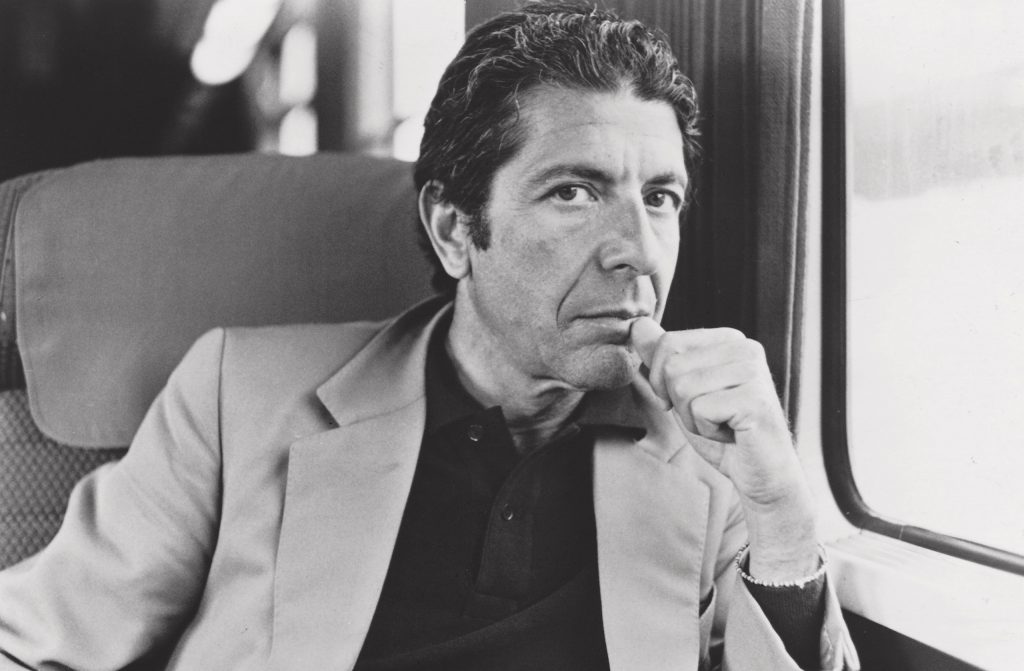 There are pushbacks against this myth from the very beginning. His poetry collections receive modest reviews. The Favourite Game, his debut novel, is pilloried by critics. Writing in Maclean's, Robert Fulford mocks Cohen's protagonist, describing him as "the latest adolescent poet-rebel to shout his defiance of bourgeois society and cry tears of joy at his own personal discovery of the rich, vivid, larger world which the rest of us, in our cramped ulcer-ridden suburbia, choose to ignore."
The critiques do nothing to hold back the mythology of the Romantic poet, suffering for love and lyric. In 1966, CBC host Adrienne Clarkson treats Cohen as if he's Keats or Shelley, asking sincerely, "Isn't every poem a part of you?" She interviews him again in 1989. He's "Leonard" now, a familiar figure, an old friend. He sits in Parc du Portugal, his house behind him, and quips, "This is the lonely life of the neighbourhood genius." She tells us he's 54 and young women still flock to his door. Despite his self-mocking and denials, he's ever the lover, the poet and the Montrealer. 
---
More on Broadview:
---
A 1978 Chatelaine article calls him a chauvinist. There have been many such articles. The depictions of women in his songs and poems have been defended and damned over the years. Still, in 1986 Chatelaine names him one of the 10 sexiest men in Canada.
Marianne & Leonard: Words of Love, a documentary about his relationship with Marianne Ihlen, the woman who inspired the song So Long, Marianne, was released in 2019, three years after both subjects died. It is a yin-yang portrait of Cohen: the poet and the performer need acid to inspire; the lover is a lousy partner. Cohen seems to betray everyone in his life — women, children, colleagues. And many betray him. 
He stashes a lover in Greece to take one in Montreal; he abandons a longtime colleague to do a quickie well-paying gig. A manager he considers a friend steals millions from him, so he goes on tour in his 70s and makes millions more. 
Perhaps to atone for his sins, he spends his early 60s as a monk on a mountaintop in California. Lovers and friends forgive him because he is Leonard, because the poet's words and music stir the soul. They understand, as he sings in Bird on a Wire, "if I have been untrue / I hope you know it was never to you."
In a 1964 poem, Cohen cries, "Can't I live in poems?" He did live in poems; the ones he wrote and the ones thrust upon him. I did my best, he says, I sang my song. And in the end, he prays, the song is all there is. "It doesn't matter which you heard / The holy or the broken Hallelujah." 
***
Andrew Faiz is a writer in Toronto.
This story first appeared in Broadview's September 2022 issue with the title "The poet, the lover, the seeker."
---
We hope you found this Broadview article engaging. 
Our team is working hard to bring you more independent, award-winning journalism. But Broadview is a nonprofit and these are tough times for magazines. Please consider supporting our work. There are a number of ways to do so:
Subscribe to our magazine and you'll receive intelligent, timely stories and perspectives delivered to your home 8 times a year. 
Donate to our Friends Fund.
Give the gift of Broadview to someone special in your life and make a difference!
Thank you for being such wonderful readers.
Jocelyn Bell
Editor/Publisher