Wildfires sweeping the island of Maui last week destroyed a 101-year-old United Methodist church in Lahaina.
Lahaina United Methodist Church is working to support community members who have lost so much to the blaze, while also grappling with the loss of its physical building. Every church member is safe, but three-quarters of them lost their properties, pastor John Crewe estimates.
Wildfires broke out on Maui last week, leaving at least 100 dead and thousands more displaced. Lahaina — a historic town of 13,000 — was flattened by the fire. Strong winds meant the blaze spread quickly throughout the community, and warning signs didn't go off as the fire approached.
---
Want to read more from Broadview? Consider subscribing to one of our newsletters.
---
Only Lahaina United Methodist Church's parsonage, the church sign, a parking lot and some green space are still intact. The church's history goes back to 1896, but the sanctuary was built in 1922 as a Japanese-American ministry. The church is committed to rebuilding and contributing to community efforts to rebuild Lahaina.
Crewe says his current priority is ensuring church members all have places to stay. Crewe and his family were in a relief camp immediately following the fire and are now in an apartment building that opened its doors to displaced peoples. Other church members are staying with friends.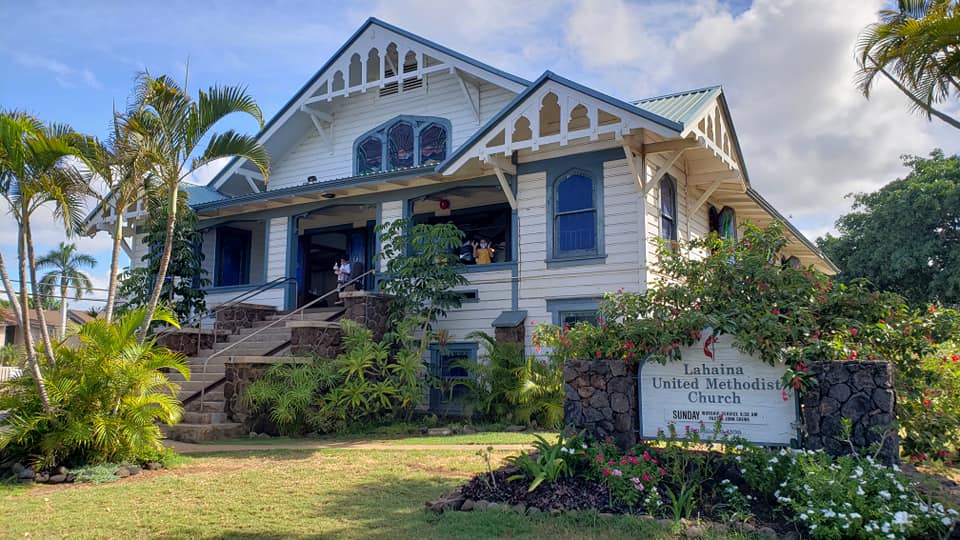 Several days after the fires, lay leader Sione Malamala led a service for several families in a hotel room.
"We prayed for one another and praised God so many of our loved ones are safe," read a post on the church's Facebook page about the service. "We mourned what has been [lost] but ultimately left with the comfort only God can bring looking towards the future of our church. "
Crewe said once they're able to enter the town again, he'd like to place a tent on the property and do a full service outside.
"There's a beautiful banyan tree behind our church that looks like it survived," Crewe said. "So that would be a great place to start."
The church has been using its Facebook page to share several GoFundMe links for church members needing aid. "There's going to be a lot of people that are looking for help rebuilding their lives," Crewe said.
---
More on Broadview:
---
Beyond helping individual members, Crewe says he thinks this is an opportunity for the church to get more involved in issues facing the community.
"We're really going to need to make sure that there's housing built for people quickly, places [for people] to move in [to] and that Lahaina doesn't become another playground for tourists but also a place where people live and have community," he said.
"Climate change brought on the winds, the fierce winds that propelled the fire," he said. "And infrastructure was not developed to meet the needs of the people and so I think that the church can be playing more of a part of advocating for the community and getting involved with what's going on in the community."
Lahaina United Methodist Church is accepting donations via mail or online via its website.
***
Charlotte Alden is a summer intern at Broadview.
---
We hope you found this Broadview article engaging. 
Our team is working hard to bring you more independent, award-winning journalism. But Broadview is a nonprofit and these are tough times for magazines. Please consider supporting our work. There are a number of ways to do so:
Subscribe to our magazine and you'll receive intelligent, timely stories and perspectives delivered to your home 8 times a year. 
Donate to our Friends Fund.
Give the gift of Broadview to someone special in your life and make a difference!
Thank you for being such wonderful readers.
Jocelyn Bell
Editor/Publisher