Omaid Sharifi remembers where he was when the Taliban overtook Afghanistan's capital in August.
The co-founder and president of ArtLords, a non-profit arts organization, was with five of his fellow artists painting a mural on the side of the office belonging to the governor of Kabul. The mural was one of the thousands he and ArtLords' 53 artists have created across Afghanistan since 2014 as a way to beautify a country ravaged by war and conflict.
On Sunday, Aug. 15, conflict returned in the shape of a Taliban resurgence.
---
More on Broadview:

---
"While painting, I saw panic. I saw people running around and I asked them 'what's happening?' and they told me 'the Taliban are in the city,'" Sharifi told Broadview. "That was a complete shock. For a lot of us who were there, this shock is still unacceptable. We thought it was a dream. It might not have happened or maybe it's just a joke."
Good morning #Kabul ??? – we are painting a mural today-now. It reminded me of the famous scene from @TitanicMovie, where the musicians play until the ship sinks. I hope you are enjoying as you see our miseries – world ? pic.twitter.com/5JXsVhxQkJ

— Omaid H. Sharifi-امید حفیظه شریفی (@OmaidSharifi) August 15, 2021
Two weeks since the fall of Kabul, Sharifi and his family have resettled in a refugee camp in Abu Dhabi. But before that, he spent his final days in the country coordinating with staff and volunteers to stay at home while he went into offices to hide paintings and take down sculptures before the Taliban could get to them first.
Art, as Sharifi puts it, is what the Taliban fears.
"What I see is that there won't be any colour, any art, any beauty in this country," he said when asked about what lies in store for Afghan arts and culture. "[The Taliban] will make it black and white. This is the way they live. This is what they believe. And they are afraid of it. They are afraid of art because it really promotes critical thinking, it really helps people ask questions."
My heart shatters to see and talk to Afghan artists who have started destroying their own art out of fear. #Afghanistan is becoming black and white again. It's losing its beauty, diversity and colors. I am afraid the world will let this happen again! pic.twitter.com/XSKA0To7BJ

— Omaid H. Sharifi-امید حفیظه شریفی (@OmaidSharifi) August 26, 2021
The Taliban say they will govern the country using Sharia law, Islam's legal system that will replace the previous democratically elected national assembly. The Taliban's interpretation has drawn attention for its hardline stance against crime and use of corporal punishments like stoning, flogging, and amputations.
"There will be no democratic system at all because it does not have any base in our country," senior commander Waheedullah Hashimi told Reuters. "We will not discuss what type of political system should we apply in Afghanistan because it is clear. It is Sharia law and that is it."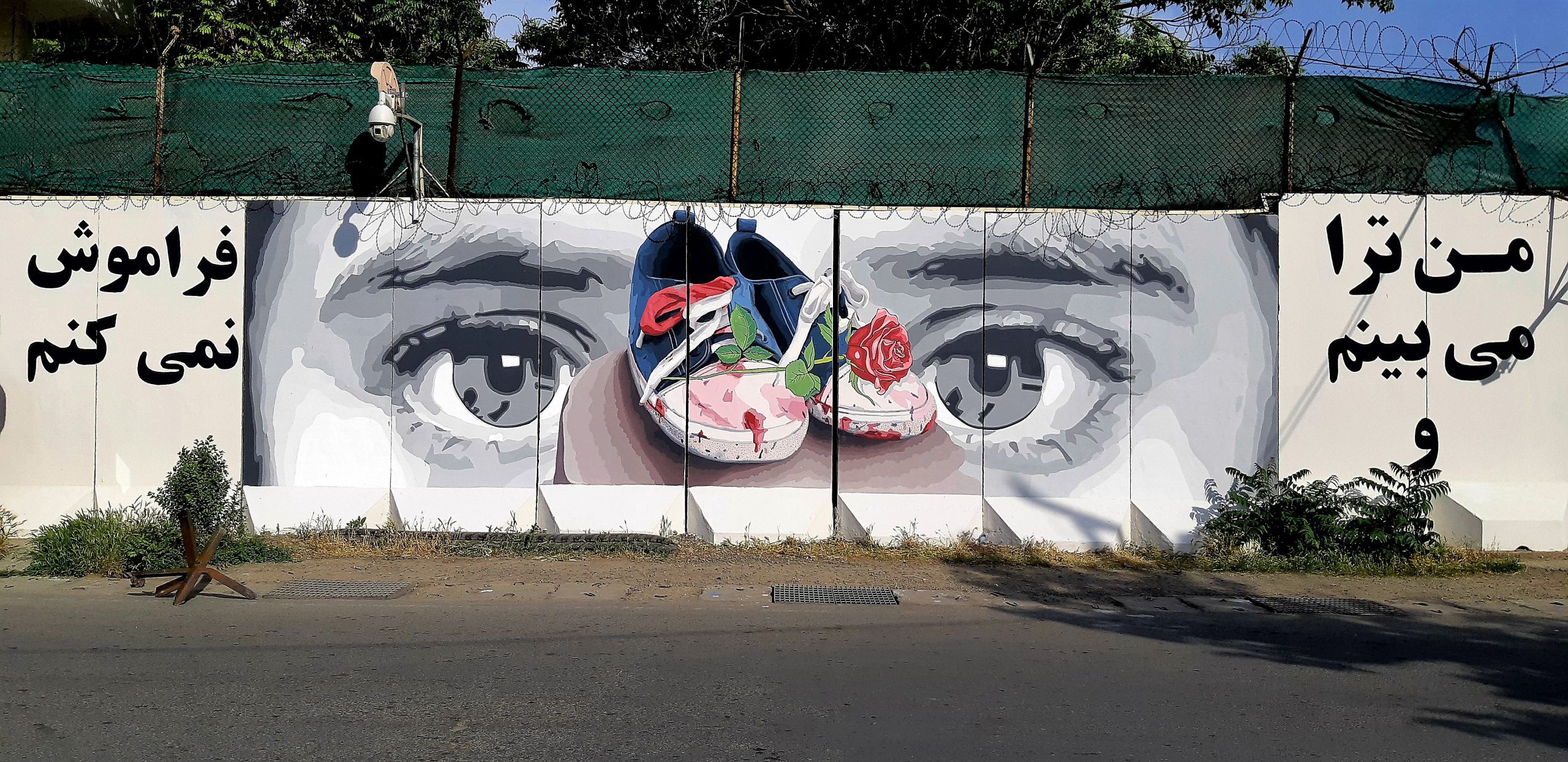 Lesser known are the implications of Sharia law for art.

"I have proposed that we might keep painting but that might only be verses of Sharia or verses of Hadith with these people because apparently with their Islam, painting faces is against Sharia law," said Sharifi. 
For the ArtLords, murals weren't just a form of artistic expression. They were also a means to heal people and the country. The organization hosted art therapy sessions in galleries and offices as a means to process locals' hatred and anger. Given the opportunity, Sharifi would restart the program, even for members of the Taliban.
"I know the Taliban soldiers need this as well. I know they have suffered enough," he said. "I know they are angry and they have a lot of hatred and I know one way to help them out would be through painting and art so I would do that for Taliban soldiers as well, but as long as let me do it."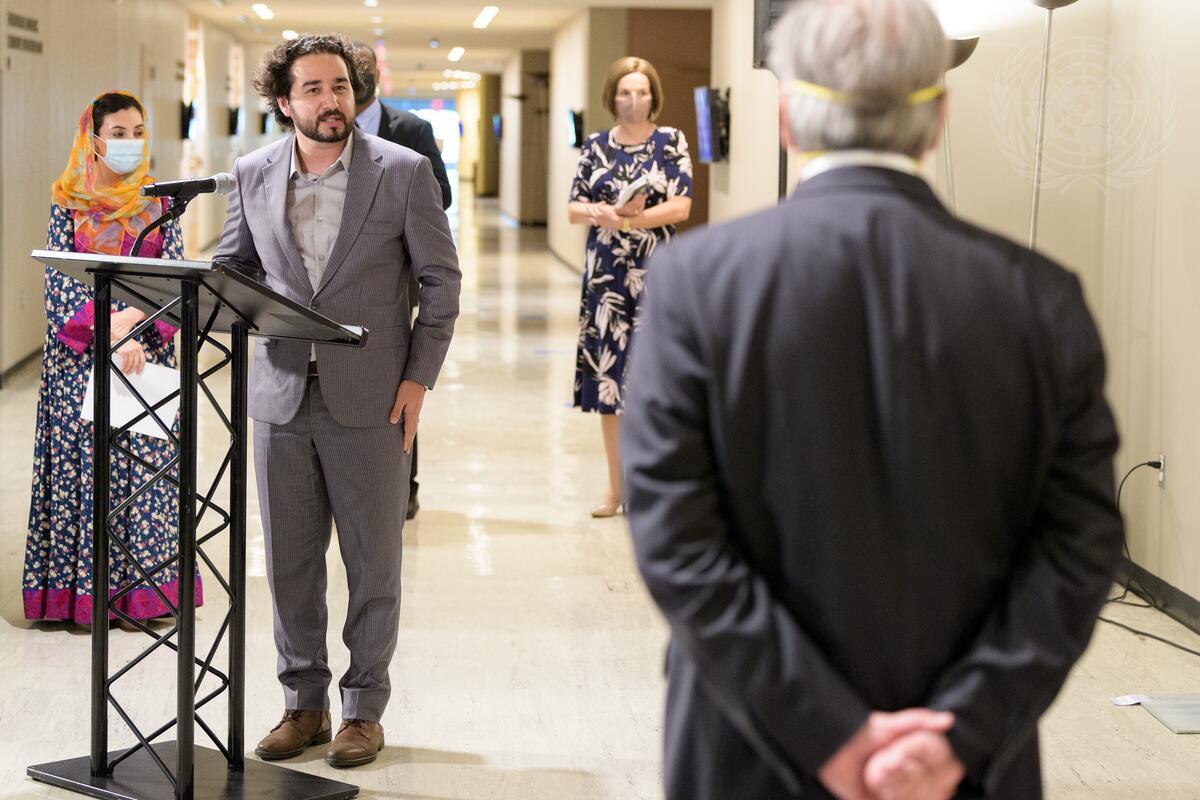 Also uncertain is the future of Afghan girls and women.
"It is a really dark picture. Imagine, as a kid, you're told you can study, you are told to dream, to dream about your education, of what you can become," said Sharifi. "But right now, with the Taliban, you don't have that option of choice."
Taliban officials maintain they are allowing women and girls to go to school and work, but only within the framework of "Islamic law," a slightly softer stance to their prior rule when women had to stay at home unless they were fully covered in a burka and accompanied by a man.
The Taliban has already outlawed mix-gendered classrooms at universities, just weeks after taking over the government.
Sharifi also fears for the country's lesser-known LGBTQ community, a group he came to learn about through his diversity and inclusion work with Equitas, a Canadian-based human rights organization.
"They cannot have families in society. The laws are against them. They will be immediately killed," said Sharifi. Over the course of eight years, Sharifi has worked to gain their trust, with some painting or attending events organized by ArtLords. He's now working off a list of at least 50 LGBTQ community members to get them out of the country and is hopeful the rest of the world keeps its focus on the situation in Afghanistan.

"My only hope is that right now is that the world is looking at Afghanistan," he said. "I hope that their eyes do not turn around again and that they help us maintain a place where human beings can live and breathe with dignity."
***
Brian Vinh Tien Trinh is Broadview's assistant digital editor.
---
We hope you found this Broadview article engaging. 
Our team is working hard to bring you more independent, award-winning journalism. But Broadview is a nonprofit and these are tough times for magazines. Please consider supporting our work. There are a number of ways to do so:
Subscribe to our magazine and you'll receive intelligent, timely stories and perspectives delivered to your home 8 times a year. 
Donate to our Friends Fund.
Give the gift of Broadview to someone special in your life and make a difference!
Thank you for being such wonderful readers.
Jocelyn Bell
Editor/Publisher