Long before I was worried about how, when and if people with disabilities are portrayed in the media, I was the main character in children's books. Well, not exactly me, but children who experienced life like me — children with cerebral palsy and other disabilities.  
My favourite author, Jean Little, died on April 6 at the age of 88. A member of the Order of Canada, an internationally renowned speaker, a recipient of six honorary degrees and the writer of at least 50 books, she was certainly accomplished. Yet, I will remember Jean for her kindness, her friendship and her wicked sense of humour.
I did not know her well, especially not as well as her family and dear friends, but I always have felt privileged to know the author of my favourite characters beyond the page.  I met her sister Pat first, when I was about nine. We became friends at family camp at Five Oaks one summer that she attended with her grandchildren. At the end of the week, she invited me to visit her and Jean at their farmhouse. I was so excited. Unfortunately, I don't remember what we talked about, but I remember how they both listened to me that afternoon. Oh, and I was so impressed by Jean's active and retired guide dogs!  (This was well before my first guide dog, Lacey, came into my life.)
At that point in my life, I dreamed of becoming an author. This dream was spurred on by Jean, who was born with limited vision. By the time I was a fan, she was using adaptive equipment to read and write. On the back of her book, Listen for the Singing, published in 1977, Jean shares her call to write: "I write books about children and the thorny problems that beset them. I write such books because I remember how it was. I remember being a failure, being different, being misunderstood, being greedy, being untruthful, being young … My books are meant to reach out to children and tell them, 'You are not the only one, after all. Here is someone else just as small and scared and mixed-up as you are, and yet he or she is loved as you are, and loving, as you are also.'" 
That message ran throughout her books. From Sally, a girl with cerebral palsy learning how to be independent, to Anna, a girl who is blind and helps her family live during a time of war, to Patsy Small, a youngest child who struggled to be noticed — she helped young people, especially girls, find their voices and use their gifts, encouraging me to use mine.
Years later, I was the ministry intern at Three Willows United in Guelph, Ont., and was delighted to cross paths with Jean and Pat once again. Pat was a beloved member of my lay supervision team, sharing much wisdom and encouraging my ministry over the year. Because Pat was a faithful singer in the choir, Jean arrived early with her to wait in the congregation while they rehearsed before the Sunday service. As a double PK (preachers' kid) myself, I recognized this waiting routine. I loved driving my chair beside her, commanding my dog to sit quietly beside her dog, though one could still hear their tails wagging.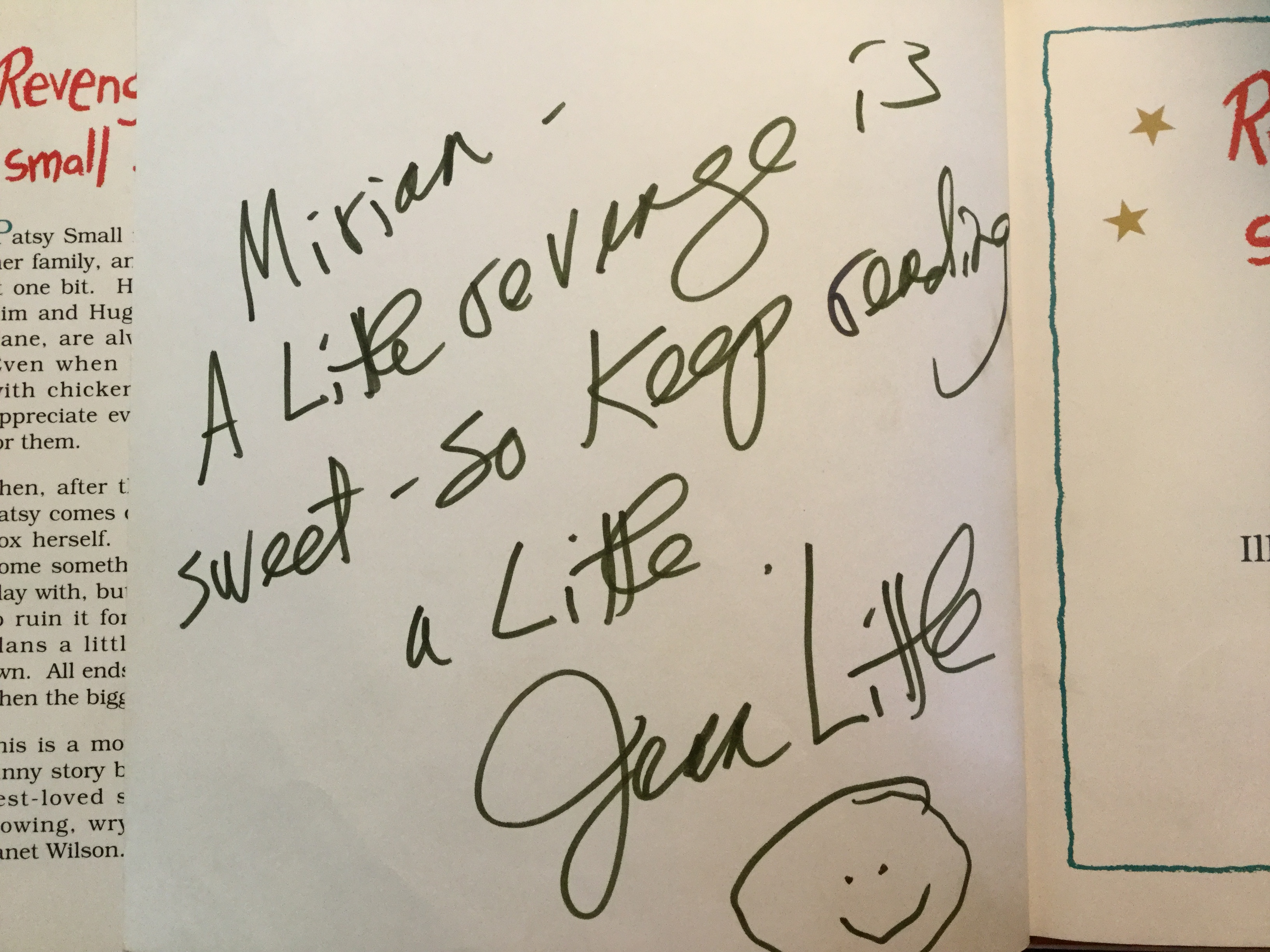 Jean loved having an audience and I loved listening to her stories. She recited stories, shared reflections and complained if we weren't singing any of the old hymns (the ones she could sing by heart). Towards the end of my internship, Pat and Jean had me over for an evening. After supper, the Scrabble board appeared on the table. Yes, both of them had me beat easily! We all laughed so much, with Pat rolling her eyes at some of Jean's stories, and tears in our eyes. I never had so much fun playing Scrabble as I did that night.
Her words still fill my shelves, and I cherish her messages scrawled inside the covers: "Miriam, may joy in reading be yours for keeps." "Miriam, a little revenge is sweet — so keep reading a Little." "The best place for your nose is inside a book." And inside The Belonging Place, which Jean and Pat gave me after the visit at their farmhouse: "Thank you for bringing us your intelligence, your joy and your friendship."
Thank you Jean, for filling my mind with stories and for opening my imagination to possibilities.
Broadview is an award-winning progressive Christian magazine, featuring stories about spirituality, justice and ethical living. For more of our content, subscribe to the magazine today.