Ivan Coyote believes in the power of letters but, like many, has never had the time to actually write them. That hasn't been true, however, of the Yukon storyteller's many fans — for years, Coyote has received scores of emails, notes and letters about how Coyote's work has changed lives, shifted views, touched souls and healed profound emotional wounds. This correspondence was often read but rarely replied to by Coyote. That is, until the pandemic began.
Suddenly confronted with a massive influx of otherwise elusive free time (when not writing books, they could typically be found on the road, telling stories at festivals and libraries), Coyote began to chip away at the mountain of heartfelt letters that had piled up over the course of their literary career. The often heartwarming, occasionally devastating result is Care Of: Letters, Connections, and Cures, a new book that compiles 21 messages to Coyote and the author's thoughtful responses to them. 
---
Want the latest from Broadview? Sign up for our weekly newsletter.
---
According to Coyote, who, fittingly, answered some of my questions over email, the process of replying to these letters was an arduous, time-consuming effort. "I took days answering each letter," said Coyote. "I read them each 15 to 20 times, searching. Searching for the essential question each letter writer brought to the table, and then searching inside of my own ribcage for the story that the letter called forth."
That labour pays off in spades. Some letters don't even last a page but spawn winding, brilliant, gorgeous responses from Coyote that unspool for thousands of words. At the root of each reply is a highly matured sense of empathy. One standout letter is addressed to a musician — one of Coyote's longtime favourites — who had publicly declared her belief that trans women are not real women. Coyote, a member of the trans community themself, does not react to this news with anger or disdain. Instead, they thoughtfully explain why they disagree, why the musician's rhetoric around trans women is harmful, and how the message of her songs, or at least the message Coyote had always taken from them, contradicts that rhetoric. "I'm writing you this letter so I can play your records again, and hear your voice without thinking about how I need to write you this letter," writes Coyote.
---
More on Broadview:
---
This exchange is a perfect example of what Coyote describes as the healing power of letters. "A letter affords the writer, and the reader, what this world so desperately needs right now: the long conversation," they said. "Please don't misunderstand me, I like to tweet. I'm on Instagram. But talking about the damage to the mycelium of our families that transphobia and racism and misogyny and homophobia do? That is a long conversation."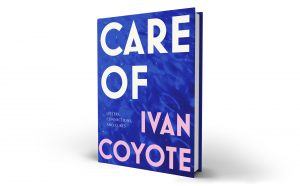 Coyote doesn't shy away from these social issues but frames them in new, intimate ways. A recurring motif in this book is queer and trans solidarity — solidarity in triumph, in despair and in the everyday anxieties of life. This emphasis is particularly comforting given the physical divide within the LGBTQ2S+ community that the pandemic bred: we could no longer visit our safe spaces, parade righteously in the summer or dance together into the early morning at our local gay bars. Writing Care Of — wherein many of Coyote's correspondents are queer or trans themselves — meant trying to bridge that divide through the power of words alone. "These letters were like a tether for me," they said. "An anchor. A string strung between myself and the letter writer, sometimes right across the world, each of us with a tin can held up to our ears."
Care Of examines its titular concept, caring, with nuance and kindness. In our own little email correspondence, Coyote called the book "a gift, a terrible and sad and haunting and transformative gift." Their words cut to the core of what letters are, beneath their papery, ephemeral veneers: gifts that can haunt and transform and carry the whole spectrum of human emotion all at once. 
***
KC Hoard is a writer in Toronto.
This review was first published in Broadview's October/November 2021 issue with the title "The long conversation."
---
We hope you found this Broadview article engaging. 
Our team is working hard to bring you more independent, award-winning journalism. But Broadview is a nonprofit and these are tough times for magazines. Please consider supporting our work. There are a number of ways to do so:
Subscribe to our magazine and you'll receive intelligent, timely stories and perspectives delivered to your home 8 times a year. 
Donate to our Friends Fund.
Give the gift of Broadview to someone special in your life and make a difference!
Thank you for being such wonderful readers.
Jocelyn Bell
Editor/Publisher