UPDATE 07/18/2023: A coalition of groups arranged a bus to relocate refugees to temporarily stay at a North York church on Monday evening, according to CBC, CP24 and Toronto Star reports.
Canadians live in a time of threadbare morality. Nowhere is this more obvious than in Toronto's entertainment district, where partygoers delight in spending disposable income while skirting refugees sleeping on sidewalks. The growing pile of luggage at the downtown corner of Peter and Richmond streets resembles the lost baggage section at Pearson airport but is the broken-hearted terminus at the centre of a cruel city.
At the crux of a refugee funding war between the municipal and federal governments are those who have fled persecution for the promise of Canada's protection. Until June 1, asylum seekers used to arrive at the airport and be sent to Toronto's Streets to Homes Referral Assessment Centre at 129 Peter St. in search of shelter beds. Now, Toronto's overcrowded shelter system is closed to these newcomers, so they sleep on the street.
---
Want to read more from Broadview? Consider subscribing to one of our newsletters.
---
New mayor Olivia Chow pushed the federal government Wednesday for at least $160 million to cope with the surge of refugees in the shelter system. She rightly highlights that refugees are a federal responsibility. In response, the department of Immigration, Refugees, and Citizenship Canada points to hundreds of millions in dollars already allocated to cities across Canada through the Interim Housing Assistance Program, while Ontario says it has given nearly $100 million to organizations that support refugees. But these efforts are simply not enough to deliver on Canada's benevolent promise to the world's most vulnerable.
The lack of federal generosity and finger-pointing by the city has orchestrated a moral crisis. It's reminiscent of the crisis south of the border, where Texas governor Greg Abbott keeps bussing migrants to cities located in northern Democratic states. Without the necessary resources, information, and sometimes the language skills needed to navigate the bureaucratic mazes, those who fled turbulent homelands for Canada have become political pawns.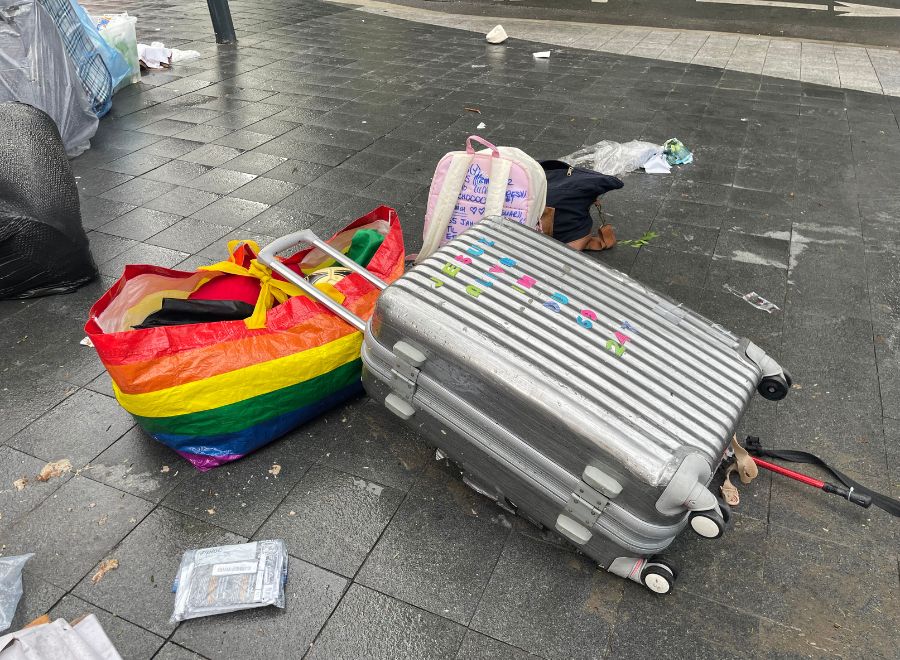 But Torontonians haven't always been this callous.
In Ireland Park, at Lake Ontario's edge, five statues of gaunt and grateful refugees gaze at their new home: Toronto circa 1847. These statues honour a time when Toronto, with a population of only 20,000 people, welcomed 38,500 famine-stricken migrants from Ireland. It paralleled the "Come From Away" event of 9/11 in Gander, N.L., where the population doubled overnight, and the people discovered there was indeed more than enough for all. It was a time when the city lived up to its moniker as "Toronto, The Good."
Now, as a wealthy city of three million people, the city's residents are tasked with supporting far fewer newcomers. Can we not recognize the absurdity in claiming scarcity?
In pockets of the city, there are citizens who know abundance. My husband and I have put our name forward to house refugees in our basement through Romero House, whose host program helps Torontonians open their spare bedrooms, basements and apartments to host refugees. Others started a GoFundMe campaign and I've signed myself for their mutual aid network. But the need is great. It will take more of us opening our hearts, wallets and homes.
At a Friday press conference, surrounded by refugees living in front of 129 Peter St., refugee-serving organizations, frontline service workers, and civil society groups called for urgent action from all levels of government to address the refugee housing crisis. An emergency meeting is happening on Friday afternoon between the city, province, and federal governments to address the crisis, according to City News. But until a compassionate solution is found, people will be needed to fed, clothe, and provide basic necessities to Canada's newest arrivals.
---
More on Broadview:
---
Those of us who attend weekly worship services, irrespective of our faith, recognize the obligation to assist the poor. Judgment depends not on the accrual of personal wealth, but on our capacity to love our neighbour. The greatness of the city's soul will be measured by its capacity for mercy. Refusing to shelter refugees to make a point is morally bankrupt.
Section 15 of our Charter ensures equality under the law, prohibiting discrimination based on "race, religion, national or ethnic origin." As signatories to the 1951 Convention on the Status of Refugees, we held out the promise of asylum and protection to people who now sleep on concrete. This is an unconscionable welcome.
Until all levels of government live up to their commitments, people of conscience must rally to shore up the safety net even as we hold leaders accountable for repairing the breach.
***
Rev. Alexa Gilmour is a community organizer, activist, and United Church minister living in Toronto. You can find her @Rev_Alexa on Twitter.
---
We hope you found this Broadview article engaging. 
Our team is working hard to bring you more independent, award-winning journalism. But Broadview is a nonprofit and these are tough times for magazines. Please consider supporting our work. There are a number of ways to do so:
Subscribe to our magazine and you'll receive intelligent, timely stories and perspectives delivered to your home 8 times a year. 
Donate to our Friends Fund.
Give the gift of Broadview to someone special in your life and make a difference!
Thank you for being such wonderful readers.
Jocelyn Bell
Editor/Publisher