In May, I met Aurora in Puerto Asís, a sweltering town of 65,000 close to the Putumayo River in southern Colombia. She is a Nasa Indigenous woman who lives in Kiwe Nxusxa, a reserve of 56 families and 130 people on the edge of the Colombian Amazon. Last year, Aurora and two other young Indigenous leaders spent a month documenting the impact that oil exploration and production has had on the life of her people in Kiwe Nxusxa.
Across the river from Puerto Asís is a narrow, potholed road that leads to the San Miguel River border with Ecuador. 
Aurora says people with small plots of land used to take their products to market in Puerto Asís down the same road. "They'd load their rice and plantains onto the zorra (horse-drawn cart) and pay the owner transport costs to the river." But no longer. Huge tanker trucks full of crude now run up and down the road all day, every day. "Since the tankers took over, it's too dusty and dangerous for horses," she says.  
Two hours from the river, Aurora points to an orange flame burning high above the jungle growth. The Suroriente block. Three huge oil fields, Quinde, Cohembí and Quillacinga, and more than 30 wells. And home to her people.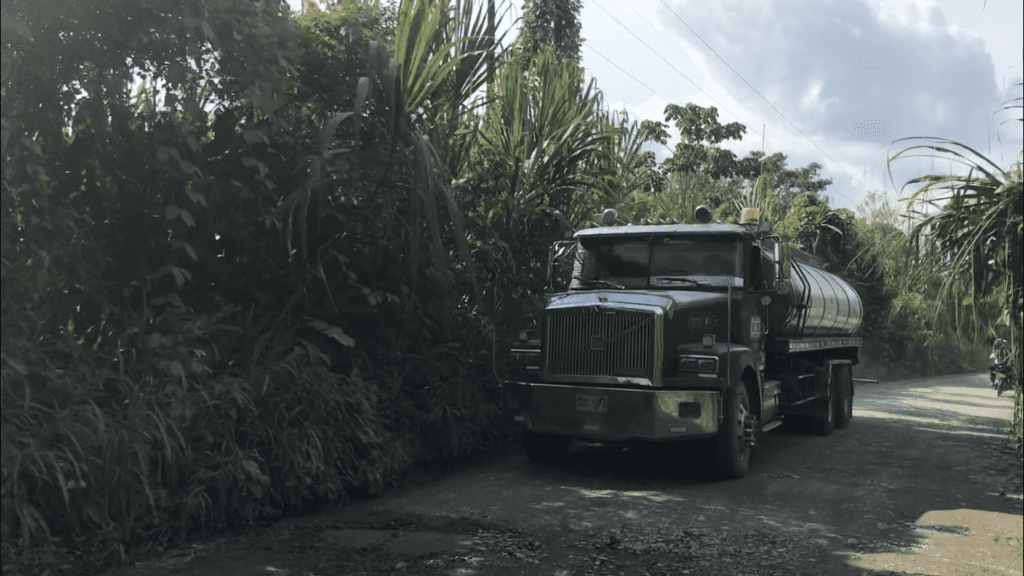 For years, Fuerzas Armadas Revolucionarias de Colombia (FARC) guerrillas controlled this territory. While oil companies had a presence here, it was too risky for large-scale foreign investment and too dangerous to ramp up operations on the ground. A 2016 peace accord with the FARC changed that and fully opened up the Suroriente for business. 
Today, its vast underdeveloped reserves and the promise of multi-billion-barrel oil fields across the river in Ecuador have foreign oil companies scrambling for a foothold in the jungle lowlands here.  
Until this year, Vetra, a Colombian oil firm, developed the Suroriente. Three Canadian companies, Suroco, Petroamerica Oil Corp. and Gran Tierra Energy were non-operating partners with Vetra between 2008 and 2019. Last February, Calgary-based Gran Tierra bought out Vetra and became the Suroriente's operator. 
Vetra was granted three licenses to operate in the Suroriente. And three times, the country's Interior Ministry certified the "non-existence" of affected Indigenous communities in the area; there was no need to talk with Nasa communities like Kiwe Nxusxa. According to the government, none were close enough to be affected by exploration and development work.  
This, in spite of the fact that one of them, Alto Lorenzo, is less than 200 metres as the crow flies from one of the wells in the Quillacinga oil field. When Vetra got the government go-ahead to drill up to 100 more wells, the Nasa decided they had no choice but to try and stop the company themselves. 
They mobilized their small communities and organized protests and road blockages throughout the Suroriente. Drilling and production operations were suspended for weeks at a time. The area was militarized. Indigenous leaders were labelled guerrilla sympathizers, harassed and threatened. One protester was injured by anti-riot police and later died.
Carolina Ortiz leads the Certification Division of the Dirección de Consulta Previa, the Interior Ministry's department responsible for certifying the presence of Indigenous and Afro-Colombian communities and coordinating consultations with them. The department was set up in August 2011. Before that, says Ortiz, the ministry had neither the personnel nor the resources to travel to all the areas they needed to verify the presence of Indigenous communities. Today, with more resources and a specialized team, Ortiz says it would be very unlikely a certificate would be issued in Putumayo without first visiting the area. 
With members of the Nasa guard leading the way on half a dozen motorbikes, we head to a wetland pool five kilometres from Kiwe Nxusxa. It was contaminated by an oil spill in 2015. Aurora says FARC guerrillas stopped a convoy of tanker trucks and ordered their drivers to open the valves and dump their oil. Thousands of litres poured onto the road, much of it finding its way into the pool. She tells me it feeds the Cohembí River, which has been the community's source of water for as long as anyone can remember. 
Today, four years later, the pool remains coated with a thick layer of oil residue. To avoid cramps and vomiting when drinking it and skin rashes when bathing their children, Aurora says families now have to boil their water. Medicinal plants that grew beside the river have disappeared, she says. No one eats the fish that still live in the river.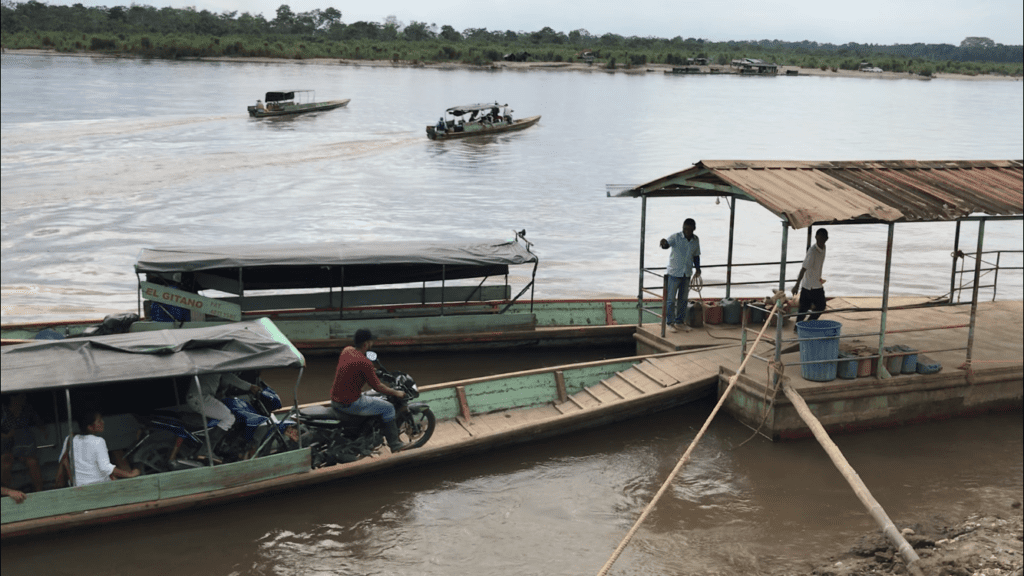 While extractive companies in Canada typically negotiate impact and benefit agreements with Indigenous communities where they will operate, in Colombia, they need only engage them in a process of consultation before beginning work. 
But many people I spoke with in Putumayo say that in practice, they simply inform communities about what they have done and plan to do, once their projects are underway. There is no negotiation. No need to spell out how, or if, they will mitigate the adverse effects of development — environmental damages, for example — or how they will ensure communities share in the benefits of development. 
In 2016, Kiwe Nxusxa and three other Nasa communities in the Suroriente filed an injunction to stop operations once and for all in the Suroriente. They claimed their right to a process of consultation had been violated and that they had been severely impacted by Vetra operations. 
With the injunction, the communities detailed the environmental, health and social impacts their communities had suffered as a result of oil exploration and production. 
Colombia's constitutional court agreed with the Nasa. It didn't call for a suspension of operations. But it did order a process of consultation with representatives from the affected communities.
"Earth, water and air are what we depend on for our survival," Aurora tells me. "But more than that, they are important to who we are as a people, and to our spirituality as Nasa."  
Regional human rights groups have documented that 21 water wells and other sources of water in Putumayo have dried up because of oil drilling and production activities. 
Earth, water and air — Aurora says oil spills, clouds of dust and smoke from tanker trucks and gases burning off the top of oil rigs day and night have contaminated all three. 
"Earth, water and air are what we depend on for our survival. But more than that, they are important to who we are as a people, and to our spirituality as Nasa."  
It is impossible to overstate the risks facing individuals here who speak out to defend their communities and territory, or appreciate how vulnerable they are in remote areas like the Putumayo basin. 
According to the Instituto Nacional de Medicina Legal y Ciencias Forenses (Institute of Legal Medicine and Forensic Sciences), between January 2018 and April 2019, 74 Indigenous leaders were killed — 12 of them were women, 32 of them Nasa.
Paramilitaries, criminal gangs and dissident FARC guerrillas — up to 2,800 have opted out of the peace process and remain active, according to the New York Times — are responsible for most of the killings. 
For Kiwe Nxusxa, there is one very worrying precedent. On May 2, 2015, Nasa leaders from a nearby reserve publicly denounced the negative impacts seismic surveys carried out by a Gran Tierra contractor were having on their community. 
Five nights later, a dozen people in military uniforms and hoods and carrying weapons entered a Nasa community just outside the town of Orito, according to a report from a national human rights organization.
Shooting into the air and throwing grenades, the incursion terrorized the Nasa, a number of families fleeing into the jungle to seek refuge. Before leaving, the armed attackers set fire to one of the reserve's houses. 
In a July 7 interview, Ed Caldwell, vice-president of health, safety and environment and corporate social responsibility at Gran Tierra, said he was aware of the incident but stressed it didn't take place under his or the current leadership team's watch. "It was mentioned in a letter from Human Rights Watch very shortly after we took over," said Caldwell. "I have been assured by our staff it had nothing to with us and there were no instructions from Gran Tierra."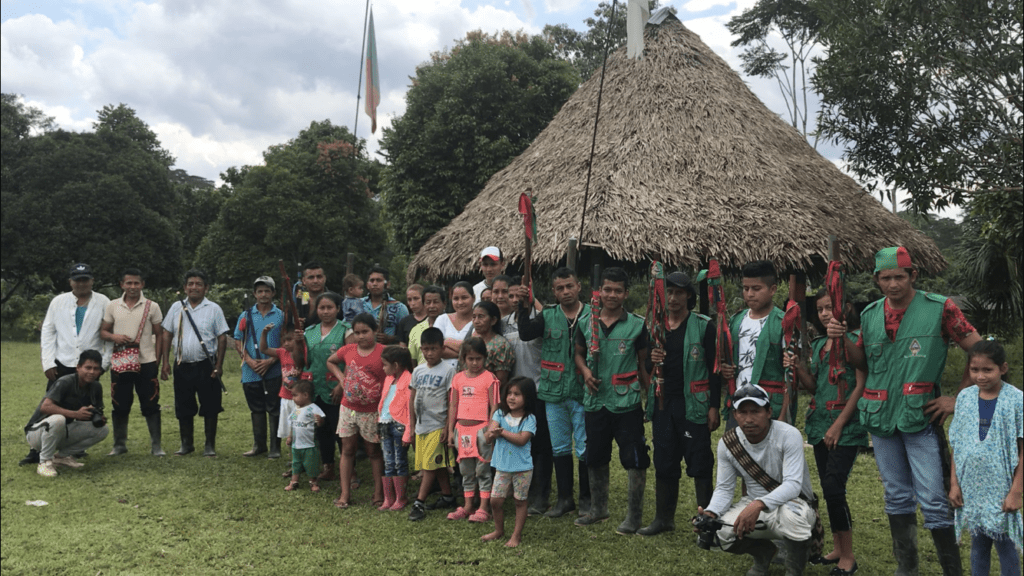 Gran Tierra invested more than $1 billion in Colombia last year. With exploration and production contracts spread over 445,000 hectares, it says it is now the largest landholder in the Putumayo basin. It was recently awarded three exploration blocks in Ecuador's Oriente basin contiguous to its properties in the Suroriente. And this summer, it is carrying out what it claims is the largest seismic program ever conducted in the Putumayo basin. 
It is difficult to predict what lies ahead for the Nasa of Kiwe Nxusxa. As of April, almost 80 per cent of Putumayo's total land area had been auctioned off to oil companies for exploration and development, according to local media.  
All of them have signed on to corporate social responsibility best practice standards and initiatives. With no effective national or international mechanism to ensure compliance and hold companies accountable, that has become standard practice for foreign companies operating in Colombia.
Gran Tierra's approach to social responsibility is guided by a philosophy of Beyond Compliance, which calls for the company to go beyond what is legally required whenever possible "to ensure people's safety, care for the environment and respectful engagement with local communities."
It reflects some of the key corporate social responsibility pillars set out in the 2014 Canadian government publication "Doing Business the Canadian Way: A Strategy to Advance Corporate Social Responsibility in Canada's Extractive Sector Abroad."  
Among Gran Tierra's commitments is one to maintain "open and frequent communication and consultation with local communities" and to "respect the special rights and needs of Indigenous peoples and communities potentially affected by Gran Tierra Operations."
How genuine that commitment is and, more importantly, how it will translate into practice with the people of Kiwe Nxusxa and other small Nasa communities in the Suroriente is the question. 
For now, with an uncertain future and the survival of his people in the balance, Kiwe Nxusxa's governor, Aldemar Muñoz, has some simple words for the new Canadian operator of the Suroriente:  "Come and talk to us. We will take you to where the water and the earth are dirty. Listen to us. We will show you what has happened and how it affects us."
For more of Broadview's award-winning content, subscribe to the magazine today.