I used to think that I accepted people with Down syndrome.  After all, it was perfectly fine for someone else to have a baby born with a genetic difference – but not my husband and I, not me.  The French novelist Antoine de Saint-Exupéry famously wrote, "It is only with the heart that one can see rightly." This has been my experience with my daughter, Elyse. 
On a recent weekend, I sit on my back deck, head tilted up toward the sun, eyes closed, when a little interloper joins me. Elyse, almost seven years old, climbs into my lap. I bear her full weight, all thirty-five pounds; her muscles slack and relaxed against my chest and my beating heart.  Hypotonia was the jarring medical term the pediatrician used when Elyse was first born to describe this physical weakness that is common in babies with Down syndrome. But from the time she was born, as her mother — I didn't see a set of characteristics that define Down syndrome in front of me — I saw my beautiful baby girl.
"Bunny, mommy! Lapin! Lapin!" Elyse points to the rabbit in our backyard.
"Yes, that's right," I say.  Speech production and clarity has not come easily to Elyse, yet she hasn't let that hold her back.  She attends a French first-language school where she is fully integrated with her peers and learns in French.  Her comprehension and ability to label in the language is impressive. Where Elyse struggles is in her ability to group objects.  The concept that a bunny is an animal has long eluded her.
According to the Canadian Down Syndrome Society, one in every 781 births in Canada results in a determination of Down syndrome, a different genetic arrangement that occurs naturally and has always existed.  I found out I was carrying a baby with Down syndrome in my second pregnancy, when I was 28 years old. The grief was devastating, like I had lost the child I was expecting. Perhaps the greatest heartache was knowing my first inclination was to reject my baby; I prized my role as mother and teacher above all others and now I felt like a failure.  But with time, I came to see that all I had failed at was to educate myself, not only about Down syndrome, but in matters of the heart.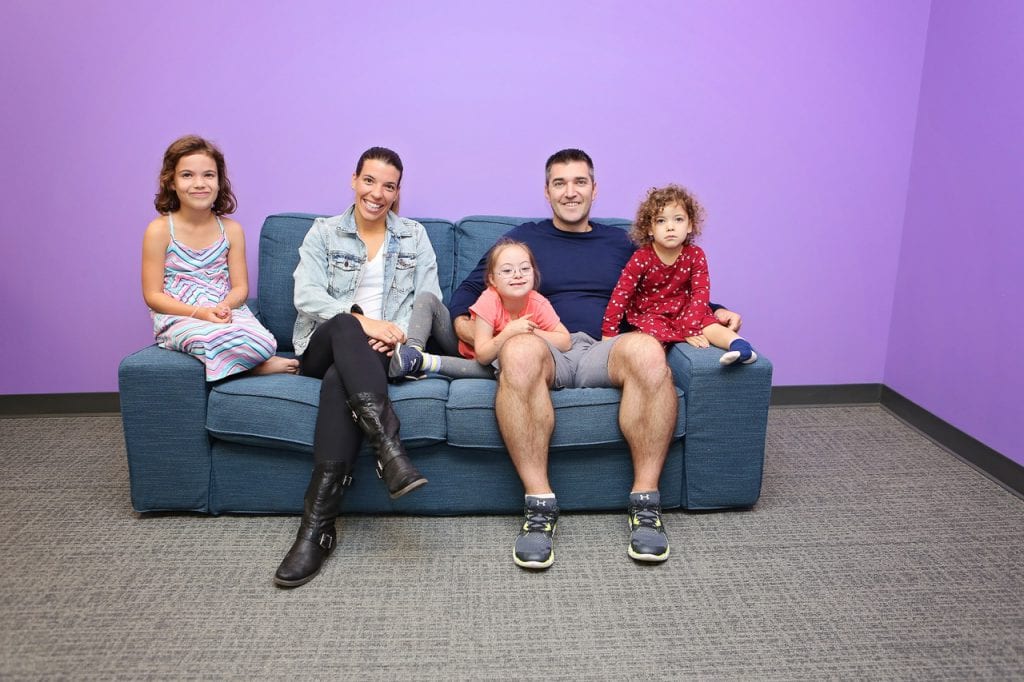 As Elyse rambles on, her chattiness incomprehensible, I close my eyes and I let my thoughts drift elsewhere.  I feel the warmth of the sun against my cheek, Elyse's heart beating steadily against mine.
I was afraid that having a child with Down syndrome would change everything, but I hadn't considered that it would change everything for the better, that my life would be enriched in unforeseeable ways.  That people with Down syndrome are more capable than we give them credit for; that as human beings, we are multifaceted, and that a person's worth is not tied to only one measure, such as cognitive ability.  That we are people of heart and soul. Traditional measures of success are only one part of the whole.
I come back into myself at the moment of Elyse's triumph.  To most parents, this moment would not be cause for celebration, but to me, it is glorious.
"Bunny, cat, dog, sheep, pig… animals.  Animals, mommy!"
"Yes! Yes, Elyse, animals!  You're right!" She figured it out.
I whoop in delight and in return, Elyse gives me a genuine giggle and a huge smile.  
When we see rightly, we honour the child and human being in front of us.  We acknowledge the place from where they are at and we celebrate. We accept that gifts come in many forms. 
I see you my sweet girl.  And I hear you. You said animals.
Broadview is an award-winning progressive Christian magazine, featuring stories about spirituality, justice and ethical living. For more of our content, subscribe to the magazine today.