(RNS) — Rev. Nick Bruckner stood atop a mound of snow as he preached about taking time to reflect during the Lenten season and urged the faithful to not "drift through life."
The strong winds made it difficult for him to flip the pages of his Bible.
He used the remains of a plastic cup to shield his microphone and block the swooshing sounds of the gusts. Bruckner placed a cellphone, which he protected inside a cardboard box, next to the microphone to project piano music to the crowd.
His estimated 35 guests listened and sang hymns from inside their vehicles.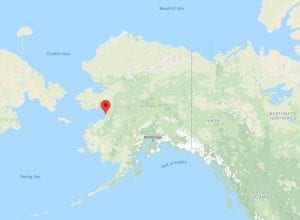 This was Sunday service (March 22) during the coronavirus pandemic in Unalakleet, a village on the northwest coast of Alaska.
"Improvisation was the word of the day," said Bruckner, 35.
As COVID-19 continues to spread across the nation, churches are creatively offering drive-in style worship services to maintain social distancing rules meant to protect people from catching the novel coronavirus. For Unalakleet Covenant Church, this meant being outside in subfreezing temperatures.
Bruckner admits it was kind of crazy but says people from the church just really missed each other.
"Everybody who was in their car had the biggest smile on their face, just because we didn't physically gather for church the week before and everybody misses it," said Bruckner, pastor of Unalakleet Covenant. "Being together, even though there is no physical contact, … really warms people's hearts and encouraged everybody, including me."
Pastor Nick Bruckner leads a snowy drive-in service of Unalakleet Covenant Church, Sunday, March 22, 2020, in Unalakleet, Alaska. (Courtesy photo by Bret Hanson)Unalakleet Covenant Church, which is part of the Evangelical Covenant Church, is made up of about 90 members in an area that's predominantly Iñupiat, Bruckner said. The congregation's theme song, Praise Ye the Lord, is sung in the Inupiaq language. It's a multiethnic church in a village of about 800 people, he added.
In Unalakleet, it's common for members of the church to see one another around the village.
"I see people in my congregation at the store. I see them at the post office, at the gas pump. We get to see each other many, many times throughout the week, more so than most churches," Bruckner said.
"But with everybody staying in, we feel disconnected and I think that there's a feeling of grief in missing out on that fellowship that we're accustomed to," Bruckner added. "We miss gathering together for worship, but we also miss just those relationships and the unique way that those are built when you are physically present to each other."
Bruckner said church members have responded to the pandemic by praying with one another by phone. They've also called elders to check on them.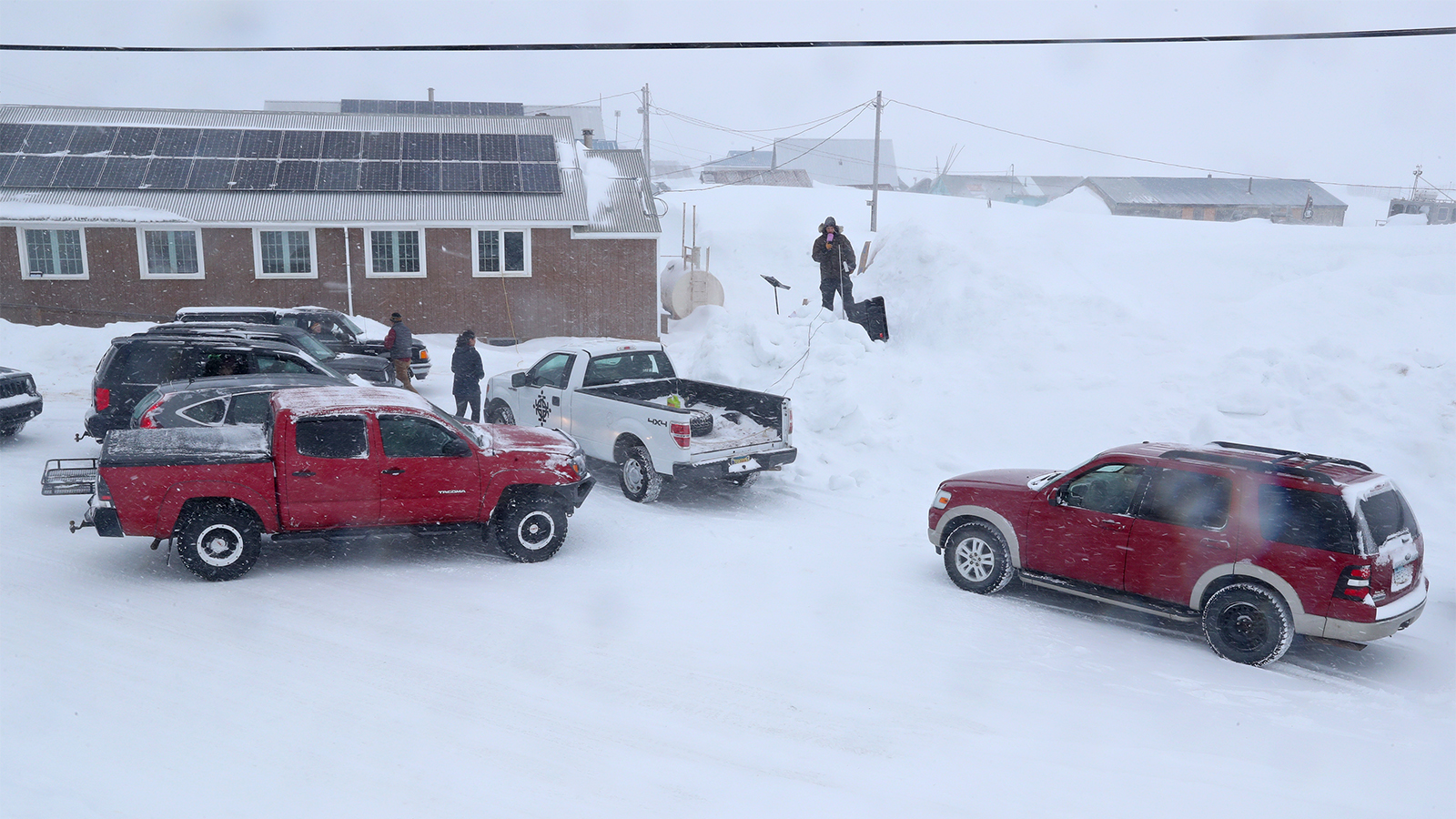 He said the church decided to cancel Sunday worship service and other gatherings, like the monthly community meal church members cook for the village, about two weeks ago.
"We need to protect people," Bruckner said. "It's a reflection of our commitment to God to love our neighbour.
"On a normal Sunday before this pandemic, if somebody had the flu or they knew that they were contagious or they might be contagious, we would ask them to stay home because that's the loving thing to do," he added.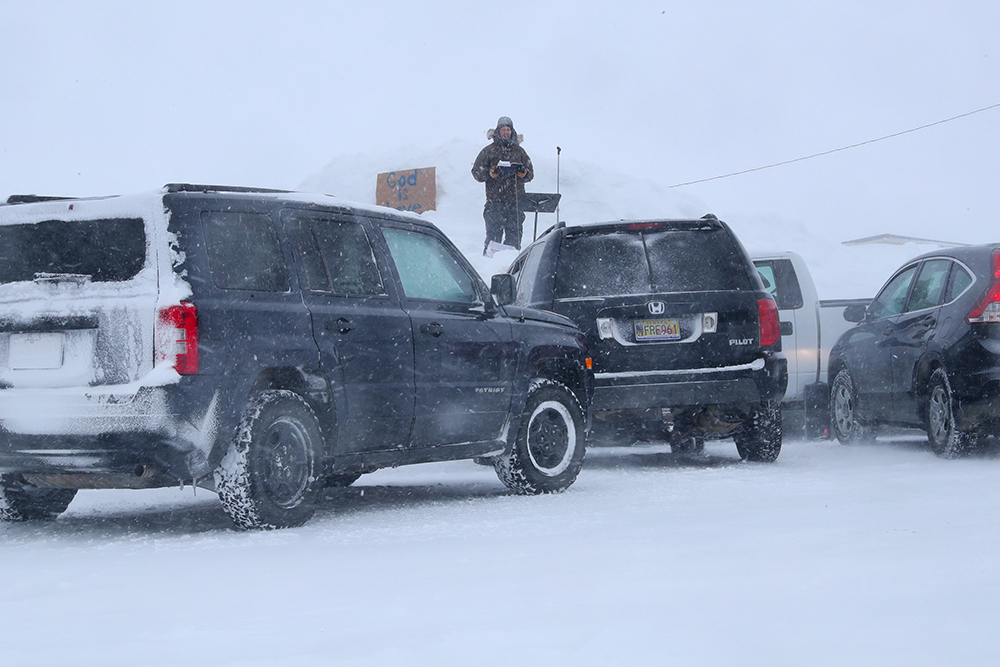 At the snowy Sunday service, church members inside their vehicles received hymn books sanitized with Clorox wipes.
"We told everyone just to keep them for the next three months so we don't have to worry about germs spreading," Bruckner said.
Bruckner said he thought of the drive-in service idea the evening before, on Saturday.
A big pile of snow had accumulated outside the church, and Bruckner envisioned he could initiate the service from atop the snowbank. Church members sent invites for the Sunday service that evening. They just weren't expecting the cold and windy conditions that morning.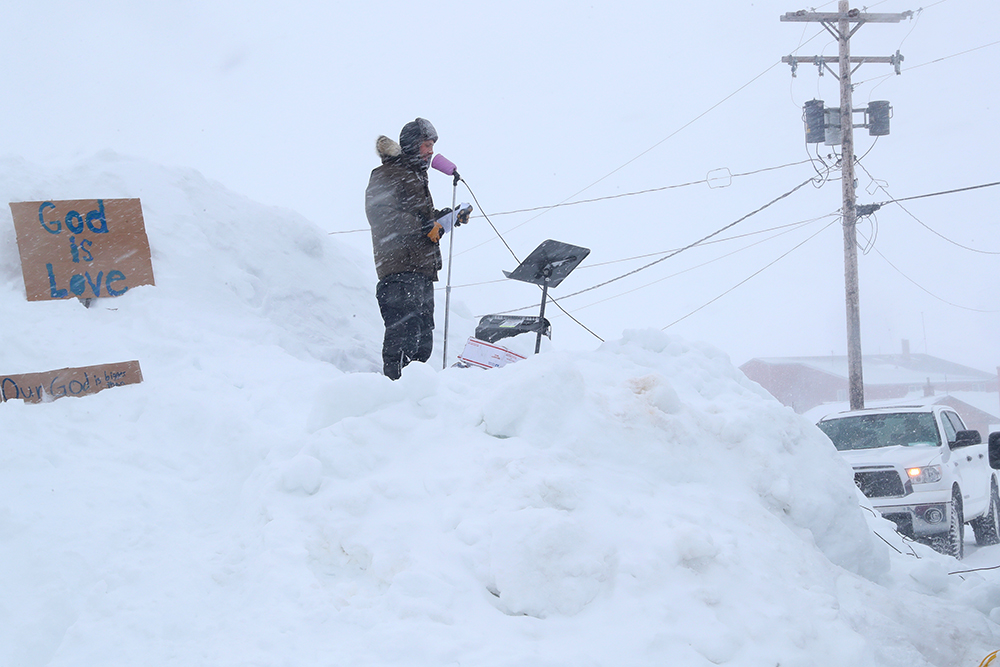 Church member Jessica Towarak streamed the service on the church's Facebook page as she recorded from her vehicle. This was the first time the church streamed a worship service through Facebook.
"Everyone was smiling and laughing," Bruckner said. "(It was) a lighthearted gathering of being together."