Every morning lately, the first thing my Grannie does is peer out the window at the nursing home that is kitty-corner to her apartment in Whitby, Ont. She looks over throughout the day—when she has coffee and reads the paper, before she goes to bed and when she gets up in the middle of the night. 
She's wondering how her husband, my Poppa, is doing. She moved him into the home last Tuesday. Just a day later, the WHO declared COVID-19 a pandemic and she was told last Thursday the facility was no longer allowing visitors.
Grannie was able to break the news in person, sitting next to Poppa on the bed and stroking his arm and cheek. 
"You know what, Andy," she recalls saying, "I can't come back after lunchtime and I'm really, really going to miss you and I'm very, very sorry. I will miss you and you will miss me, but that's the only way it will have to be for the time being, dear. But as soon as the home opens, I will be there to see you again."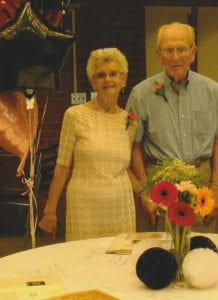 She worries that he thinks she abandoned him. My grandparents have been married for 63 years. When Poppa first arrived at the home, he was upset and told her he did not want to stay. He thought it was too expensive and wanted to remain with her. But after two years of my Grannie being his primary caregiver, this was no longer possible.  She would get him out of bed, help him to the bathroom throughout the day and in the middle of the night and even bathed him sometimes—an increasingly difficult task for a small aging woman. 
The proximity of the nursing home to her apartment gave him some consolation. When he first moved in, he told her that he planned to get a pair of binoculars so he could look for her out the window. It was a nice thought, but he has terrible eyesight and her window is just out of view.
The last time they were apart for an extended period was before they were married, when he was going to school. Her family would only let her talk to him on the phone for three minutes at a time because any longer was too expensive. 
Now, even phone calls aren't possible because Poppa is hard of hearing and has difficulty with his hearing aid. Every night, Grannie calls the evening staff to see how he's doing and asks them to pass along her love. She is always relieved to hear the staff report that he is doing fine and settling in. 
Last Saturday, however, staff told her there were several cases of respiratory problems in the home, though no confirmed cases of COVID-19. She worries because Poppa is 88 and has diabetes, both factors that make him more vulnerable.
"I just have to believe that he's alright. Every night [the nurses] say he is doing well and content. I just have to believe that," she says. 
Being far from my grandparents is painful. I was supposed to visit them next month but, like many people, had to cancel my trip. All around the world, people are in similar situations. Some have had to say goodbye to loved ones from a distance. Some are grieving in isolation. In Canada, we see the stories on the news from other countries and can feel our parallel fate coming closer. 
I don't know how this is going to end. None of us do. But like Grannie, I have to believe that we'll make it out the other side "alright."
Broadview is an award-winning progressive Christian magazine, featuring stories about spirituality, justice and ethical living. For more of our content, subscribe to the magazine today.