COVID-19 is turning religious rituals on their head, and the brit milah is no exception. In Jewish tradition, baby boys are circumcised on their eighth day of life. Pre-pandemic, that day typically included bagels, lox and anywhere from a handful to 100 friends and relatives. Now, these trappings and traditions are too risky.
"The brit milah has to be done — it's time sensitive. So, we move forward with strictly mum and dad in the room. No guests at all," said Dr. Mark Greenberg, a physician and mohel (ritual circumciser), in Toronto. "We do the whole brit milah and they can put it on Zoom if they want… I still wear my tallit, but now over my disposable gown, mask, eye coverings, and gloves."
Mohels don't have many options for social distancing. Greenberg has been performing rituals since the onset of COVID-19 and says, if anything, he is glad for the break from early-morning circumcisions so relatives can rush off to their jobs. 
Greenberg calls the new normal a "bare-bones procedure." Although it's evolved into a celebration within families, the commandment is straightforward physical evidence of a divine relationship. God said to Abraham in the Torah: "You shall circumcise the flesh of your foreskin, and it shall be as the sign of a covenant between Me and between you." 
The commandment can be satisfied whether there are two or 200 witnesses.
"I'm sure it was hard on a cultural basis especially for grandparents who can't be at their grandson's brit… but it really wasn't up for discussion on my end," Greenberg said of the precautions he's taking. "It's a sign of the times. There were times in Jewish history where people couldn't do a brit for fear of their life, not just having to stay home."
According to Dr. Vinita Dubey from Toronto Public Health, personal protective equipment (PPE) and precautions are required for circumcisions but "health care providers and religious leaders will need to determine which precautions and PPE are required for the particular situation," Dubey said.
Until this week, Ontario's Emergency Management and Civil Protection Act banned religious gatherings of more than five people, so Jewish parents could meet bare minimum religious requirements but without the support of their community welcoming their new baby. With gatherings of up to 10 allowed as of Friday, it will be for families to decide how to proceed.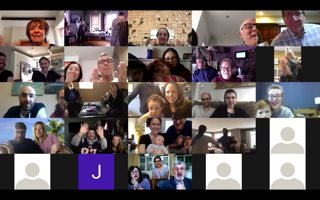 Families like the Nathans in Massachusetts chose to livestream their tender moment with a rabbi officiating via webcam. They had 200 friends and family attend live from around the world, more than otherwise would've been able to attend the physical brit. Greenberg says only one of his recent clients chose not to share their baby's brit using a video app.
"A lot of rabbis right now are spending the time, doing the research, finding out what is the ritually-minimum requirement and how we satisfy that while also protecting people's lives," said Rabbi Julia Appel, who recently founded Bina Community Circles in Toronto, Ont. as an alternate, relationship-centred entry point to Judaism. "The concept of pikuach nefesh, or saving a life, takes precedence over a lot of other considerations. Fulfilling mitzvahs [commandments] is supposed to be for life."
Some can be reluctant to change their habits in the face of spreading infection, especially when tradition is involved. New York's ultra-orthodox population saw a measles outbreak and infant herpes cases within the last decade because people prioritized perceived religious obligations.
"The [Jews'] expulsion from Spain in 1492 was bigger than this; that was permanent! It may be a year or two of doing things really differently but this is temporary," Appel said. "It's challenging because we are not a solitary religion. Our ritual, our prayer is meant to be shared. That's the biggest challenge to the way we usually do things, in community."
---
I hope you enjoyed reading this article from Broadview. The magazine and its forerunners have been publishing continuously since 1829. We face a crisis today like no other in our 191-year history and we need your help. Would you consider a one-time gift to see us through this emergency?
We're working hard to keep producing the print and digital versions of Broadview. We've adjusted our editorial plans to focus on coverage of the social, ethical and spiritual elements of the pandemic. But we can only deliver Broadview's award-winning journalism if we can pay our bills. A single tax-receiptable gift right now is literally a lifeline.
Things will get better — we've overcome adversity before. But until then, we really need your help. No matter how large or small, I'm extremely grateful for your support.
Jocelyn Bell
Editor/Publisher