At a time when Canadian healthcare workers are on the front lines of a pandemic, some are faced with another challenge: fasting during Ramadan. 
Ramadan, which began around April 24 this year, is the ninth month of the Islamic calendar. Muslims around the world observe it as a month of fasting, prayer and charity. 
Fasts last from dawn to sunset for 29-30 days, and depending on where you live, between 11 to 19 hours a day. For Mehvash Qureshi, who lives in Edmonton, the fast is about 17 hours long.
Qureshi is a nurse practitioner in an intensive care unit, and says the biggest challenge of fasting while working is dehydration caused by the constant use of N95 masks and personal protective equipment (PPE).  
"It's very dehydrating because you're not drinking as much water as it is, and you're breathing in your own air all day," she says. "And then with the N95 masks, when you're providing care to a COVID-positive patient or a suspected COVID-positive patient, it's very tight on your face." 
Dr. Aisha Khatib, a staff physician at St. Michael's Hospital in Toronto, agrees. 
"Sometimes you're hot and you often feel more tired than you already are after a regular workday because you're wearing a mask all day long, so one of the things you think about is how much more dehydrated you're going to be because of Ramadan." 
While fasting is an essential part of Ramadan, some Muslims may be exempt from the practice, including people who are pregnant, nursing or menstruating, those who are ill and travellers. Most of these exemptions are in place because of the stress fasting can place on one's body. People who are sick may need to take medication and those who are travelling may not have access to food and water to begin or end their fasts.
Imam Yasin Dwyer, the executive director and lead chaplain of the Muslim Chaplaincy at the University of Toronto, says that exemptions depend on the context and person.
"If a healthcare professional is working a very rigorous amount of hours and is required to be alert, or to be very vigilant—that would be a context that perhaps would allow for permission for that person to not fast," he says.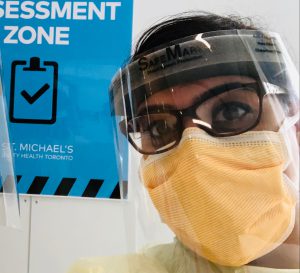 "But at the end of the day, it's up to the person. If they can fast and maintain their duties and responsibilities and take care of the lives that they are trusted with, they are welcome to observe the fast."
For Qureshi and Khatib, observing Ramadan during a pandemic is their way of practicing spirituality during such a stressful time. 
"I've been telling myself that this is a moment when you can change your mindset and just reflect, and know that even if it's immensely busy and physically and emotionally difficult, you're in a state of worship while looking after the patients," Qureshi says. 
"It's almost like a cleanse for Muslims, so it is something that I think will help people focus and give them a little bit of hope and spiritual focus during a time when things are difficult," Khatib adds. 
Qureshi says that knowing she has a place to pray during the day — in her hospital's chapel — helps her too. 
"I know a lot of hospitals don't really have places to go to pray, but I plan that out in advance. Because you can take those spiritual breaks and reset and remind yourself why you're fasting and keep going." 
Having supportive coworkers and a healthy work environment makes a huge difference, Khatib adds. 
"It is something that I think will help people focus and give them a little bit of hope and spiritual focus during a time when things are difficult."
"Yesterday, I was on duty and one of the nurses asked me if I needed a time slot they could book off so I could pray, or if I just needed some time," she says. 
"They're also interested and want to celebrate. One of our receptionists asked if we can do a distanced Eid party or celebrate in some way at the end of Ramadan." 
Community members have also stepped in to help. Naz Ali, the owner of Caribbean Flavas Restaurant and Catering in Fredericton, N.B., is one of them. Along with offering a "buy one, give one" promotion that supplies essential workers, including those who work in healthcare, with food, Caribbean Flavas has been delivering iftars — the evening meal that breaks a fast — to those on the front lines. 
"This is not a 'me' situation. This is a global 'we' situation. So how do we continue to give as much as we can give in situations like this?" Ali says.  
Dwyer says for Muslims, Ramadan is as much about helping those in need as it is about fasting, and those who can't fast must continue to give to charity. 
"[Ramadan] is to keep your heart busy with God, and to keep your hands busy with people."
Broadview is an award-winning progressive Christian magazine, featuring stories about spirituality, justice and ethical living. For more of our content, subscribe to the magazine today.