In the fall of 2020, the Supreme Court of Canada heard a case that would, perhaps more than any other, affect the federal government's ability to tackle climate change. At issue was whether the government had the right to tax carbon emissions across the country, against the wishes of some provinces. The case was legally about constitutional authority, but it was really about climate change.
It was also the first in-person case the Supreme Court had heard since the outbreak of COVID-19. The judges all donned masks when they entered the courtroom. They were spread out, too, and separated by clear plexiglass dividers. The main podium was wiped and disinfected between speakers. The gallery sat empty, with the public required to watch a remote video feed. Surrounded by these reminders of the current health crisis, the judges, and the lawyers arguing the case, launched into a debate about the even larger climate crisis.
Perhaps inspired by the pandemic dividers, one judge noted that provinces didn't have plexiglass along their borders. The idea being that, in the absence of giant plastic walls extending into the stratosphere, greenhouse gases flow freely across political lines. Therefore, if a carbon tax was going to help reduce emissions, it would likely have to be a shared national priority.
Another judge raised a different concern: the economy. He was particularly worried that the carbon tax would harm oil and gas companies. The negative effects of a tax, he said, could mean "we will not have a petroleum industry in this country."
Defending the carbon tax against this economic argument, a lawyer from British Columbia countered that there was another industry providing "jobs and revenues" that was also under threat — not from a carbon tax but rather from climate change. He described how, over recent decades, warming temperatures had devastated the forest industry, which tens of thousands of people rely on for jobs. Global heating had brought in a pine beetle epidemic and exacerbated raging forest fires. "Industries have already been shut down, people already have lost their homes," he said, and "we know it's going to get worse."
Climate change has been at the centre of many debates — first among scientists, then politicians and the public. But today, more and more, it's a debate among lawyers and judges. The number of climate change cases in the courts has rapidly increased over the past two decades. In 2001, there were only two cases in two countries; by 2017, there were 884 cases in 24 countries. Within the last few years, numbers have exploded. Between 2017 and 2020, climate cases not only nearly doubled but they spread to 14 more countries.
---
Interested in more stories like this? Check out Broadview's newsletters.
---
Much of the increase reflects a growing exasperation at government and corporate paralysis in the face of a worsening crisis. Too often, countries set emissions targets but fail to implement plans to reach them. Oil and gas corporations have been equally sloth-like, with some even funding efforts to deny that climate change is happening.
As heat waves and flooding grow more extreme, some are turning to the courts as a last resort for urgently needed action. Jessica Wentz, a senior fellow at Columbia University's Sabin Center for Climate Change Law, told me bluntly over the phone: "When the government is failing to regulate something harmful, like greenhouse gas emissions, the courts are one of your only forms of redress."
In the coming years, Wentz doesn't see the number of cases slowing down. Today, in courtrooms around the world, people are holding fossil fuel companies liable, and governments accountable, for the causes and impacts of our warming world. Many are using the law to force those in power to act, and in some instances — like the Supreme Court of Canada's carbon tax case — to prevent them from acting. These cases have different purposes and limitations, and include a variety of arguments, but there is no doubt they're already shaping the way societies think about and address climate change.
---
In 2008, one group that tested this legal path was the Inupiat community in Kivalina, Alaska. With a population of around 400 people, it sits at the tip of a roughly 13-kilometre-long barrier reef on the west coast of the state, about 130 kilometres north of the Arctic Circle. In this polar region, scientists found, temperatures are warming nearly four times faster than the rest of the planet.
For years, sea ice around Kivalina acted as a barrier against waves and coastal storms. But now, that protective ice is melting away. In court documents, the community said the loss of sea ice had left Kivalina's coast "more vulnerable to waves, storm surges and erosion." And few disagreed with this. The United States Government Accountability Office (GAO) said the prospect of staying put was "no longer a viable option for the community."
But the cost of moving somewhere else seemed equally unviable. The GAO's estimate to relocate the Kivalina community was between $100 million and $400 million. Who would fund the relocation? Kivalina residents believed that oil and gas companies, like ExxonMobil, should pay. In its legal claim, the community stated that these companies were "substantial contributors to global warming" and that "the injuries have caused Kivalina to suffer millions of dollars in damages in lost property value."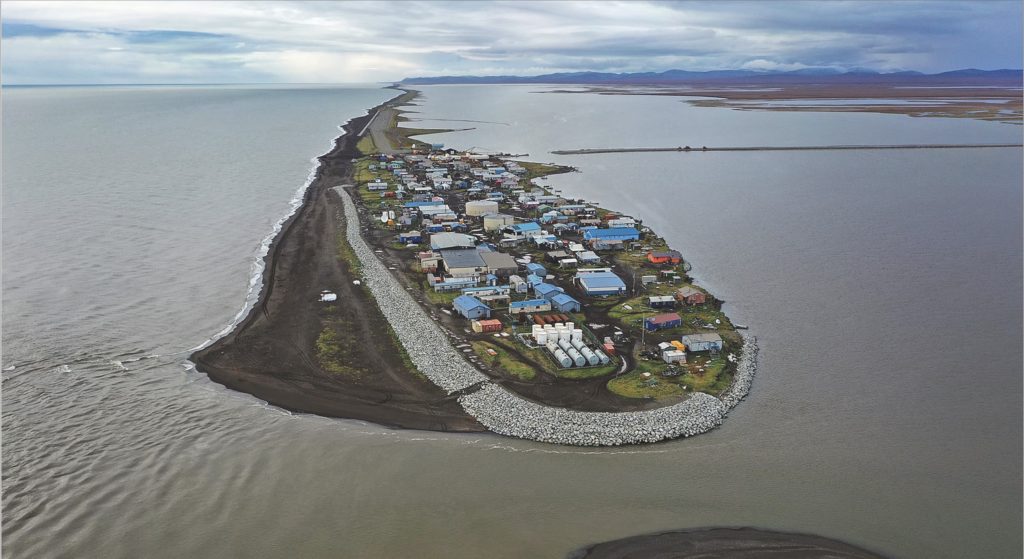 Could a group of oil, gas and coal companies, not necessarily located near Kivalina, be directly responsible for the rising seas and harsher storm surges causing damage to the community? In the Kivalina case, the court didn't think so. As the final decision read, "there is no realistic possibility of tracing" the impacts of global warming to the emissions of a specific person or group.
But if fossil fuel companies weren't responsible, then who was? "Virtually everyone on Earth is responsible on some level for contributing to such emissions," the decision read. And in the end, the companies were let off the hook, with the court referring the problem of climate change to elected governments.
Today, Kivalina is still battling for existence. As resident Alexis Hawley told a documentary filmmaker in 2017, "Global warming, it's just happening before our eyes. I believe one day Kivalina's not going to be here anymore."
These were, to be sure, still relatively early days for climate cases. Now the evidence connecting impacts to specific emitters — what some call "source attribution" — is stronger scientifically though still difficult legally. Cases against fossil fuel companies continue to have a poor track record. While the number of claims against them are on the rise, to date they have "largely been unsuccessful" in the United States, according to an analysis in 2020 by the international law firm Norton Rose Fulbright.
However, while it's hard to prove in a court of law that fossil fuel companies cause rising seas and worsening storms, proving that governments cause climate damage has been easier.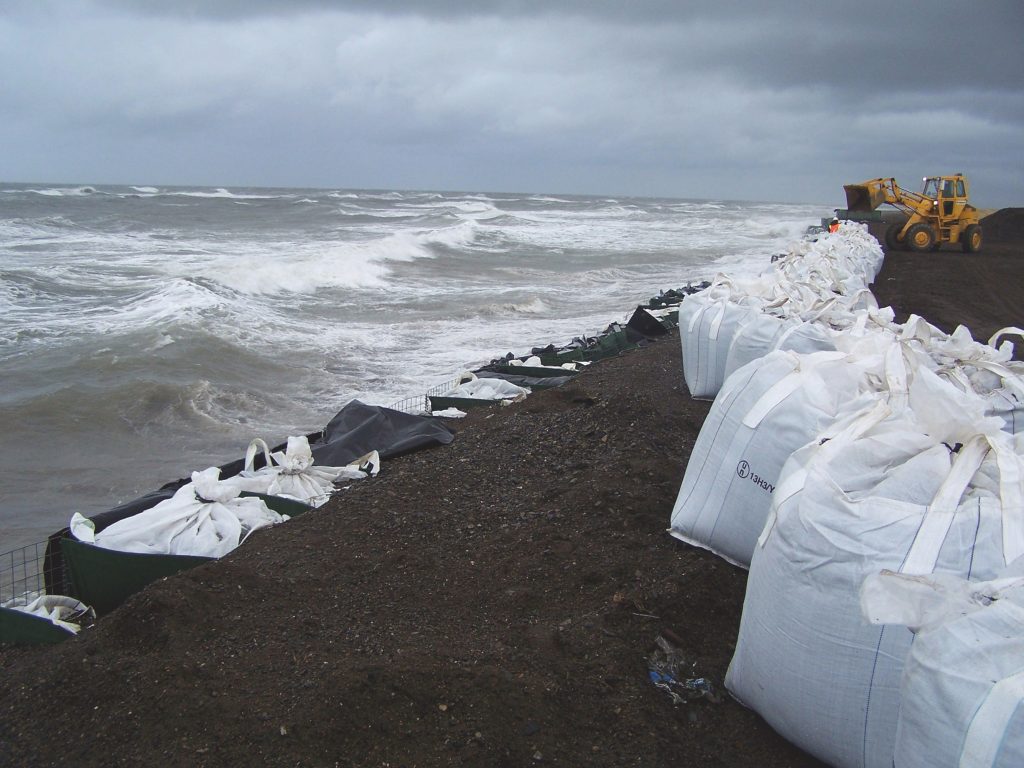 The administration of George W. Bush provided an early opportunity. During Bush's tenure as U.S. president in the 2000s, the Environmental Protection Agency (EPA) claimed not only that it lacked the authority to regulate greenhouse gases (GHGs) but that it wouldn't set emission standards for cars even if it did, because it didn't want to go against Bush's policies. Around 30 percent of GHGs in the United States came from transportation, similar to today. This was a massive source of carbon emissions.
The state of Massachusetts, along with 11 other states and several environmental groups, challenged the EPA's stance, bringing the case all the way to the highest court in 2006. "U.S. Supreme Court considers its first global warming case," a New York Times headline declared at the time. And in a landmark 5-4 decision, Massachusetts ultimately prevailed. Again, the issue of causation played a role, but how did it differ from Kivalina?
One factor was the sheer scale of GHGs at stake. Similar to Kivalina, Massachusetts was seeing rising sea levels. Unlike in the Kivalina case, though, the carbon emissions the EPA was responsible for — a much larger quantity — were deemed more directly linked to the climate impacts. As the majority of judges described, the American transportation sector "emits an enormous quantity of carbon dioxide into the atmosphere." For perspective, they elaborated, emissions from the U.S. transportation sector on their own would still leave the country the third-largest emitter of carbon dioxide in the world. "A reduction in domestic emissions," the judgment read, "would slow the pace of global emissions increases" and therefore lessen the destruction.
Not only was the scale of emissions large, but the type of group looking for redress — an entire state, like Massachusetts, rather than a small community, like Kivalina — also played a role. "It is of considerable relevance that the party seeking review here is a sovereign State," the majority wrote. The decision ultimately didn't force the Bush administration to act. But in 2009, when President Barack Obama entered office, he leaned on the Massachusetts precedent to improve vehicle fuel-efficiency standards. As he wrote in his 2020 book A Promised Land, "we were now in a position to take the Supreme Court's decision out for a spin."
The relationship between the justice system and government is complicated, especially in the United States. Some judges in these cases suggest climate change is a question for legislatures and not courtrooms. In the Massachusetts decision, for example, a minority of judges, led by Chief Justice John Roberts, concluded that Congress and the president should be the ones dealing with climate change. "Apparently dissatisfied with the pace of progress," they noted, Massachusetts and other states wanted the courts to do what the federal government wouldn't.
Fast forward a decade and a half, and now the federal government, under President Joe Biden, was acting. Through the Environmental Protection Agency, it was looking to better regulate carbon emissions from power plants. But a new case went to the U.S. Supreme Court earlier this year, led by coal states like West Virginia, who felt the EPA didn't have the authority. This time, it seems, the now conservative majority of judges were themselves dissatisfied with the pace of progress. They ruled against the federal agency, limiting its ability to regulate power plant emissions.
---
The thing about climate litigation is that groups can use it to fight not only for climate action but also for climate inaction. That's exactly what happened in West Virginia v. EPA, and it's also what happened in Canada.
But first, how did Canada's largest climate litigation case — the fight over the federal carbon tax — even end up in the Supreme Court? Well, things actually started off with a tentative agreement. In 2016, the federal government gathered all the provinces for a meeting in Vancouver. From this, they acknowledged that climate change was a serious threat and that, among other measures, the provinces could design their own method to price carbon emissions. A carbon tax makes it more expensive for individuals and corporations to burn fossil fuels, thereby limiting the behaviour at the crux of global warming. A vast majority of economists also say it's the most efficient, cost-effective way to reduce emissions.
By 2018, Canada's four most populous provinces already had their own carbon price, through either a tax or a cap-and-trade system. This included Alberta, where the majority of Canada's oil reserves are found, which implemented one under an NDP government. Was it possible that a policy often described as politically unfeasible could succeed across Canada?
Soon after the Vancouver meeting, dark clouds began forming. Some provinces were upset when the federal government said, in effect, if you don't implement a carbon pricing system then we will do it for you. But the real accelerant was when both Ontario and Alberta threw out their progressive governments in favour of populist premiers Doug Ford and Jason Kenney. The stage was set: these new leaders were going to axe the tax.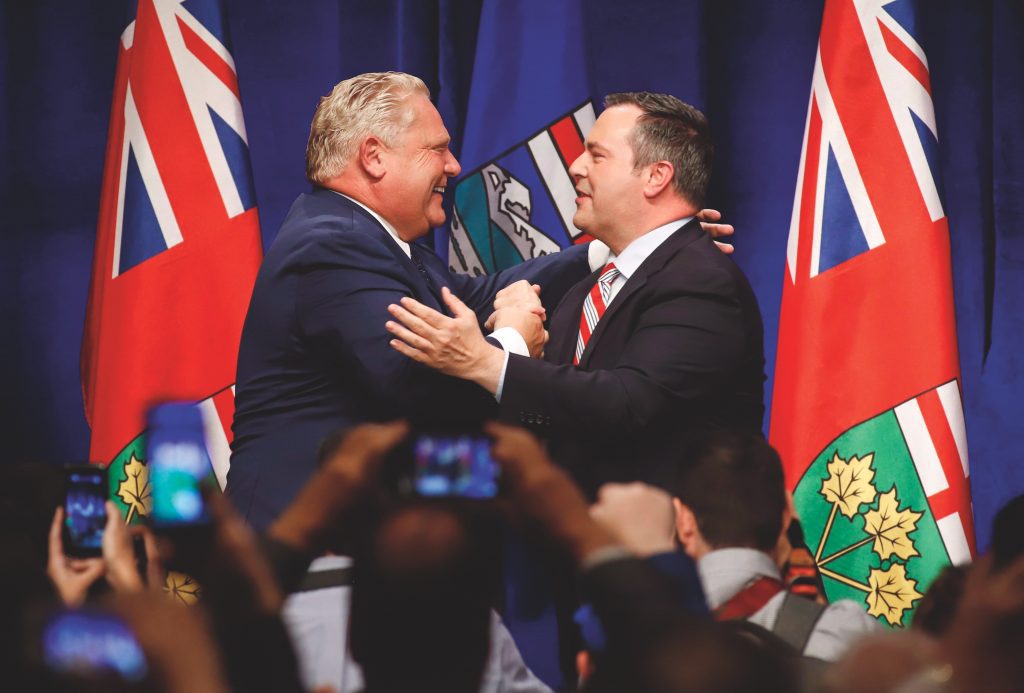 Ford described Kenney as a "strong ally" in the fight against the "job-killing carbon tax." Both politicians cancelled their provinces' existing carbon pricing schemes and then railed against the one Prime Minister Justin Trudeau planned to impose. This, despite the fact that 90 percent of revenues would go back to citizens (perhaps making the word "tax" a misnomer) or that even major Canadian oil companies supported it. In an image for the ages, released as the battle over the tax was heating up, Kenney and Ford, along with the Saskatchewan and Manitoba premiers and then-leader of the federal Conservative party, Andrew Scheer, appeared on the December 2018 cover of Maclean's magazine with the headline "The resistance."
The photo was largely derided as a bad PR stunt, which, one online commentator noted, could equally have been titled "The Status Quo." The irony here is that a carbon tax was once a conservative idea in Canada, seen as the least intrusive market-based mechanism to lower emissions. Still, Ontario, Alberta and Saskatchewan would go on to lodge legal challenges to the tax. And those challenges, as we know, wound up in the Supreme Court of Canada, in front of judges wearing face masks and with plexiglass dividers between them. This climate policy, developed and legislated and publicly defended, was now before the highest court in the land.
---
There is no shortage of reasons why governments and corporations don't act on climate change. For one, it's the world's most vulnerable who are usually hit first: coastal communities exposed to storm surges; Indigenous communities in a warming Arctic; those without protection from devastating floods and scorching droughts. In other words, the groups least likely to have a megaphone. Further, the groups with power lack clear incentives. Many corporations believe curbing emissions will hurt their bottom line; they have short-term responsibilities to shareholders, not long-term obligations to the public. And many governments still perceive climate action as politically and economically risky, especially when, as a global problem, responsibility is often diffuse.
In theory, courtrooms are where problems are resolved based on what is right, regardless of what is popular or profitable. "The third branch of government is a place," Wentz tells me, "where you might be able to prompt or compel some sort of action, and so that's why judicial intervention matters." In the years since the Kivalina and Massachusetts decisions, many more have brought their climate concerns before the scales of justice, and the types of arguments have continued to evolve.
One argument that was hard to ignore was the historic 2015 Paris Agreement. It was the first truly comprehensive climate deal that nearly every nation signed on to, and it set forth a stronger monitoring and reporting framework. The accord injected a sense of hope and purpose into the climate movement — and it also provided a new courtroom tool. "It's been an important source of legal support," Wentz says.
For example, in the Netherlands, an environmental group called the Urgenda Foundation took the Dutch government to court, accusing it of failing to do more to curb the effects of the climate crisis. In 2019, the Supreme Court of the Netherlands ordered the government to cut emissions by 25 percent below 1990 levels. It cited the Paris Agreement several times, and identified the science behind the accord as a key benchmark for the country to follow. This was historic: it was the first time courts had ever forced a nation to live up to its climate targets.
In the Urgenda case, it's important to note that human rights were also debated. This is a growing trend. Reducing emissions and adapting to impacts, many argue, are critical to rights like health and safety. "Climate change threatens human rights," the Urgenda decision stated, acknowledging that rising oceans and melting sea ice harm peoples' right to life and liberty. Cases with rights-based arguments can now be found in the Philippines, Canada, Austria, South Africa and Pakistan, among others. In Pakistan, a farmer, Ashgar Leghari, sued the government for failing to implement adaptation policies — and in 2015, the Lahore High Court sided with him. Climate change was aggravating "heavy floods and droughts" in Pakistan, wrote Judge Syed Mansoor Ali Shah, putting citizens' "fundamental rights" at risk, especially the rights of "the vulnerable."
"The utility of human rights law," Wentz says, "is that it sets up a pretty broad foundation for holding governments accountable when their policy failures negatively affect the health and welfare of their citizens." As we know, it's also younger generations who will bear the brunt of compounding climate disasters, and who, understandably, increasingly argue for their human and constitutional rights to be protected.
In 2015, 21 youth between the ages of eight and 19 took the United States government to court for supporting a fossil fuel economy that, they claimed, imperilled their right to a safe climate. It was called Juliana v. United States, named after lead plaintiff Kelsey Juliana. To the surprise of many, they won a preliminary decision at a Eugene, Ore., district court. The case was ultimately dismissed at a higher court, but this first decision, written by judge Ann Aiken, was remarkable. As she wrote: "I have no doubt that the right to a climate system capable of sustaining human life is fundamental to a free and ordered society."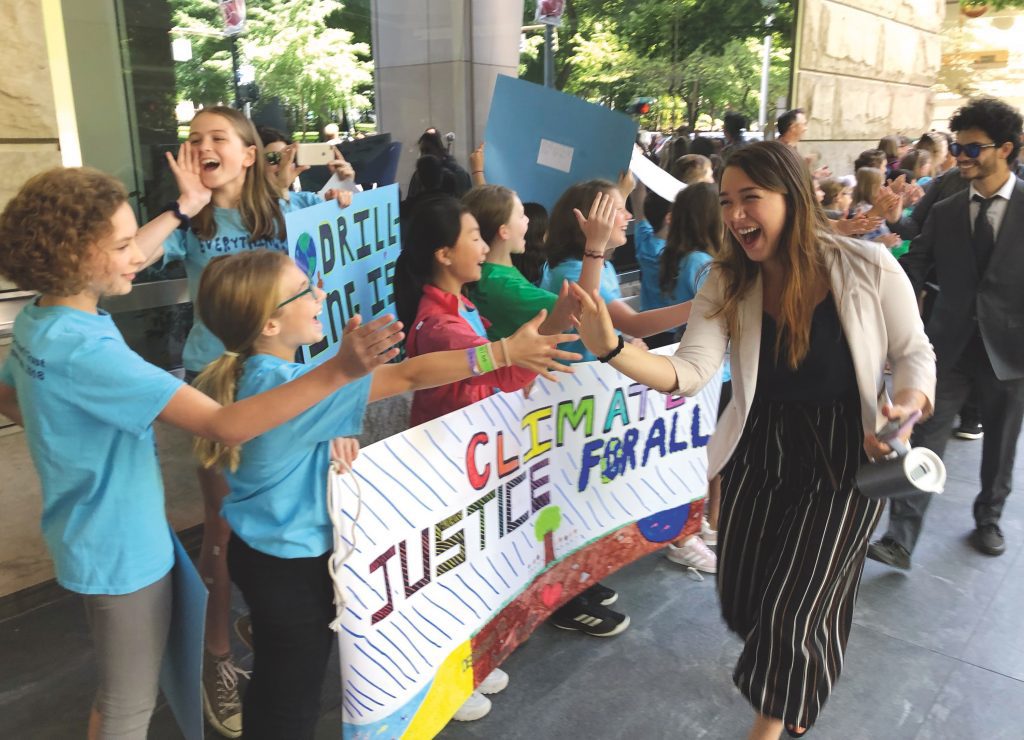 This seemed to affirm what young people continue to exclaim at protests in cities around the world: that confronting climate change is a way to protect their rights now and into the future. Canada, too, has its own youth climate cases. In Mathur et al, a group of seven youth leaders launched a legal action in 2019 against the Ontario government. They argued that the province's weaker climate goals will contribute to worsening impacts and, ultimately, violate their rights to life, liberty and security of the person under Canada's Charter of Rights and Freedoms.
I connected with the lead plaintiff, 15-year-old Sophia Mathur, on the first day of the hearing in September. She talked about winters in northern Ontario, where she is from, becoming more inconsistent. And as a youth plaintiff, she wants to help protect the rights of her generation. "Climate change is going to affect our future," she said. "It will affect our well-being and the lives of generations to come." The Ontario Superior Court had yet to reach a decision by press time.
---
These cases are not simple. Climate change is hard to grapple with for so many reasons. It's pervasive, ingrained in our habits and our economy, built over time and geography, and the consequence of billions of actions across an entire planet: the burning of ancient plants to power cars, homes, factories, businesses, boats and planes. It is truly the ultimate collective action problem. And one can see, in these climate cases, judges searching to fully grasp the enormity of what is before them and to provide reasonable answers.
A more recent case illustrated this complexity, where the cities of Oakland and San Francisco sued BP and other oil and gas companies. The companies, they claimed, by selling fossil fuels that were then combusted, were in large part responsible for climate change and subsequent sea-level rise; moreover, the companies had sold a product they knew was causing harm. The judge in the case stated what he believed was an inherent complication with holding these oil majors liable: "Our industrial revolution and the development of our modern world has literally been fueled by oil and coal. Without those fuels, virtually all of our monumental progress would have been impossible. All of us have benefited. Having reaped the benefit of that historic progress, would it really be fair to now ignore our own responsibility in the use of fossil fuels and place the blame for global warming on those who supplied what we demanded?"
This argument is not entirely unreasonable, if one ignores the statement "all of us have benefited" — in reality, many certainly have but others clearly have not.
Yet regardless of who sold what and who benefited, there is another question related to climate litigation. Do courts hold accountable those who knew burning fossil fuels caused climate change, but failed to address the problem for decades? Or using another example, did courts hold accountable those who knew smoking caused cancer, but failed to let people know for decades? Of course, tobacco companies were indeed held liable for outright lying about their lethal product.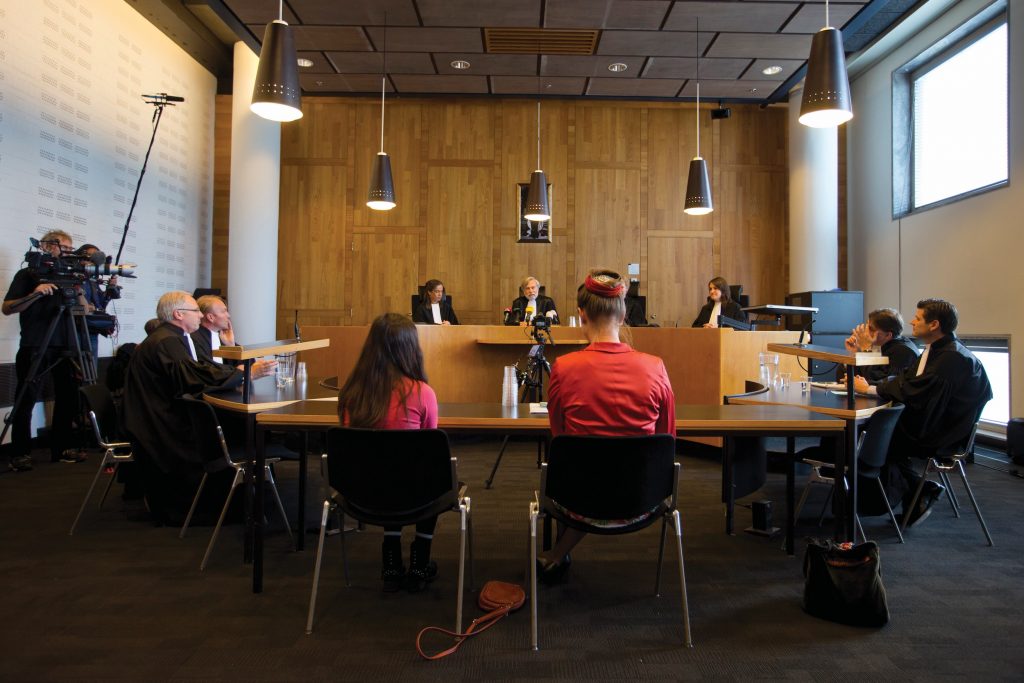 In their 2010 book, Merchants of Doubt, Naomi Oreskes and Erik M. Conway describe this deception in detail. The authors explain how, for decades, tobacco companies lied about their knowledge of cancer, and how oil and gas companies later concealed the truth about climate change. Wentz sees this now playing out in the courts. "These companies are being accused not only of harmful impacts from their emissions," she says, "but also collusion and co-operating with one another on misinformation campaigns and political campaigns." This deliberate obfuscation is what many find particularly egregious, and it sits at the core of some climate cases.
For instance, in 2015, the New York attorney general accused ExxonMobil of fraud, believing it deceived shareholders about the company's knowledge of climate change. The state eventually lost, but more cases like this are cropping up. In July, Vancouver city council voted in favour of suing big oil companies for the climate change-related costs of sea-level rise and heat domes. With the recent municipal election, the fate of the lawsuit will be in the hands of a new council.
Climate litigation is not a monolith. It's used to make governments answerable for their mitigation policies; fossil fuel companies liable for their products and accountable to their shareholders; and governments responsible for how they prepare for rising seas and worsening droughts; among other purposes. And there are numerous arguments covered: from causation to questions of politics, from human rights to the Paris Agreement. But as temperatures rise and impacts worsen, the influence of climate litigation — to bring justice to those affected, and accountability to those elected — is unlikely to abate. As governments and institutions set emissions targets, invest in adaptation and carry out plans to tackle the climate crisis, legal action will continue to act as the bumper rail at a bowling alley: keeping them on track and out of the gutter.
---
On March 25, 2021, the Supreme Court of Canada reached a historic decision. With a 6-3 majority, it deemed the federal carbon tax constitutional — and in striking language, affirmed the urgency of tackling the climate crisis. Climate change, wrote Chief Justice Richard Wagner, on behalf of the majority, "poses a grave threat to humanity's future" and is "a threat of the highest order." What's more, he raised the point that climate change impacts are felt "disproportionately by vulnerable communities and regions, with profound effects on Indigenous peoples."
One legal expert described the decision as "probably the most important environmental court decision ever in Canada." It helped put the country on the path to better reduce its emissions in line with the Paris target. And it also faced head-on an argument that has stifled climate action for decades. Since rising emissions are a global problem, the argument goes, then the emissions of one jurisdiction are not consequential. For example, Canada's carbon emissions represent less than two percent of the global total.
The majority of judges did not find this argument effective. Their opinion referenced the Dutch Urgenda decision as well as the Massachusetts decision, which stated that reducing emissions domestically would help slow the pace of global GHG emissions, no matter what other countries did.
In the end, Canada's highest court acknowledged that the climate crisis demands collective action. Around the world, cases like this are showing that every country needs to pitch in, corporations will be scrutinized, and courtrooms can act as forums of climate accountability.
***
David Geselbracht's writing has appeared in Canadian Geographic, the Globe and Mail and The Narwhal, among others.
This story first appeared in Broadview's December 2022 issue with the title "The case for action."
---
We hope you found this Broadview article engaging.
Our team is working hard to bring you more independent, award-winning journalism. But Broadview is a nonprofit and these are tough times for magazines. Please consider supporting our work. There are a number of ways to do so:
Subscribe to our magazine and you'll receive intelligent, timely stories and perspectives delivered to your home 8 times a year.
Give the gift of Broadview to someone special in your life and make a difference!
Thank you for being such wonderful readers.
Jocelyn Bell
Editor/Publisher