Pre-pandemic, St. Matthew's United in Toronto was a busy community hub, buzzing with activity 10 or 12 hours a day, seven days a week. But the people filling its space weren't necessarily members. Many arrived at the nearly century-old building for the nursery school, to distribute food to the homeless, to receive community services as Eritrean immigrants, or to attend group meetings and other cultural events.
With COVID-19, only a few core social support groups continue to consistently use the church. But their rent money, along with reduced expenses and government support, is helping St. Matthew's stay afloat.
"We've gotten through the year financially all in one piece," says John Shipman, longtime chair of the church's property committee.
Pandemic or not, it's becoming increasingly obvious to many congregations that establishing strong relationships with community organizations is necessary for financial sustainability. Churches have unused space and missions that align with the aims of many non-profits, like poverty reduction or personal and community wellness. Community groups need accessible spaces at affordable prices.
But the partnerships go beyond the typical landlord-tenant relationship. They help non-churchgoers see the church as relevant to the wider community, and encourage them to become invested in the church's sustainability and vitality. Some would argue that opening the church's doors to like-minded groups is a top solution for any congregation's future.
---
More on Broadview:
---
St. Matthew's is a successful example of a church leveraging its relationship with the local neighbourhood to become a mutually beneficial community hub. Like many churches, it began experiencing a decline in members in the 1970s, and it noticed smaller nearby churches disappear. Its leaders realized early on that being a large church in a prime location might not be enough to survive.
In the 1990s, the congregation hired a part-time building manager, allowing the church to promote itself to community groups. This approach has helped St. Matthew's build a deep bench of tenants, including the nursery school, a female-only Alcoholics Anonymous group and a fencing program. While managing tenants creates some additional operating costs, Shipman says that today only a third of revenues comes from the congregation — the rest comes from outside. "Part of the thing that keeps the congregation going is knowing that these groups are doing good things that the congregation never could do by itself," he says.
Kendra Fry has worked with dozens of congregations facing similar struggles and successes as St. Matthew's. As an adviser with Faith & the Common Good, she answers the call when congregations see that attendance numbers and funds have dwindled, and they need a plan to survive. Fry doesn't shy away from hard conversations about their future.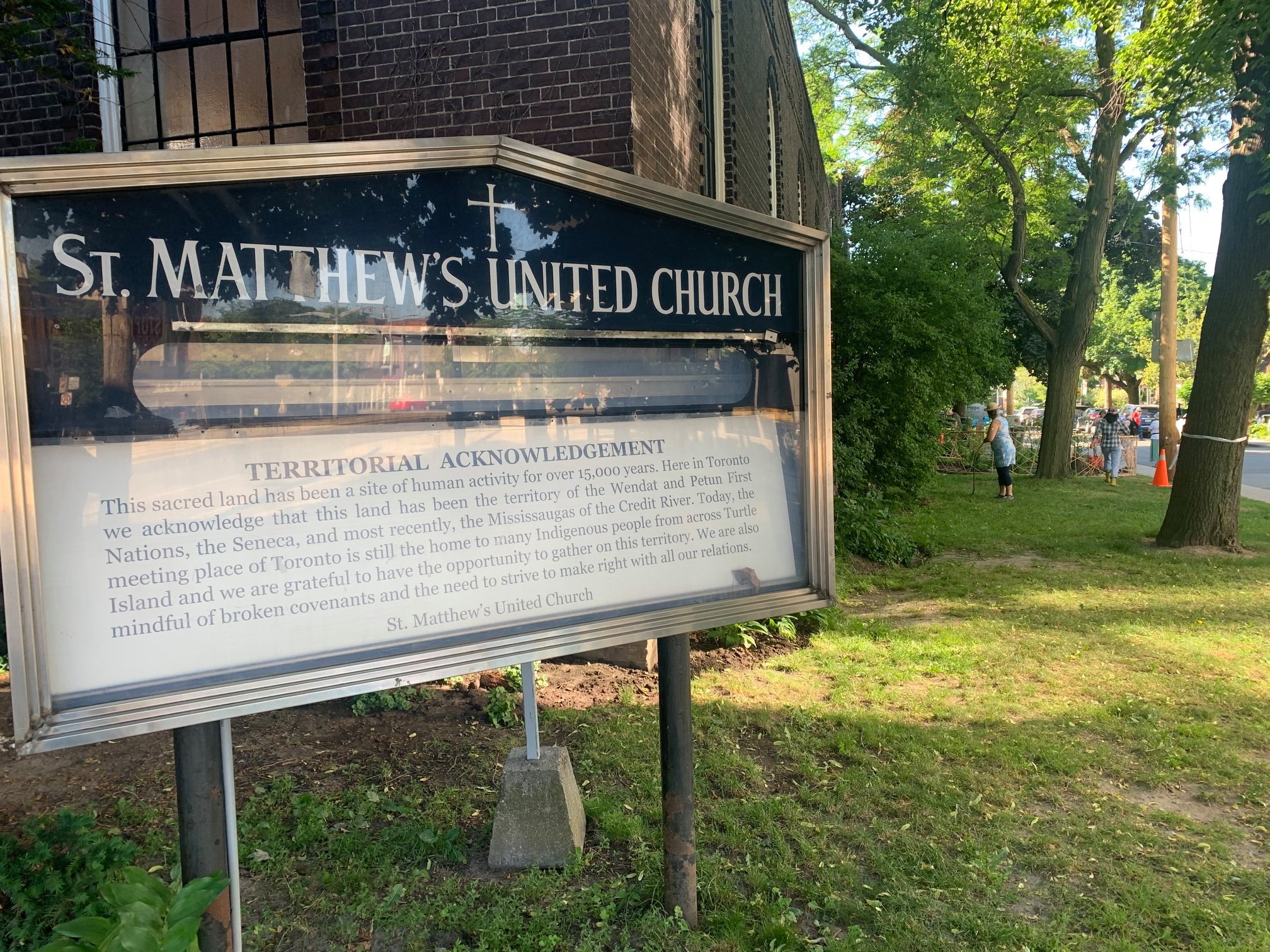 "Churches are seeing themselves as forgotten and abandoned, and so they find it hard to reach out for fear that they will discover that people don't care," she says. "But in fact what I find is that people do care." It's not uncommon for 80 to 100 community members to show up to a mid-week meeting to defend a church, she says, and still others get in touch to express their support afterwards. But this passion doesn't always translate into community members joining the congregation or donating money or time; what the community values isn't always religious in nature.
Last July, Faith & the Common Good published Fry's study about the value of Ontario's faith buildings, a two-year exploration of how community groups — food banks, arts groups, daycares, programs for immigrants and seniors, and more — use faith spaces. Over half of the 948 groups surveyed said that if the church they meet in closed, they didn't think it would be possible to find another space. The top three reasons community groups offered for using faith buildings were convenient locations, good prices and accessibility.
Churches give back to their communities in tangible ways, says researcher Mike Wood Daly of the Halo Project. In May 2020, he published an estimate of the socio-economic value of churches to Canadian society, finding that individual congregations offer an average of $2.7 million in economic impact. Only a third of that total involves direct spending, through initiatives like artistic performances, community programs or health services.
Wood Daly also found that when a congregation ceases to exist, these benefits disappear too — so it's not only in the best interest of the individual church that the congregation is successful. "I think [partnering with non-profits is] a fertile field for imaginative minds and voices to say, 'Here's something that we can do differently,'" he notes.
"Churches are seeing themselves as forgotten and abandoned, and so they find it hard to reach out for fear that they will discover that people don't care. But in fact what I find is that people do care." — Kendra Fry
If forging strong ties seems easy and mutually beneficial on paper, why are so many churches still in danger of closing? The success at St. Matthew's United isn't universal, even 25 minutes across town in suburban Scarborough.
"Before the congregation decided to disband, it was interesting and alarming to me, the number of United churches around us that were doing the same thing," says Rev. Diane Bennett-Jones, who served Wexford Heights United between 2016 and 2019 as it tried to reinvent itself as a community hub.
Bennett-Jones remembers inviting a variety of local groups to a community roundtable in 2018, only to learn they were in similar situations. "There wasn't the same volunteer base that they used to have, the needs were higher, they had no finances," she says. Groups said they were interested in using the church's space but weren't able to contribute enough money to help Wexford Heights United achieve financial sustainability.
"Then there was also the piece of who's going to do the work; who's going to co-ordinate this and look after it and liaise with these groups," she adds. The church lacked the volunteers to do that. At the time, the average congregation member was about 80 years old.
By that point, says Bennett-Jones, now at Lansing United in North York, Ont., it might have been too late. Unlike St. Matthew's, which has spent many years cultivating relationships, Wexford Heights made its big push long after the warning signs appeared, like aging parishioner demographics and losing a Montessori school as a paying tenant. The church's effort was ultimately unsuccessful. It closed in June 2019, ending a 177-year ministry.
United Church congregations across Canada are closing at a rate of more than one per week, and Fry says in larger centres like Toronto, churches are "moving at far too slow of a pace for society." For one, says Fry, they often wait over a year to ask for more assistance after she's helped identify issues. "And so during that time, of course, they have one year's less resources, and that many less people, and that much less energy."
Churches in rural areas face challenges, too, though she says volunteerism and municipal interest are driving efforts to turn them around. It's not as easy to sell off a portion of their property to help bankroll turnaround plans, and fair market prices to rent space are also much lower.
View this post on Instagram
Fry says any church can start the process of planning for its future by gathering data as a first step. She says data on the state of the building is necessary — to be sure it makes sense to maintain the physical structure — but knowing what the community needs and expects from a church space is also important.
While there's no easy answer to how a church can revitalize itself in this manner, both Fry and Wood Daly point to a common thread: listening to the community instead of deciding what it needs. "The most successful congregations are those that go to the community and say, 'How can we help? What do you need from us?'" Wood Daly says.
Fry warns against asking the community leading questions aimed at validating the congregation's own beliefs. "Ask them what they want. Listen to the answer. Ask yourself if you're willing to be that thing. And then, take action. And more than anything, do it at twice the speed that you think is reasonable."
It can be intimidating, but churches aren't alone. Fry notes the many people and organizations who can help make churches more sustainable, including consultants like herself and the Toronto United Church Council, which provides access to financial and professional resources; the United Property Resource Corporation, which brings professional real estate expertise; and the Trinity Centres Foundation, which offers charities below-market rates in church facilities through adaptive reuse. The United Church's EDGE Network also offers coaching and resources to help renew ministries and renovate physical spaces.
Faith is needed in the process, Fry says. Parishioners have put their heart and soul into a church. "They've been wonderful trustees of these spaces for decades, if not longer, and they need to have faith that they'll find the next path."
***
This story first appeared in Broadview's June 2021 issue with the title "Community centres." 
Rob Csernyik is a writer living in Saint John, N.B.
---
We hope you found this Broadview article engaging. 
Our team is working hard to bring you more independent, award-winning journalism. But Broadview is a nonprofit and these are tough times for magazines. Please consider supporting our work. There are a number of ways to do so:
Subscribe to our magazine and you'll receive intelligent, timely stories and perspectives delivered to your home 8 times a year. 
Donate to our Friends Fund.
Give the gift of Broadview to someone special in your life and make a difference!
Thank you for being such wonderful readers.
Jocelyn Bell
Editor/Publisher