An iconic Catholic church in western Nova Scotia may be safe from the threat of sale or demolition for now, but a local group working to save it knows they have to start hustling to raise the money to convince the diocese to keep it that way.
Société édifice Sainte-Marie de la Pointe, which has been working to preserve Église Sainte-Marie in Church Point for the last several years, had an agreement with the Archdiocese of Halifax-Yarmouth, which owns the church, that ownership would be transferred to the group if they were able to raise the funds needed to repair and maintain the structure. The agreement was set to expire on Sept. 30, until the group met with the archdiocese last week and the church body agreed to grant a year-long extension. 
"So we're going to roll up our sleeves and get to work," said Pierre Comeau, the group's president and an engineer. He says that COVID-19 derailed their fundraising plans, but now they plan to launch a national campaign.  
He said he suspected that recent media coverage about the impending deadline persuaded the archdiocese.
"Perhaps they didn't care too much for the publicity they were getting because of not granting an extension, but I haven't really asked them why, we just decided to take it and run with it," he said.  
---
More on Broadview:
---
Église Sainte-Marie is an area landmark that rises 56.4 meters high, with columns that are complete tree trunks. Local parishioners helped build it in the early 20th century with plans sent from France, Comeau said. It is no longer used for worship services and is currently a museum popular with tourists, who are asked to donate $2 to contribute to upkeep. Over the years, the structure has deteriorated, Comeau said. 
"The roof is leaking in places," he said. "All of the exterior windows need to be replaced. The existing wood shingles are in pretty good condition given the age, but they all need to be refastened."
Comeau said his group has now prepared estimates of how much it would cost to actually turn the building into a multi-use facility, which means money needed has gone up over the last seven years from $3 to $4 million to about $11 million. He also says the church's condition has worsened over that time and construction costs have risen during the COVID-19 pandemic.
The Société édifice Sainte-Marie de la Pointe has only raised about $500,000 so far. But Comeau says he thinks fundraising will be easier now that they have identified public and private funding sources. He said they have funding commitments from at least two levels of government. The National Trust for Canada is also interested in putting the building on their most endangered places in Canada list.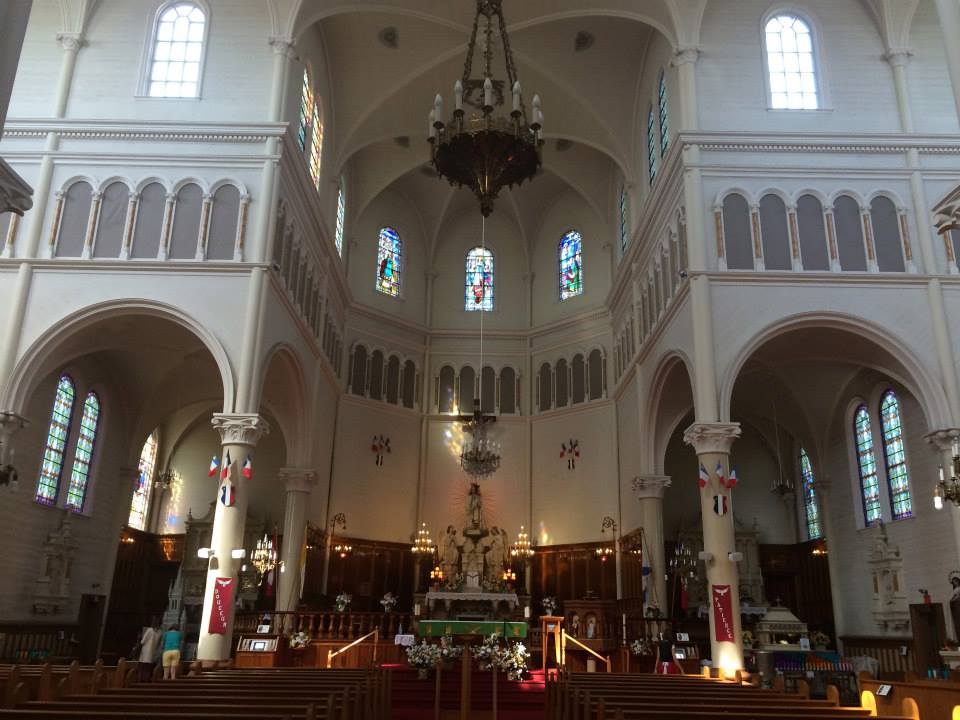 Robert Pajot, regeneration project leader at the National Trust, a charity that advocates for historic places and works with community groups to help preserve them, said he has been in touch with Comeau recently about offering the group a coaching grant to help them make their case to potential funders.
He thinks trying to preserve Église Sainte-Marie is worth the effort. 
"I know they do say that it's the tallest wooden church in North America… I've never done the research to validate that, but it's an impressive statement and for that community, for the Acadian community in Nova Scotia, it's really undeniably a huge landmark, both physically and culturally," he said. 
Comeau's interest in it isn't as a former parishioner. He lives 15 kilometres from the church and joined the group because he thought he could contribute his engineering skills. 
"The church deserves to be maintained and preserved as a monument to the faith and the tenacity of our ancestors who built it," he said.
***
Emma Prestwich is Broadview's digital editor.
---
We hope you found this Broadview article engaging. 
Our team is working hard to bring you more independent, award-winning journalism. But Broadview is a nonprofit and these are tough times for magazines. Please consider supporting our work. There are a number of ways to do so:
Subscribe to our magazine and you'll receive intelligent, timely stories and perspectives delivered to your home 8 times a year. 
Donate to our Friends Fund.
Give the gift of Broadview to someone special in your life and make a difference!
Thank you for being such wonderful readers.
Jocelyn Bell
Editor/Publisher