Dr. Chika Stacy Oriuwa is no stranger to blazing her own path. In 2020, she graduated from the University of Toronto's faculty of medicine as its first sole Black female valedictorian — and the only Black student in a cohort of 259 people. Now a resident physician in psychiatry at the university, she's made it part of her mission to bolster young racialized people in their chosen careers and advocate for diversity in health care.
And people have noticed. In 2021, Oriuwa was featured in Time magazine's Next Generation Leaders series and was one of six global frontline workers selected by Mattel to join the Barbie Role Model program and have a doll modelled in her image. She will be publishing her memoir later this year.
Rawan Youssef: Your parents moved to Canada from Nigeria. What was your childhood like as a second-generation Canadian?
Dr. Chika Stacy Oriuwa: As the daughter of immigrants, I had an interesting experience dealing with the cultural and intergenerational differences, but also growing up with tight financial constraints, as my parents worked very long hours to provide for us. It was definitely challenging growing up, but I also consider myself fortunate: even though they were working so often, their love was always felt and present in the home.
RY: You decided to make psychiatry your focus in school. Why?
CSO: It felt like the most natural progression of my advocacy. There are just so many unmet needs within the Black community — specifically from a mental health standpoint. With psychiatry, I felt like I would be able to continue my work within the Black population; there's such a desperate need for Black psychiatrists.
It also felt like an extension of my love for writing, because there's so much about being able to tell a narrative. You get to know someone's story so intimately, and as a psychiatrist, you fill in the gaps with different collateral information and build a narrative. Psychiatry just felt ultimately like the manifestation of all the different parts of my life.
RY: What do you think the general public often gets wrong about the medical field?
CSO: Even though we have our MD, racialized physicians still experience discrimination in the workplace. I think that comes as a surprise to people. When I was in medical school, I thought that when I graduated and became a doctor that I would have some immunity against racism, when in fact that was not the case. It actually worsened. People use it as a weapon against me, saying, "I would never let her touch me. I would never let her near my kids." I remember being in the emergency department and a patient telling me that I was a fake doctor, that I wasn't a real doctor. It does ramp up, unfortunately, and I do think institutions are starting to become accountable for this.
---
Want to read more from Broadview? Consider subscribing to one of our newsletters.
---
RY: What were your experiences like being the only Black student in your class — and later, as a medical resident?
CSO: I get asked this question a lot, and it's strange that I find it harder to answer as time goes on. I finished my undergraduate degree where I was the only Black student and came into medical school thinking that it would be very different, and it wasn't. I felt disillusioned and heartbroken. It was challenging to feel inherently "other," inherently different. It was difficult to find solidarity in moments when I was facing racial microaggressions and macroaggressions. There's something that is missed when someone is not present in the space who can have that shared experience with you.
RY: Is this when you realized you needed to be an advocate?
CSO: I was asked to publicly advocate for the university's Black student application program. I realized that as the only Black student in my class, I was uniquely positioned to use my voice. It was terrifying because I was warned that speaking up for a cause that was important — but could be perceived as challenging the status quo — could ruin my medical career. But I knew that I didn't want another Black medical student at the University of Toronto to experience what I did. Nowadays, I have my public speaking and keynote presentations, where I talk about diversity, inclusion and leadership within industries.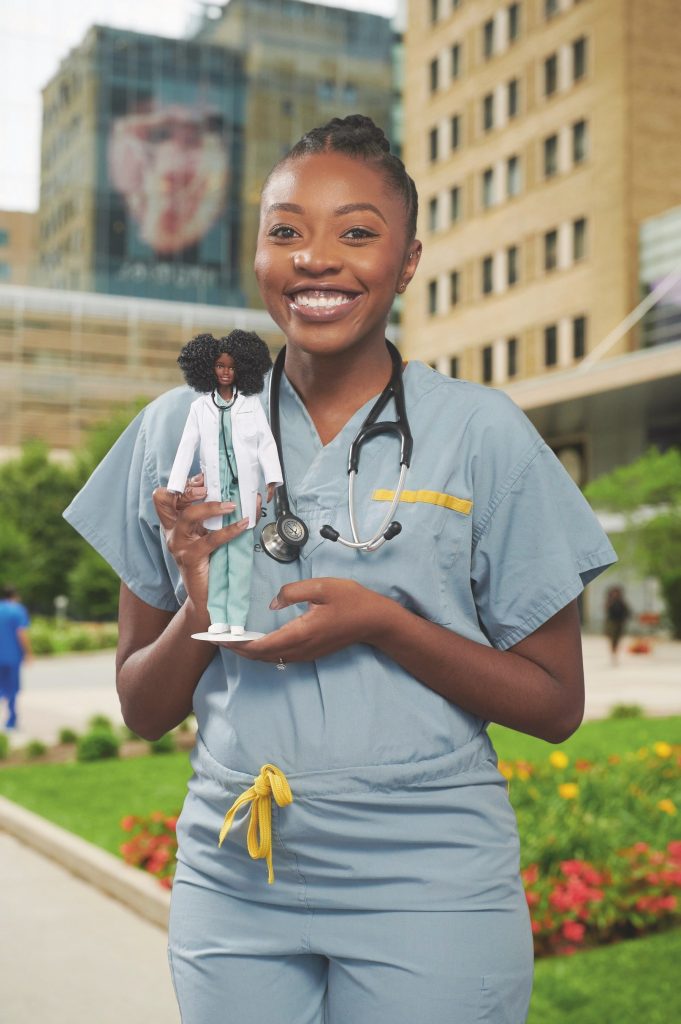 RY: You have two great loves: being a physician and being a creative writer. What do each of these things give to you?
CSO: I consider myself equally split in these two worlds. Medicine and poetry serve a similar purpose in that they have the unique ability to heal and to transcend barriers. As a poet, I use language to communicate, to evoke something in someone else that hopefully has a cathartic and healing quality. As a doctor, my ultimate calling is to soothe someone's suffering. I find that's a unique gift that I can offer in both those realms.
RY: What did it feel like when you became the valedictorian for the University of Toronto's faculty of medicine?
CSO: It was such an incredible honour. It still feels surreal. It's incredibly special, but I'm hopefully the first of many. When I think of the different accomplishments — we hear of the first Black person to do this or that — it's like, yes, let's stop and take this moment for gratitude, but let us keep pushing forward. Because this is a sign that things still need to change. There are so many more Black medical students at the University of Toronto now that I look forward to attending convocations of those who come after me.
---
More on Broadview:
---
RY:  What barriers do you think racialized academics and professionals continue to face?
CSO: The barriers that are present go back to capital. There's financial and social capital. If you have money, you might be able to pay for MCAT prep courses or for volunteer medical trips abroad to help you along the way. Social capital refers to your social standing, your social network, the people you're connected to. 
Within the Black community, we often find that there's a deficiency in both social and financial capital. From the outset, we already see discrimination from the earliest point of education, so looking at kindergarten, preschool, seeing how Black children are labelled differently, but then also being streamed away from academic routes that would ultimately lead them to university. 
There are a number of different factors, racism being a huge one that influences the number of students applying to medical school successfully getting in.
RY: On particularly difficult days, what keeps you going?
CSO: In those moments, I have to lean into my "why" moments: the reason I keep doing what I'm doing. I stay in medicine not only because I adore being a doctor but also because I feel like existing in medicine — just simply being a doctor, even if I wasn't doing any advocacy — is a form of resistance. The thing that keeps me going is just knowing that I'm making this space safer and more conducive to the care for racialized populations in the hospital. 
RY: By speaking out, you call out the establishment, which comes with professional risks. How do you think the establishment sees you now? 
CSO: I would hope that they see someone who is determined to foster positive change in any environment that I enter and that it might not always be in the most comfortable fashion for the institution. I am a truth-seeker and a truth-teller, but I always try to create change within the institution that is enduring and positive. There is that little part of my character identity that is fiery, fierce, vocal and outspoken, and that's what enables me to do the work that I do. If I were afraid to ruffle feathers, I don't think I would have done what I've done in the last six years.
RY: What would your message be to racialized youth who want to get into health care but are intimidated by the lack of similar faces in medical programs?
CSO: We are here and we are thriving — it's incumbent upon this generation to occupy these spaces. Don't apologize for your presence in medicine, law, dentistry, education — wherever you are. You've gotten there because you deserve that spot. 
***
This interview has been edited and condensed for length and clarity. It first appeared in Broadview's March 2023 issue with the title "A trailblazer."
Rawan Youssef is a former Broadview intern. She lives in Ottawa.
---
We hope you found this Broadview article engaging. 
Our team is working hard to bring you more independent, award-winning journalism. But Broadview is a nonprofit and these are tough times for magazines. Please consider supporting our work. There are a number of ways to do so:
Subscribe to our magazine and you'll receive intelligent, timely stories and perspectives delivered to your home 8 times a year. 
Donate to our Friends Fund.
Give the gift of Broadview to someone special in your life and make a difference!
Thank you for being such wonderful readers.
Jocelyn Bell
Editor/Publisher