Rev. Dr. Cheri DiNovo's book "The Queer Evangelist" tells an insightful tale of trauma, identity and perseverance. It does an exceptional job of tackling intergenerational issues such as violence, homophobia, and religious exploration. DiNovo's riveting personal anecdotes mixed with in-depth analysis about hot-button social issues make this memoir a must-read.
The book begins with DiNovo recounting her childhood in crucially uncomfortable detail. She recalls a scenario that required her very young self to have to navigate the aftermath with the maturity and resolve of a grown adult. It's a story that is sure to strike a chord with anyone who has ever been told "you're so mature for your age." 
---
More on Broadview:
---
DiNovo overcame more than just familial violence to eventually advance to the position she held for 11 years as the New Democratic MPP representing Parkdale-High Park in the Legislative Assembly of Ontario, and the one she currently holds as a minister at Trinity St. Paul's Centre for Faith, Justice and the Arts.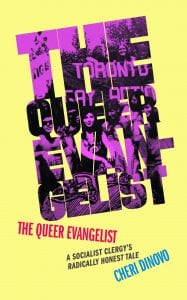 Homophobia, particularly in the era DiNovo grew up in, was a destructive force that plagued her dreams from a very young age. She would have nightmares about being chased by boys yelling slurs at her that she didn't yet understand. The memoir explores the effects homophobia had on her childhood and early adulthood in a way that will resonate with readers who have experienced similar adversity in their own lives and educate those who haven't. 
As DiNovo's memoir progresses, she becomes an adult and faces new challenges, while still reconciling past trauma. The grief and added responsibility of adulthood lead her to a new chapter in her life, and book, where she analyzes her identity as a queer woman. 
She reminisces about her first crush at six years old. DiNovo relished her presence with the giddy idolism that a first crush always produces. It's anecdotes like this — universal experiences with a personal take — throughout the book that will resonate with readers, even those not belonging to the LGBTQ2 community. 
The most interesting thing about DiNovo's memoir is the vast number of political accomplishments under her belt that are laid out in various chapters. She doesn't convey her accomplishments in a boastful way — although there would be no arguments here if she had — but instead with humble satisfaction. 
Her identity as a queer woman and an activist helped to shape her political career. As an NDP MPP, she helped to pass many bills pertaining to the LGBTQ2 community. Toby's Law, the ban conversion therapy bill and many others solidified her distinction as the Ontario NDP's LGBTQ critic. 
DiNovo's book isn't just a touching reflection on her personal life, a look at her astonishing professional accomplishments or a tale of surviving adversity. It's a testimony to the many fights DiNovo has won throughout her life and that are still happening today. She asks questions about sexuality, gender, religion and other topics that many find uncomfortable.
And she encourages us to ask those same questions.
***
Brooklyn Patterson is an intern at Broadview.
---
We hope you found this Broadview article engaging. 
Our team is working hard to bring you more independent, award-winning journalism. But Broadview is a nonprofit and these are tough times for magazines. Please consider supporting our work. There are a number of ways to do so:
Subscribe to our magazine and you'll receive intelligent, timely stories and perspectives delivered to your home 8 times a year. 
Donate to our Friends Fund.
Give the gift of Broadview to someone special in your life and make a difference!
Thank you for being such wonderful readers.
Jocelyn Bell
Editor/Publisher