This month marks Broadview's first anniversary. In celebration of that major milestone, some of our staff are reflecting on their most memorable moments from the past year. Editor/Publisher Jocelyn Bell shared her highlight in our May issue, but we have collected some other great memories from the publication's first year below.
Features Editor Kristy Woudstra: A momentous day for me was when our website went live. Along with planning and envisioning the magazine, we were also building a new online presence. It took months of work with our partners at Strategic Content Labs to create an online presence that boldly represented our brand. In this digital age, we knew more people would find us online than ever before, so we had to make a good first impression! So the morning that site went live, I felt incredible pride (and stress!). Watching the clicks and people's comments helped us to see that people are reading and engaging and sharing. It was really encouraging.
Associate Editor Elena Gritzan: The memory that stands out to me most is standing in line at my local Loblaws. I was loading my food onto the conveyor belt, listening to a podcast or something, when I noticed the top of physicist Donna Strickland's head and the tell-tale yellow font peeking over the rest of the magazines. My first Broadview sighting in the wild!
When I think back to the first year of Broadview, I also think about how delighted the team gets the day we first get layouts in; laughing at the typos that we've saved readers from having to experience; and all the random things I've become an in-depth expert on as the head of our fact-checking department. The most fun was probably running from the office to catch a screening of Apollo 11 while checking David Wilson's piece about the anniversary of the historic moon landing in an almost empty theatre. (It was pretty great).
Digital Editor Emma Prestwich: I treasured opening the September issue and seeing my first-ever full-length magazine feature illustrated with a resplendent rainbow in the middle. A story about young queer Christians who have opted for celibacy, this was a delicate one to tell. But it came out beautifully, with a lot of help from my editors and the great eye of our then-new design director Carol Moskot, who worked with an illustrator to create the striking, award-winning design that accompanied my story.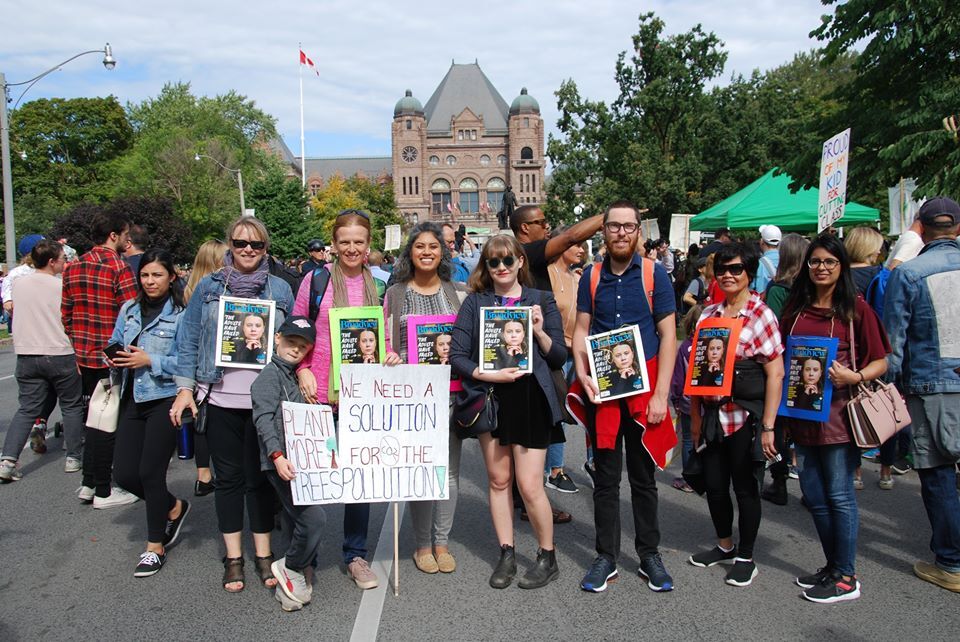 Assistant Digital Editor Aleysha Haniff: I was excited to participate in last year's Global Climate Strike with my Broadview colleagues. I was still relatively new to the team, and figuring out the work culture. The idea that we'd all leave to join a protest — and that it be encouraged — was a sign to me that I had wound up somewhere truly special. I was, and continue to be, proud to work somewhere that "walks the talk" on issues that matter.
Editorial Administrator Patricia Ingold: Honestly, the most memorable moments for me were the anticipated conversations that never happened between myself and subscribers. I had a laundry list of answers to questions I expected to be asked, such as "How much did the transition cost"; and "why was it necessary?" I prepared very careful answers and posted them next to my phone. To this day I have not had to consult them!
Classifieds, Friends Fund and Promotions Manager Sharon Doran: One of my most memorable moments of the past year was the Broadview launch party.  There was such energy in the room that night as we gathered with our guests to celebrate.  Hearing the reactions from them as they saw Broadview for the first time was amazing and made me so proud to be part of the team that made this happen!
Broadview is an award-winning progressive Christian magazine, featuring stories about spirituality, justice and ethical living. For more of our content, subscribe to the magazine today.