Sabi (Bilal Baig) and their best friend, 7ven (Amanda Cordner), are standing in the alley by Sabi's apartment. Sabi's on the phone, half speaking to the caller, half distracted by 7ven's enthusiastic questions. It's the fourth time Baig has run through the scene for Sort Of's new season, but you wouldn't be able to tell from their composure. "One last time," says the director. "Maybe less moody and attacky." 
Baig steps back into place, cool as ever. They say the lines again, but they can't quite nail the tone. Determined to get it right, Baig gives it another shot. This time, they bring a touch more levity — and it's perfect. The signature Sabi sarcasm, delivered in deadpan with the slightest hint of a smile.
Baig is the leading actor and co-creator of Sort Of, a dramedy about a gender-fluid Pakistani Canadian millennial named Sabi Mehboob. The television series debuted on CBC and HBO Max last fall to fan fervour and critical acclaim, drawing widespread praise for its honest portrayals of queer and trans people, and turning Baig into a breakout star. After winning three Canadian Screen Awards and a Peabody, the show is back for a second season, premiering in Canada on Nov. 15. 
Season one of Sort Of sees Sabi juggling bartending at a queer bar in Toronto, nannying for a hipster family and navigating their role as the youngest child of Pakistani parents. When an accident strikes the family that Sabi cares for, Sabi decides to stay and support them — giving up an opportunity to move to Berlin with 7ven.
---
Interested in more stories like this? Subscribe to Broadview's weekly newsletter.
---
For Baig, the decision to show Sabi moving through life in all their identities is personal. "It's how I live my life too," says Baig after a week of filming season two last June. "Not every day is about the tragedy of what I choose to put on my body." 
Sort Of emerged from Baig's frustration with seeing trans characters tokenized, used merely to check off boxes on diversity. By centring racialized, trans and non-binary crew and cast members, the show aims to ground its depictions in lived experience, representing people in their full humanity.
This approach has drawn praise from critics such as Vulture senior writer E. Alex Jung, who writes, "The demand from outsiders upon seeing someone like Sabi is this: Explain yourself. And what both Sabi the character and Sort Of the show insists upon is doing so on their own terms."
At the heart of Sort Of is the notion that transition is a universal experience. Throughout the series, Sabi's identities and worlds blend into each other, just as the other characters change and grow. Each individual feels multifaceted and complex — and that nuance speaks to the keen attention the show's writers pay to its characters. "We're intentional about what we're saying when they say or do something," says Baig. "We've had all the conversations about how race, gender and sexuality intersect among all the characters on this show."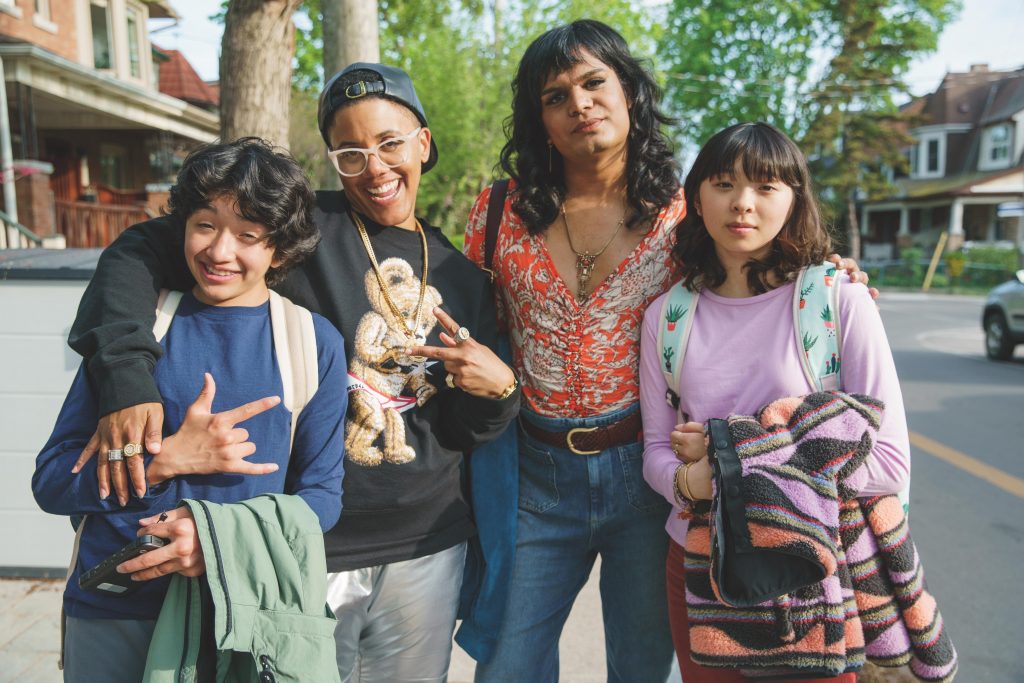 The success of Sort Of has focused attention on Baig, who made their television debut with season one. When series writer Ian Iqbal Rashid first watched the sizzle reel used to pitch the show, he was pulled in by Baig's magnetism. "I just thought immediately, 'This is a star,'" says Rashid. "They didn't know it, but we all did. You just couldn't take your eyes off them." Witnessing Baig's growth has been really exciting, he adds. "They've been transforming into themself as a writer, a producer, a showrunner, a performer." 
Baig doesn't let the fame get to their head, though. "If you're number one on the call sheet, you're kind of this ethereal person," says Baig. "I'm really interested in destroying that, at least for myself — to start from this place of letting all the crew know that they can ask me to move if they need me to move, or ask me whatever they need."
The impulse to hear and adapt to the needs of the people around them is rooted in Baig's past. Prior to Sort Of, they worked with newcomer children and trans women of colour in the non-profit sector. It's a space they miss and hope to return to someday. For now, Baig's been trying to bring the same approach to their work on set. "I was really grounded by this principle of letting people be, just meeting them exactly where they are," they say. "I found that to be something that really makes the process worth it for me."
Baig's softness shines in Sort Of. While the series doesn't shy away from heavier topics such as transphobia and coming out, it broaches these subjects in a way that doesn't feel didactic, staying true to its comedy roots. "There's this gentleness in the show's energy. Things don't often feel too forced," Baig says. "We explore big ideas on this show, but you can still somehow maybe relax into it. I think that it's this magical space where people then really listen and maybe even feel changed by something."
---
More on Broadview:
---
An awareness of care and comfort also courses through the show. Sprinkled in the first season are yogurt containers filled with rice and chicken jalfrezi, a popular curry in Pakistani cuisine. For many South Asian viewers, seeing the iconic tubs repurposed as vessels for food storage evokes memories of home, says Baig. Culturally specific gems like these are subtly woven into the very fabric of the show. "Those moments resonate for people who have been hungry to see work that feels honest and reflective and thoughtful," says Baig. "The people who need to see it will see it, and it will mean a lot to them."
Sort Of's   has captured the affections of many. Baig says they've received powerful messages on Instagram from fans sharing their experiences. The show has helped some viewers see themselves in deeper ways, while others have said it's enabled them to better understand their non-binary child. "That's pretty major, when [Sort Of] can actually enter the homes and lives of people who need a show like this to affirm things for them," says Baig.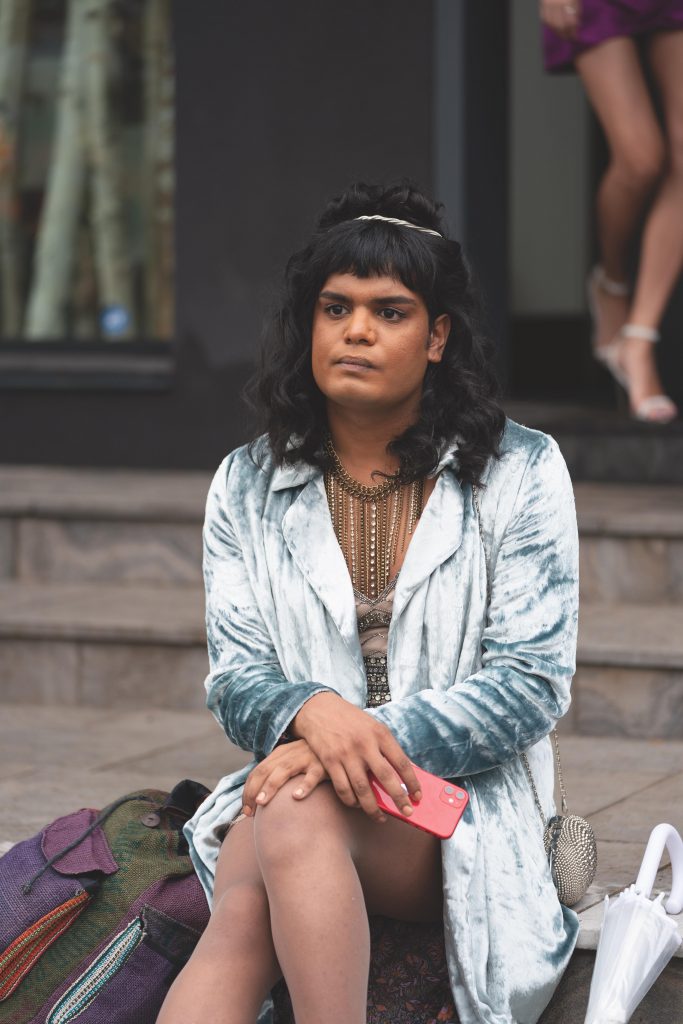 The second season explores love in its many forms, from romantic connection to family relationships. The season will see the guarded Sabi showing just a little more vulnerability, says Baig. Fans can also look forward to new cast additions, including Amanda Brugel as 7ven's mother and Raymond Cham Jr. as Wolf, the child of bar owner Deenzie.
Ultimately, Baig hopes that Sort Of can offer a sense of relief to its viewers. One of the most meaningful reactions to the show came from a close friend of Baig's, who was in physical pain at the time. The friend told Baig the show felt like a hug — it was healing.
"When work like this is recognized and celebrated, it sends a really clear message to all trans and non-binary people of colour," Baig says. "The world sucks mostly, or it does (ish), but then there's these moments that can make you feel that expressing yourself however you want is possible — because there is love out here, somewhere." 
***
Tobin Ng is a recent Broadview intern. They live in Ottawa.
This story first appeared in Broadview's October/November 2022 issue with the title "A show that feels like a hug."
---
We hope you found this Broadview article engaging. 
Our team is working hard to bring you more independent, award-winning journalism. But Broadview is a nonprofit and these are tough times for magazines. Please consider supporting our work. There are a number of ways to do so:
Subscribe to our magazine and you'll receive intelligent, timely stories and perspectives delivered to your home 8 times a year. 
Donate to our Friends Fund.
Give the gift of Broadview to someone special in your life and make a difference!
Thank you for being such wonderful readers.
Jocelyn Bell