Ask the average person where Halloween comes from and they might say something about warding off evil spirits or the "thinning of the veil" between this world and the next. Most won't mention All Saints' Day, even though the name Halloween is derived from an old term for the Nov. 1 holiday: All Hallows' Day. All Saints' Day has traditionally been considered an important feast day by the Roman Catholic Church and several Protestant denominations, but many modern churches don't do much (if anything) to observe it. For one parish on the north side of Chicago, though, it's the highlight of their fall calendar.
"All Saints' Day is our biggest service of the year," Andrew Rutledge, associate rector of All Saints' Episcopal Church, says of his parish's namesake feast. "Bigger than Christmas or Easter, at least in terms of the number of people who come to church."
It is a time to remember the dead and celebrate the impact they've had on our lives – something that feels even more important now, both because COVID-19 has taken so many people from us, and because the pandemic has profoundly altered our usual ways of communal grieving. But, like so many things right now, the difficulty lies in trying to figure out how to practice familiar rituals in ways that are safe yet still meaningful.
---
More on Broadview:
---
A big part of the All Saints' Day service at All Saints' Episcopal Church involves making and hanging prayer flags. Each of these brightly-coloured pieces of paper is inscribed with the name of a dead loved one, then strung up around the sanctuary so that they flutter over parishioners' heads. The effect is stunning, but it's not just the appearance of the flags that makes them significant to the congregation; it's also the time and care that goes into making them.
"We get hundreds of submissions every year," Rutledge says. "There's a whole process in thinking about who you want to make the prayer flag for, and then actually making the flag."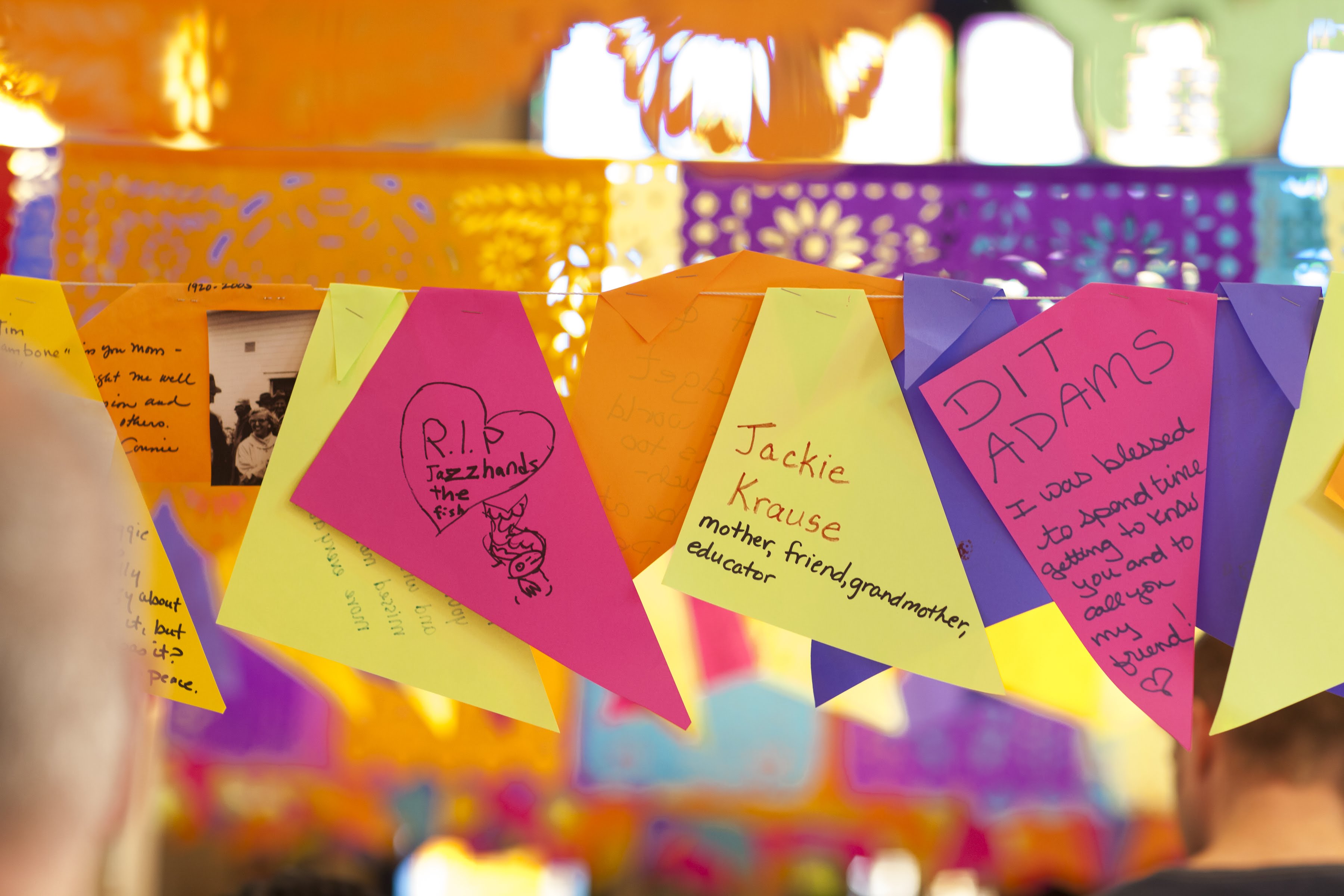 Most years, there would be a special service on the Thursday before All Saints' Day Sunday, and afterwards, parishioners would gather over pizza to make the flags and staple them to the string they use to hang them around the church. On All Saints' Day itself, they would typically kick off the service by having a New Orleans-style brass band process into the church and then accompany the choir. The service would focus not just on remembering the dead but also how the living can experience community through them. It's a chance for the congregation to come together to share in both grief and love over those who are no longer with them.
This year, of course, will be a bit different: people can fill out a form online with the names of those they want to honour, and a team of volunteers will transcribe the messages onto the flags. Then, in small, staggered groups, the volunteers will enter the sanctuary to hang them so that they can be seen when the service is broadcast live over Facebook.
There will be a few other differences this year as well. The church has decided to do an outdoor installation of 1,100 miniature flags on stakes – the type that are typically used at construction sites to mark the presence of buried lines or pipes – with each flag representing five people in Cook County who have died of the novel coronavirus. At night, they project the names of those people onto the side of the church. Since their All Saints' Day tradition also includes elements of Mexican Day of the Dead celebrations, they also have an ofrenda outside with pictures of those who have died.
Rutledge also has suggestions for those who want to participate beyond just streaming the service at home: they can make their own flags to hang in their windows, they can make a small space in which they can place photographs of or small objects belonging to dead loved ones and they can share images of these things on social media. Even if we can't be together, we can still remember our dead together, in all the various forms that might take: loving them, mourning them, and, maybe most of all, drawing strength from them. As we reflect on the periods of adversity mixed in with periods of joy that made up their lives, hopefully it will remind us that this season, too, will eventually be followed by a new one.
Anne Thériault is a writer in Toronto.
---
We hope you found this Broadview article engaging. 
Our team is working hard to bring you more independent, award-winning journalism. But Broadview is a nonprofit and these are tough times for magazines. Please consider supporting our work. There are a number of ways to do so:
Subscribe to our magazine and you'll receive intelligent, timely stories and perspectives delivered to your home 10 times a year. 
Donate to our Friends Fund.
Give the gift of Broadview to someone special in your life and make a difference!
Thank you for being such wonderful readers.
Jocelyn Bell
Editor/Publisher