In May 2018, I was arrested for protesting the Trans Mountain pipeline expansion outside the gates of a worksite for the project in Burnaby, B.C. As I was escorted away to be booked, supporters sang "Courage, my friend, you do not walk alone."
When the sentencing date approached, the reality of seven days in jail registered in my body. What if I am cold all the time? What if I can't get comfortable enough to sleep on the thin mattress? As my stomach churned and my mind spun, I remembered my spiritual director suggesting I invite God to be with me in jail. "Holy One," I prayed, "remind me that you are there with me."
I had a choice of whether or not to go to jail. I could have paid a $5,000 fine or done 240 hours of community service instead. But it seemed to me that being willing to go to jail was part of making my point — that planet Earth is too precious to risk the economic and political adventure that is the pipeline expansion. Our First Nations neighbours have been clear in refusing permission for a pipeline on their land.
I believe the Creator brought the Earth into being and that divinity is present in every tree, rock, salmon, orca and drop of water. We are surrounded by and immersed in the presence of God and it is nothing less than sacrilege to allow this amazing creation to be destroyed.
I'm also a spiritual director, which means I help facilitate a person's connection between them and God, and part of a peer supervision group for directors. About a week before court, I learned that all of the group members had committed to light a candle and pray for me, one on each of the seven days I would be in jail. Friends also made a point of wishing me well, offering hugs, joking about files in cakes, and letting me know they stand with me. I was not alone.
As the five of us who were arrested that day sat on a bench facing the judge, Tracy, an Indigenous man, reached over the railing from the visitors' gallery behind us and shook our hands, then passed us an eagle wing — not a feather but a whole wing. We took turns holding and stroking it as the judge spoke. We were offered intermittent time, which would mean we could basically spend weekends in jail. That wouldn't work for me from my Saturna Island home, and Jo Ann, who sat beside me, chose to reject the offer and be with me in jail.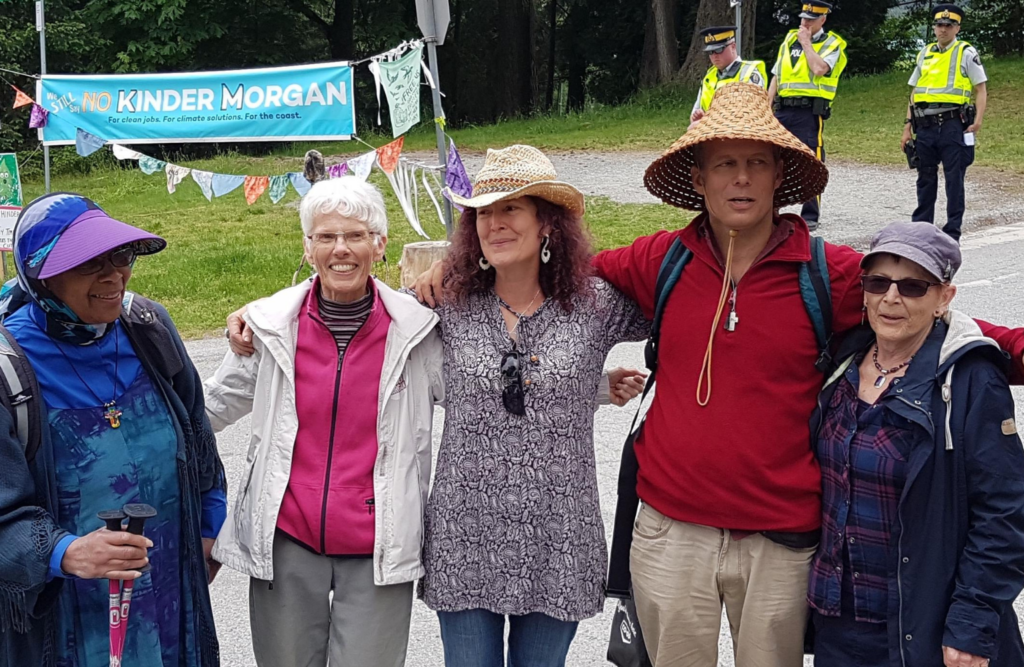 We were taken one by one to the holding cells in the courthouse building. I turned around to smile at my husband, David, and saw that all the people in the visitors' gallery were standing with hands outstretched towards us. We were not alone.
Once outside the courtroom, the young woman escorting me asked me to put my hands on the wall and patted me down before putting on my wrist shackles. She seemed to be fumbling with them, and explained that she was orienting the shackles so they wouldn't rub on my wrist bones. Her kindness was a reminder that Spirit can appear in unexpected places and people.
"A woman I met here told me that every day you are alive is a reason for hope," April said. "I've found that to be true."
I met many kind people during my prison experience. The staff who admitted us to Alouette Correctional Centre for Women in Maple Ridge, B.C. were all gentle and courteous. They asked the standard questions about drug use, whether they needed to be concerned about us going into withdrawal, and whether we were given to depression, but sounded apologetic about having to ask. After testing the urine sample that I'd given her, the nurse told me, smiling, "You aren't pregnant, in case you were wondering." (I'm 75 years old.)
When we got to the cells, the other prisoners were friendly, interested in the protest we had been jailed for, and amazed and indignant that we were serving time. Jo Ann and I gradually got to know the other women, to appreciate their individual personalities and to hear some of their stories and their hopes for the future: hope for lasting sobriety, for a job, to get a child back.
April and her story are etched on my heart. She casually mentioned that she has terminal brain cancer. While I took that in, she added that she was hoping to get out in time to spend some time with her daughter. I asked if there was hope that she might still respond to treatment. "A woman I met here told me that every day you are alive is a reason for hope," April said. "I've found that to be true." She smiled. "I'm alive today. Today is a day for hope."
April was one of the most cheerful and helpful women I met in jail. But all of the women were kind and generous. Several offered us shampoo, conditioner, skin lotion and "jail candy" made from coffee whitener, sugar, butter and jam. It was surprisingly good.
The guards were also pleasant. One of the staff said quietly, "I see you as political prisoners. Thank you." That was the first time that tears came to my eyes. Another was the day I was summoned to the nurse's office for discharge planning (both Jo Ann and I were released after four days and four nights).
She asked about the conditions I would be going home to. Did I have support there? Was there anything I needed? I told her that I hadn't been able to contact Errol, a volunteer who had offered to pick us up and drive us to Vancouver when we were discharged. She said that she couldn't let me use her phone but she could call for me. She contacted Errol and made the arrangements. I found myself teary.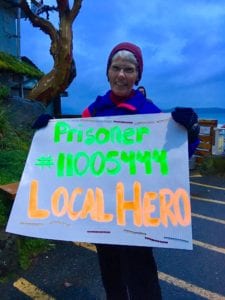 "It's normal for this experience to affect you," the nurse said. "Even though it seems fine, you may find you have some grief about it all. If you can give yourself time when you get home to reflect and feel your feelings, it would be a good idea."
I assured her that I would do that, and told her that the tears were not about sadness. They were about the kindness of so many people, including her and our driver who was a stranger to me. "I feel almost overwhelmed by love," I said.
Tears continued to appear during my first weeks at home on Saturna as I remembered the people I'd met and the grace in which I felt held. Some of the people who hugged me as they welcomed me back were also teary as they thanked me for doing it "for them."
The evening I arrived home, the community had a "welcome home" potluck. After the meal, several people stood up to talk about what it meant to them that I had acted on my convictions. I spoke about my gratitude to them and about the women who were spending much longer in jail than I, many of them addicted, many repeat offenders who didn't seem to see a way out.
"I am so grateful," I said, "for the life I have, because it happened that I was born into a stable and privileged family, and I'm grateful to live in this caring community."
I have been changed by this experience. I hope that I do not take my life for granted ever again. I know now that doing something difficult can bring unexpected rewards, and that I am not alone, ever.
For more of Broadview's award-winning content, subscribe to the magazine today.