United churches may not intend to be racist, but often create predominantly white spaces in racially diverse areas, according to one church and community innovator. 
"I know there are many reasons why a church might come to be all white within a very diverse community, but that is something that people are going to pull the curtain back on," Jordana Wright said during a United-Church affiliated webinar earlier this month. "When it comes to the United Church, people are going to say, 'You're saying Black Lives Matter, let's pull the curtain back. Let's see who is in your leadership positions. Let's see who's in decision-making positions.'"
The United Church of Canada, like many organizations right now, is on a journey of self-reflection regarding anti-Black racism. As church clergy, members and other laypeople start to do the work to eliminate, or at least reduce, the incidence of anti-Black racism, the number of workshops addressing these issues has increased.
Wright is the founder and managing director of Activate Space in Toronto and the host of the weekly Facebook Live show, United Church Virtual Penpals. She recently invited Michelle Voss Roberts, principal at Emmanuel College, on the show for a live event called "Steps Toward Racial Justice in the United Church." Nearly 200 ministers and laypeople attended, engaging and sharing resources with one another.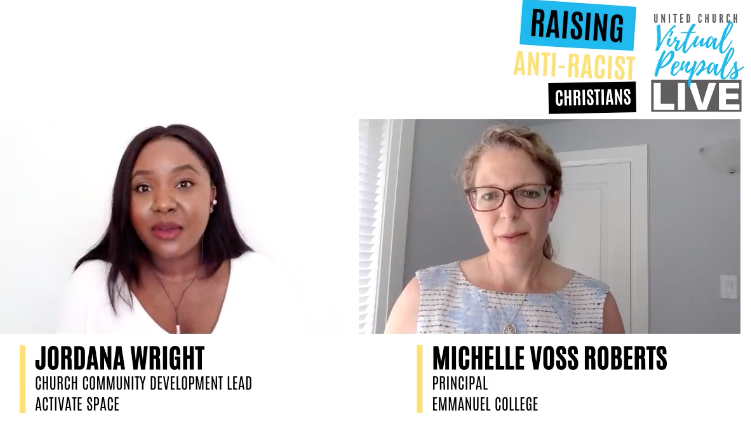 Wright emphasized that it's not good enough just to read books about race — white people need to connect with Black voices and have conversations with Black people — while Voss Roberts expressed the importance of examining the stories that church committees tell themselves when they make decisions about hiring or handling complaints. "If someone's spoken up because of an incident, what is it in our context that makes us want to dismiss that or pin it on the person and not the system that they're pointing to?" she asked.
One thing both Wright and Voss Roberts agreed on was the concept of labour. Now, more than ever, white people are asking BIPOC (Black, Indigenous and People of Colour) for advice, feedback and more. Wright said that while this type of work is part of her job as a community builder and a "builder of vibrant spaces," that isn't the case for most BIPOC.
"I think you also need to think about how, in trying to engage on that level," Wright said, "not placing a burden on that person in addition to everything that they're facing. So what does that look like to acknowledge that what the person is doing is labour and what does that look like to compensate it?"
For instance, compiling a reading list of anti-Black racism books requires a comprehensive understanding of that literature. Why not donate to the person who put together that list, Wright suggested.
Finally, both Wright and Voss Roberts pointed out how white people tend to lionize Black people who are fighting oppression. This lifts them out of the realm of humanity, which disregards that they are also getting sick, dealing with mental health challenges and trying to pay their bills.
"I find that dialogue and conversation, at least for me, is one of the most important ways that I'm able to connect deeply with people and their stories," Wright said, "not just talk about them in the abstract, not just lift them up in that way, but we have to meaningfully find ways to connect with people in the midst of this all."
Wright emphasized the need to take concrete actions in your own life towards becoming anti-racist. To that end, on June 18, The United Church of Canada's General Council Executive made a "clear and unequivocal statement"  that Black lives matter to The United Church of Canada. 
"In particular, we regret that our church has been complicit in racial injustice, and that systemic anti-Black racism still exists within our structures," the General Council Executive wrote. "The church has not always lived up to its understanding of itself. We are sorry for our inability to hear and respond to the pain of our Black siblings."
The statement was in line with Wright's final comment during the webinar. "You have to be able to and willing to accept correction whether you're the most senior minister at the church or someone who is emerging in their career," she said. "It is never too late to learn. It's never too late to listen, to accept correction and I feel like it's so important to demonstrate that ability to listen and learn to others around you and not to be stuck in your ways."
Glynis Ratcliffe is Broadview's senior writer.
---
I hope you found this Broadview article engaging. The magazine and its forerunners have been publishing continuously since 1829. We face a crisis today like no other in our 191-year history and we need your help. Would you consider a one-time gift to see us through this emergency?
We're working hard to keep producing the print and digital versions of Broadview. We've adjusted our editorial plans to focus on coverage of the social, ethical and spiritual elements of the pandemic. But we can only deliver Broadview's award-winning journalism if we can pay our bills. A single tax-receiptable gift right now is literally a lifeline.
Things will get better — we've overcome adversity before. But until then, we really need your help. No matter how large or small, I'm extremely grateful for your support.
Jocelyn Bell
Editor/Publisher