When the empire built by the televangelist couple Jim and Tammy Faye Bakker collapsed amid a series of scandals in the late 1980s, people could be awfully cruel about the eyes of Tammy Faye. Her mile-long eyelashes became a running joke, not to mention the mascara smears on her cheeks — a seemingly permanent feature due to her penchant for on-camera weeping on the Bakkers' PTL network. Although the couple were publicly flogged for the hypocrisy and greed that belied their Christian message, Tammy Faye suffered the worst of the mockery. 
The fact that there was a person inside that caricature was not something that anyone dwelled on. Thankfully, this person — flamboyant and flawed, heartbreakingly vulnerable and far more loving than her detractors could know — is the one who emerges in The Eyes of Tammy Faye, a sharp-witted yet surprisingly sympathetic account of the Bakkers' saga, powered by an astonishing performance by Jessica Chastain.
---
More on Broadview:
---
Deftly directed by Michael Showalter, the film invites viewers to gape at the gilded road of excess the Bakkers travelled once they ventured beyond the tent revival circuit of the 1960s to become superstars with their own 24-hour network and a Christian theme park named Heritage USA. The movie is particularly adept at capturing the blend of righteousness, showbiz glitz and craven ambition that defined 1980s televangelism. 
Yet Showalter and screenwriter Abe Sylvia do not treat Tammy Faye like a joke. Nor is that ever the intention of Chastain, who's barely recognizable under the prosthetics and pounds of makeup required for the title role. Though her Tammy Faye is a bundle of contradictions and competing impulses, her personality is bound together by two factors: her dedication to the venal yet charismatic Jim (Andrew Garfield) and her steadfast belief that God deems all humans worthy of love and forgiveness, no matter what. As she remarks during a tense exchange with Rev. Jerry Falwell Sr. (Vincent D'Onofrio) about how homosexuals ought to be treated, "We're all just people, made out of the same old dirt — and God didn't make any junk!"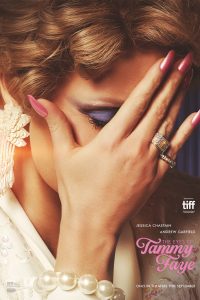 It's the latter aspect that saves the film from repeating the same cruel treatment the Bakkers elicited for their sins, even if it remains critical of their many failings. (After all, the couple made very personal use of the millions that poured in from pledge drives, with Jim ultimately serving eight years in prison for fraud.) 
In that respect, the movie's makers take their cues from a 2000 documentary of the same name that gave Tammy Faye her due not only as a camp icon but as a surprising ally for the LGBTQ community. Though Showalter's film includes a re-enactment of her televised 1985 interview with AIDS activist Steve Pieters, it's unfortunate that it doesn't explore her life after Jim, which the doc portrayed as the kind of second act that American lives aren't supposed to have. Nevertheless, The Eyes of Tammy Faye enlightens and entertains as a clear-eyed portrait of a woman who lived larger than most (and had the makeup to match) but was still made out of the same dirt as the rest of us. 
***
Jason Anderson is a writer, critic and film programmer in Toronto.
This review first appeared in Broadview's December 2021 issue with the title "Gilded gospel."
---
We hope you found this Broadview article engaging. 
Our team is working hard to bring you more independent, award-winning journalism. But Broadview is a nonprofit and these are tough times for magazines. Please consider supporting our work. There are a number of ways to do so:
Subscribe to our magazine and you'll receive intelligent, timely stories and perspectives delivered to your home 8 times a year. 
Donate to our Friends Fund.
Give the gift of Broadview to someone special in your life and make a difference!
Thank you for being such wonderful readers.
Jocelyn Bell
Editor/Publisher