When Crystal Zehr was seven in 1992, her classmates called her "fat" and "ugly." Then they added "poor" and "stupid" to their relentless verbal assaults. When she was nine, the school discovered she couldn't read and put her into a special education program, adding fodder to the bullies' taunts. "They made me feel like the ugliest person alive," remembers Zehr, now a 36-year-old mother of three in Kitchener, Ont. "As time went on, I was alone and decided that school was the worst place I have ever been."
In Grade 7, the bullies escalated to pushing and shoving, sometimes trying to fight Zehr. She began to feel suicidal. "My teachers took a stronger interest in my well-being then. I could speak with my special education teacher and spend more time outside of the classroom with her, or spend recess helping the office secretary," she says. "The kids around me had no idea the impact of their words and violence toward me."
A year later, Zehr's Grade 8 teacher tried something different, offering a mediation session with Zehr and the core group of bullies. With the teacher facilitating, the girls sat in a circle in their classroom, taking turns to share their feelings and perspectives. It seemed to help: while Zehr still experienced bullying, things improved. "I'm not sure why it took nearly my entire elementary school life to finally have someone try [to do something]," says Zehr. "In retrospect, they should have tried to mediate this a lot sooner.…They could have put a stop to it before it began."
---
More on Broadview:

---
Zehr didn't know it at the time, but mediation, a component of restorative justice, was just gaining popularity in Canadian schools in the 1990s as an alternate way to deal with conflict. Traditionally, schools respond to bullying and other harmful behaviour with retributive methods. This punitive approach assigns blame and punishment, such as a suspension or expulsion. A restorative process, however, examines the damage done and seeks to repair the people and relationships involved.
"Applying a restorative way to deal with conflict prevents future conflicts, as opposed to having two people get in a fight, get suspended and then come back, with no other real expectation than if you see the person in the hallway, go the other way," says Chris Cowie, executive director of Community Justice Initiatives of Waterloo Region, a non-profit that provides conflict resolution services. "In a restorative process, you're bringing them together so you're facilitating them to live in peace and actually get along with one another."
The modern model of restorative justice has its roots in traditional Indigenous teachings and the faith-based principles of reconciliation and healing. Using practices that we already know are good — empathy, listening and accountability — restorative justice builds on an individual's strengths rather than punishing their weaknesses.
"In retrospect, they should have tried to mediate this a lot sooner.…They could have put a stop to it before it began."
"If you've been traumatized in some way, the most important thing that can happen is that you have the opportunity to tell your story, to tell it in a safe environment," says Cowie. "That tends to be a meaning-making exercise, because we're meaning-making creatures who need to make sense out of something that doesn't make any sense. Most of our structures never provide for that."
In Canada, restorative justice first became part of our legal system in 1974. That's when two teenage boys in Elmira, Ont., got drunk and went on a destructive spree, slashing car tires and breaking windows. In two hours, they vandalized 22 properties. Mark Yantzi, a probation and parole officer, and Dave Worth, a volunteer with Mennonite Central Committee Ontario, advocated for the teens to apologize and make restitution instead of going to jail. Judge Gordon McConnell agreed and ordered face-to-face meetings between the teens and their victims, and a new legal precedent was set.
Today, government-funded and community-based restorative justice programs exist in every province and territory across Canada. British Columbia, for example, has 92 programs, Ontario has 66 and Quebec has 74. And their application has spread beyond the justice system to schools and workplaces.
In schools, the restorative path can take several different forms depending on the situation, from a mediated meeting between the victim and offender to youth justice committees that include community members who help resolve criminal matters. Many of the meetings take place in circles, a format that is already used in classrooms to brainstorm, to celebrate, to transition. In some cases, a talking piece — a stick, a feather or an object of significance to the group — is passed around, and whoever holds it has everyone's full attention.
The process is guided by "restorative questions or language," says Bruce Schenk, who retired as director of the International Institute for Restorative Practices Canada last year. If someone has caused harm and is ready to talk about it, he or she is asked: What happened? What were you thinking at the time? What have you thought about since? What do you think you need to do to make things right? Those who have been harmed, directly or indirectly, are asked: How is this affecting you and others? What's the hardest thing for you? What do you think needs to happen to make things right?
"In an elementary school or in a conflict with children on the playground, teachers can bring those two together and ask those questions," explains Schenk. "It totally changes the conversation from a blame-based approach." Restored relationships are at the heart of the model, he says, which prepares students for living in the greater community.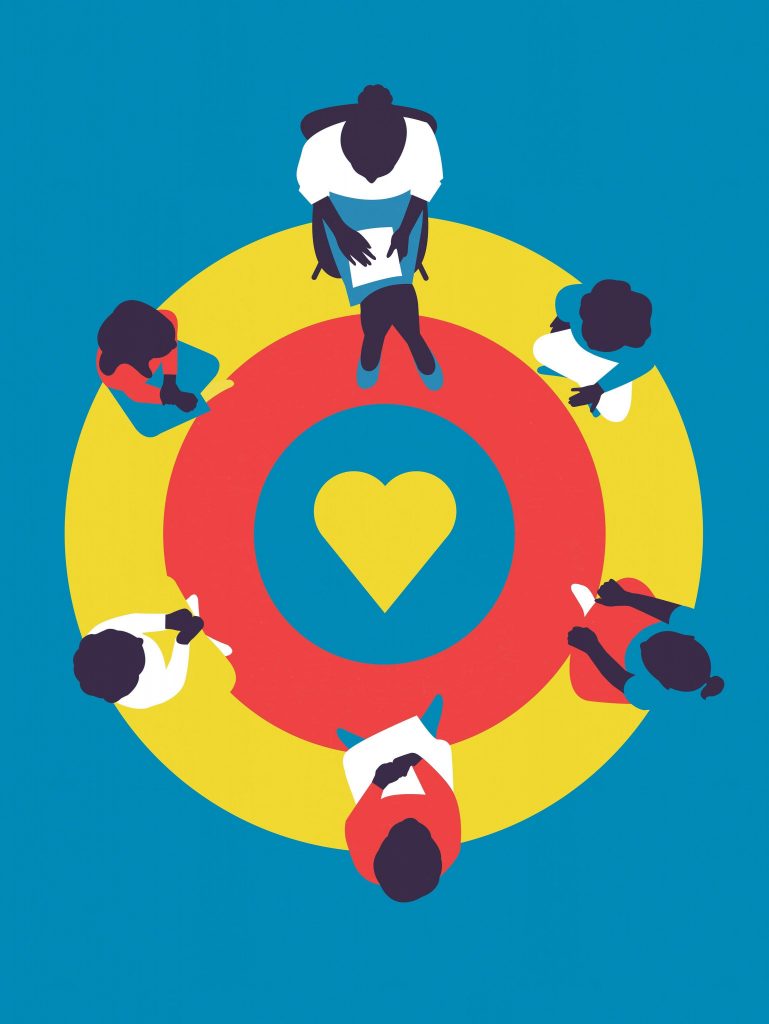 The process also works for more serious issues. Mark Nill was assistant principal of Surrey Christian School in British Columbia about 20 years ago when an incident involving two students and drugs occurred. The school was already exploring restorative practice, so everyone affected agreed to address the issue with a formal conference. About 15 participants — including the boys doing the harm, the people impacted by it, parents, student council reps, community members and representatives from the school's board — met to discuss what happened, how they were affected and what steps were needed to set things right.
Nill says that if they had gone with the traditional way of dealing with the matter, one of the students would have been expelled and the other would have faced a long suspension. Using restorative practices, each still had some time away from school, but other strategies, such as journalling, volunteering at the local soup kitchen and one-on-one chats with Nill, were put into place.
"The first fellow, who would have been gone for sure, ended up graduating with no other incidents. I've been part of his life, and he invited me to his wedding," Nill says. "The other fellow went on to university and came back 10 to 12 years later to make amends. He wanted to show gratitude for the patience and processes that were in place."
Most restorative practitioners agree that rates of reoffending are significantly reduced after a restorative process. A report issued by the Toronto District School Board in 2018, for example, indicated that about 73 percent of students who'd taken part in a restorative process after their first suspension did not get suspended again, compared to 67 percent of students who did not participate.
"I think it's really important that we don't put pressure on victims or survivors or people who've been harmed to forgive."
Another example of success is St. Benedict Catholic Secondary School in Cambridge, Ont. Before 2016, the high school was struggling with a challenging period of conflict between students, made worse by a growing opioid crisis. Some students were caught in possession or under the influence at school. Suspensions didn't seem to help.
After a series of focus groups with students and community members, conflict mediation became one tool in a toolbox designed to alter the culture at St. Benedict. Over a dozen staff members were trained in conflict mediation. Teachers also learned de-escalation and intervention — where the teacher remains calm and focuses on the students' feelings. "The conflict mediation gave administrators a tool, rather than teachers trying to keep a lid on things in the classroom," says Dan Witt, who was principal at the time. "I think everyone just felt that much more empowered to intervene."
It worked. Between the first semester of the 2015-2016 school year and the first semester of 2017-2018, St. Benedict saw a 74 percent drop in fight-related suspensions. The school went from one of the highest suspension rates in the province to one of the lowest, the Globe and Mail reported.
But suspensions aren't the only way to measure success, and deeper research on the effectiveness of restorative justice in educational settings is scarce. Two recent studies conducted by RAND Corporation in 2018 and 2019 had some puzzling results. They randomly assigned schools in the city of Pittsburgh and the state of Maine to try restorative practices.
The study in Maine didn't find any difference between the overall climate of the schools using restorative practices and those that implemented traditional discipline, though individual students who took part in the former felt more connected to their peers and experienced less cyberbullying. In the Pittsburgh study, the restorative justice schools saw lower suspension rates in the second year, but they also saw lower academic performance. In particular, math scores among Black children fell significantly.
Researchers and participants attributed all sorts of explanations to these findings: short length of the experiment; not enough support for teachers; students getting used to a new culture. Christine Cray, an official at Pittsburgh Public Schools, told Chalkbeat that she wonders if teachers took too much time away from academics to implement the restorative practices. She said the goal is now for "teachers to see how restorative practices can be used to complement academic instruction and not replace academic instruction."
Zofia Switkowski, a restorative action program co-ordinator for Community Justice Initiatives in Langley, B.C., says it's also important to keep expectations in check for those participating in the restorative justice process. "There are some people who are like, 'I want to meet; I want to hear them out, but I'm not ready to forgive [them].' I think it's really important that we don't put pressure on victims or survivors or people who've been harmed to forgive."
In Crystal Zehr's case, she agreed to the process, but she certainly didn't forgive her bullies right away. She remembers being angry as she listened to them share their side of the story, explaining they had taunted her in order to fit in. "I also thought at the time that it was all lies because [the girls who bullied] were hard to trust."
She says the bullying left her with ongoing low self-esteem, and she still hears the taunts when she looks in the mirror. But it also made her more compassionate and understanding. "I held on to the pain for a long time. I knew that the only way I was going to find happiness in my life was to forgive the past, forgive my peers for the way they acted," she says.
In fact, Zehr recently reconnected with one of her childhood bullies, who sincerely apologized. They became — and remain — good friends. "I never thought I would hear those things or see the way it had made her feel all these years later," says Zehr.
Although accountability is one outcome of a restorative process, for Zehr, the result was much closer to a restored relationship. "Holding someone accountable, well, I don't think that's the reason we do this to begin with," she says. Instead, Zehr sees the process as a way to work toward acceptance and understanding, which is better than punishment for everyone involved. "In order to see the other side," she points out, "[we] must listen, not with motive, but with an open heart and mind."
***
Lori-Ann Livingston is a writer and editor in Kitchener, Ont.
This story first appeared in Broadview's September 2021 issue with the title "Bullying breakthrough."
---
We hope you found this Broadview article engaging. 
Our team is working hard to bring you more independent, award-winning journalism. But Broadview is a nonprofit and these are tough times for magazines. Please consider supporting our work. There are a number of ways to do so:
Subscribe to our magazine and you'll receive intelligent, timely stories and perspectives delivered to your home 8 times a year. 
Donate to our Friends Fund.
Give the gift of Broadview to someone special in your life and make a difference!
Thank you for being such wonderful readers.
Jocelyn Bell
Editor/Publisher