(RNS) Reddit's Islam-focused message board has long been a place where Muslims, as well as those curious about the faith, go to debate theology, learn about Islamic history, share video of their favourite sheikhs' lectures and make prayer requests.
And as of this month, the popular r/Islam subreddit also offers a designated space for young Muslims to explore their own mental health with guidance from a licensed clinical psychologist.
The two monthly discussion threads are the result of a new partnership with the nonprofit Khalil Center, a faith-based psychological and spiritual wellness organization. The posts take the form of Reddit's popular Q&A-style AMA, or "Ask Me Anything," interactive interviews.
"One of the issues with youth is that they're very tentative to seek help," said Fahad Khan, deputy director at the Khalil Center and clinical director at the organization's Chicago headquarters, who responds to the questions users pose in the threads. "They just don't know how to do it. They might have issues with their parents, or their parents don't understand them, so they go online and try to find some way to talk to people and get help."
Conceived by Khalil Center intern Hamzzat Soyege, a recent graduate of the University of Illinois at Urbana-Champaign, the project is part of the centre's ongoing effort to develop ways to reach Muslim youth in the spaces where they already gather.
The r/Islam subreddit has close to 84,000 members and sees dozens of posts and hundreds of comments on those posts every day.
"I grew up in the U.S. and I know the challenges of going through college and high school here are immense," said Khan, who has been a Reddit user for about a decade. "Adolescents need a venue to talk about the pressure they feel, to let the steam out, or they'll start going toward drinking and drugs and other unsafe behaviours."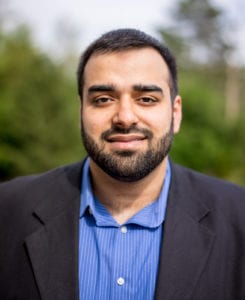 The Khalil Center focuses on providing psychology services "rooted in Islamic principles." Khan, a fellow of the International Association of Islamic Psychology and an editor for the Journal of Muslim Mental Health, has also memorized the entirety of the Quran and has been a student of Islamic studies under various scholars.
"Our Islamic schools and our mosques aren't doing a good job, and parents aren't educated about dealing with these challenges, so this creates a really huge gap," Khan said.
Most of those who seek out the Khalil Center's eight brick-and-mortar locations from New York to Los Angeles for therapy services fall between 21 and 30 years of age, he said. While most have come for help coping with "severe psychological distress," high school- and college-age patients are also increasingly looking for professional help in dealing with general anxiety, spiritual issues and family conflicts.
So far, most online questioners have focused on traumas that the Reddit users have faced, as well as issues with parents and with losing faith.
Khan is careful to be clear in his Reddit posts that the thread is not a substitute for therapy, and that users should not post personal details of their lives.
"What would you say are the challenges of Muslims to be accepted among non-Muslim peers and among Muslim peers?" one user asked him. "I don't know what's the point of life is when the endgame is a reunion with Allah, but meanwhile here in life the long wait is so depressive," another confided.
In the project's first two sessions, Khan has spent about 12 hours answering participants' questions.
Already, he said, he's been surprised by the level of participation in the threads, which have received about 100 comments in total.
"At the beginning I thought, all right, I'll set aside six hours to be available but it will probably only take me two hours to deal with the comments," he said. "But it's actually taken me much longer than that. I'm glad, though."
If the experiment continues going well, the centre is considering creating a separate subreddit or developing an online chat service with therapists and psychologists ready to answer questions.
Since 2017, the centre has run a crisis phone line, and it works with private Islamic schools to provide therapy services and individualized learning plans for students with learning disorders.
"I know not all Muslim youth are on Reddit, and I want to have a platform that all the adolescents can access, even if that means doing something on Instagram or our own chat service," Khan said.
Increasingly, Muslim organizations are creating services to offer youth mental health care, at local mosques and through such initiatives as the Institute of Muslim Mental Health, the Muslim Wellness Foundation, SEEMA: Support Embrace Empower Mental Health Advocacy and the Center for Muslim Mental Health and Islamic Psychology at the University of Southern California.
The rising attention to Muslim youth's mental health care is in part because of the health effects of anti-Muslim hate, some scholars say. But it's also because many common adolescent issues straddle the line between religious problems and psychological ones.
The centre often deals with individuals seeking help curbing their pornography or masturbation habits, for instance. "From a quote unquote 'Western perspective,' it might be considered normal, or some people might even say it's healthy," Khan said. "But for us as Muslims, it's a spiritual issue."
An imam who is not trained in recognizing mental illness may not always be able to offer what's needed, either, he said, giving the example of a patient whose pornography addiction might stem from a history of sexual abuse.
"We offer a more comprehensive review and assessment," Khan said. "We try to assess why the problem is there and offer ways you can cope with the problem while we uncover the deeper issues and working on them."