Raye Zaragoza wants you to know that her sophomore album, Woman in Color, is not just for women or people of colour. "I'm all about togetherness," she says. "It is an album for all people, and that's my ultimate message."
While the folk singer explores her identity as a multi-racial woman throughout her music — her mother is Japanese, and her father is Native American and Indigenous Mexican — she resists attaching any label to herself. Zaragoza wants to be seen as an artist, to let her nuanced work speak for itself. And it does.
She sings her dreamy melodies with a rich voice that evokes the colours of the setting sun or amber spilling out of a tree. Each song is beautiful and singable, making her music wonderfully subversive. The listener walks away with one of her tunes playing in their head, and that's when her words — challenging and teaching and galvanizing — truly begin to sink in.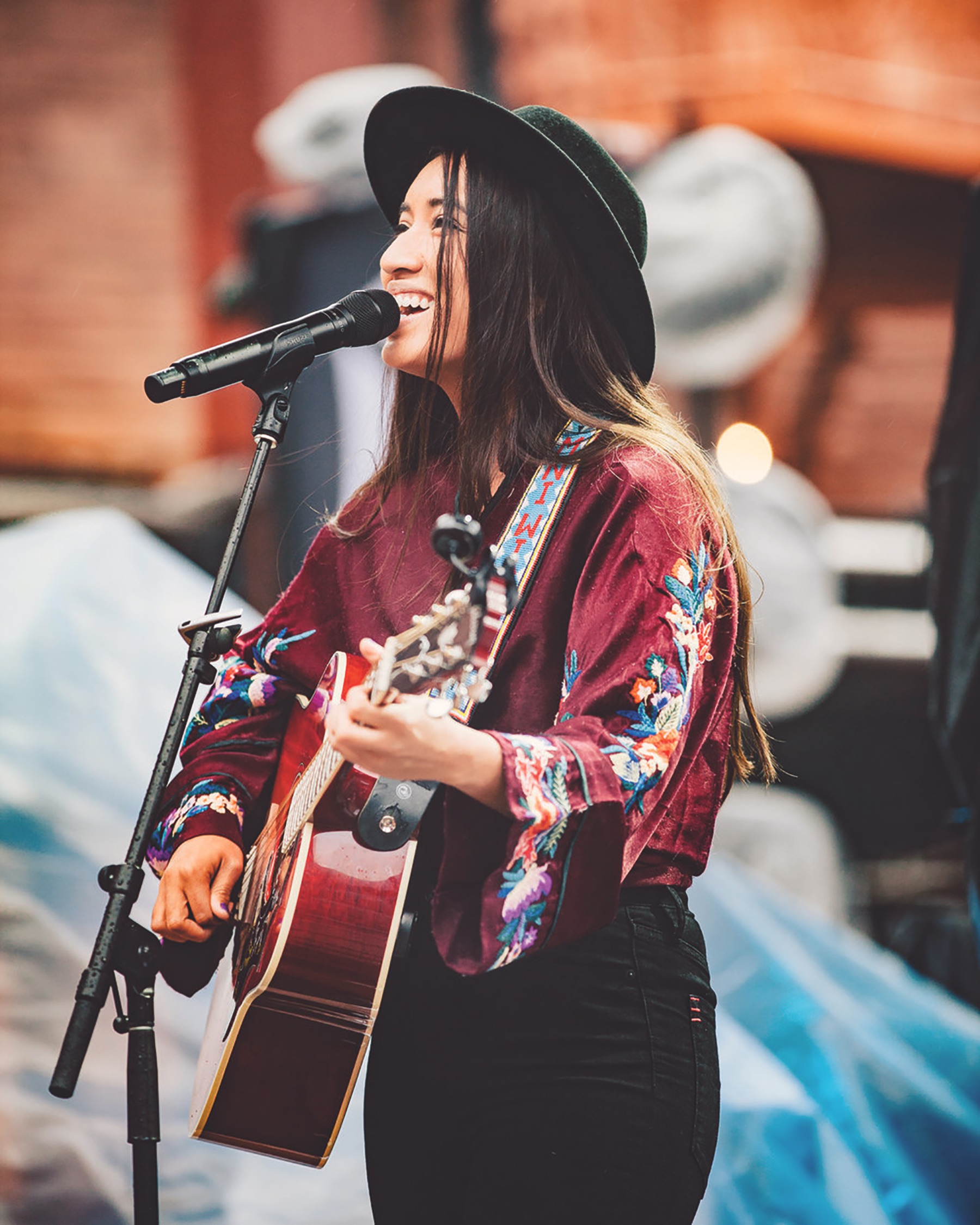 Zaragoza first stepped into the spotlight in 2016, when she began connecting with the Indigenous part of her identity. She was profoundly affected by the environmental injustice taking place in the Standing Rock Sioux community due to the Dakota Access Pipeline threatening its water supply. Seeing the violence protesters were experiencing, she wrote a song, In the River, supporting the movement. The song went viral.
She travelled to Standing Rock in December that year and describes it as a life-changing experience. "I felt that I found my voice in that movement, and I really was woken up to so many things," Zaragoza says. "I want to spend my whole life, my art and my voice and my songs, fighting this injustice."
---
More on Broadview:
---
This spirit of resistance infuses Woman in Color. The most striking track on the album is Red, about missing and murdered Indigenous women and girls. Zaragoza says the song came about after a conversation at the 2018 Indigenous Music Awards in Winnipeg. Late that night, when she was leaving the event to walk back to her hotel, a man cautioned, "Sister, have someone walk you home. Don't go walking alone at night." When she asked why, he told her, "They've been finding Native women in the Red River." She was shocked.
Zaragoza grew up in New York City, detached from her Indigenous heritage. She knew little about the epidemic of Indigenous women and girls going missing across North America. When she returned to her hotel room that night, she spent hours researching the issue.
Red was inspired by this new knowledge, Zaragoza says, combined with the chilling image of a red river. The lyrics also mention the Highway of Tears, a stretch of Highway 16 in British Columbia known for disappearances.
"I don't have the answers about how to fix this awful issue," she says. "But if I could write a song about it that can start more conversations, like the one we're having right now…then I'm doing my job."
At a time when there is so much social upheaval, we need more protest music. Thankfully, Zaragoza seems more than willing to take up the mantle. She uses her words and music not only to share the challenges of Indigenous people but also to question mainstream definitions of beauty and to lift up marginalized voices.
"There's so much wrong in the world, and I want to create art from a place that acknowledges that darkness," she says. "And I want to create something beautiful out of it to hopefully wake other people as well."
***
Glynis Ratcliffe is a freelance writer in Whitby, Ont.
This story first appeared in Broadview's June 2021 issue with the title "Anthems of Awakening: Raye Zaragoza's Dreamy Melodies also Carry a Message."
---
We hope you found this Broadview article engaging. 
Our team is working hard to bring you more independent, award-winning journalism. But Broadview is a nonprofit and these are tough times for magazines. Please consider supporting our work. There are a number of ways to do so:
Subscribe to our magazine and you'll receive intelligent, timely stories and perspectives delivered to your home 8 times a year. 
Donate to our Friends Fund.
Give the gift of Broadview to someone special in your life and make a difference!
Thank you for being such wonderful readers.
Jocelyn Bell
Editor/Publisher