The United Church of Canada's National Indigenous Council (NIC) has voted in favour of creating a self-determining Indigenous church, making last year's landmark proposal one step closer to becoming reality. 
"For the longest time as Indigenous people in the United Church, we have been treated like children. We've had to hold the hands of the wider church and ask for permission before we can make structural changes," said William Miller, a 22-year-old church member from Manitoba, addressing peers before the vote at the National Indigenous Spiritual Gathering in Edmonton on July 29. 
"We are not the children of the wider church," Miller said, "We are our own peoples. We are our own elders, we are our own adults. This remit allows us to let go of that hand that says we are children."
---
Want to read more from Broadview? Consider subscribing to one of our newsletters.
---
The church made the historic decision in July 2022 to support the creation of a self-determining Indigenous church within the denomination, after the NIC brought forth the proposal. Indigenous church leaders said at the time that the move would help chart a new way forward based on partnership, rather than "missions to the Indians." 
The Indigenous church currently has to seek approval from the broader church through a remit process – a motion followed by a successful, church-wide vote – to make its own structural changes. If this remit passes, the Indigenous church will no longer need to seek remit approval in the future.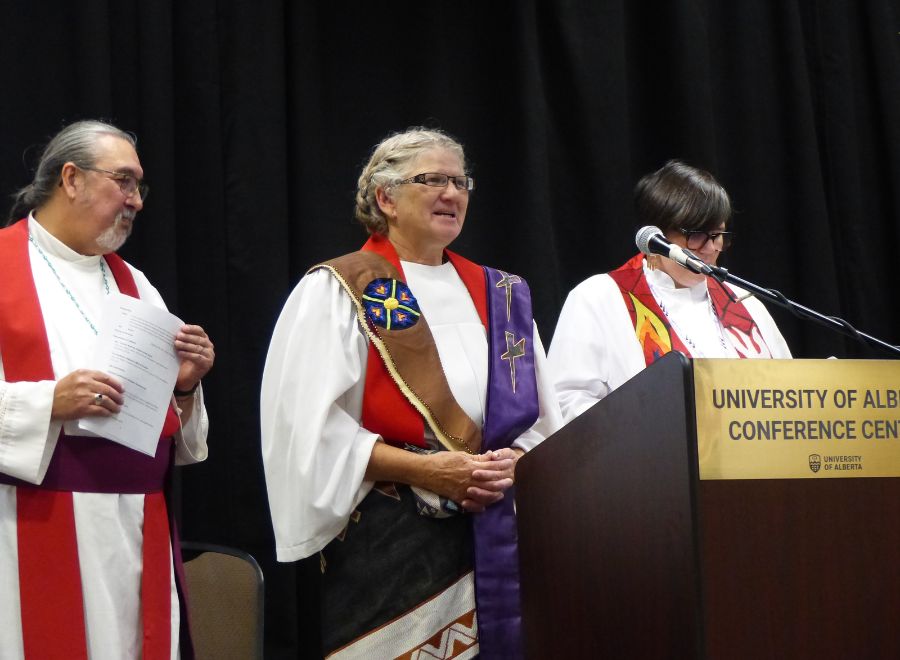 The remit still needs to be approved by a majority of the United Church's 16 regional councils and roughly 2,000 pastoral charges across Canada before the voting window ends on March 31, 2024. 
Last year's proposal came at a difficult time for Indigenous church members, starting with reports that the suspected remains of 215 children were discovered on the grounds of the former Kamloops Indian Residential School on Tk'emlúps te Secwépemc First Nation. The United Church ran 15 residential schools covered under the Indian Residential School Settlement Agreement, and the discovery rattled many within the church, resurfacing feelings of sadness, anger and resentment.
---
---
United Church leaders responded by launching the Bringing the Children Home initiative, which has made funds available to Indigenous communities for identifying unmarked graves and commemorating children, directed the provision of the church's archival records to Indigenous communities on request, and worked to create a document index and narrative of all the church's information related to student deaths and burial sites. 
"[The impact of the Kamloops discovery] was an indication that everything that we were working on was going to change. And it has changed since then," says Rev. Murray Pruden, national executive minister for Indigenous ministries and justice for The United Church of Canada. He says that the Indigenous church realized it could no longer follow the same agenda, and set out to create something new.
Some attendees at July's gathering, including residential school survivors, found the church's response lacking, and expressed ongoing anger with a lack of accountability over the years for atrocities committed at the schools. 
Pruden says the structural change will allow the Indigenous church to reclaim itself. 
---
More on Broadview:
---
"We just want to say we know what we need," Pruden says. "If you keep putting these roadblocks and boundaries in front of us, that delays us years and years and years." 
National Indigenous Council co-chair Leeann Shimoda compares the idea of the self-determining Indigenous church to the Two Row Wampum, a Haudenosaunee living treaty of balance and harmony, and uses the metaphor of the Indigenous and settler churches paddling in parallel canoes, side by side. 
"NIC has not been viewed as an equal partner to General Council," she says. "So our request was that we were equal partners with the same amount of power, working in partnership with each other to redefine their acceptance of the Indigenous church as a partner, so that we could both paddle in our own canoe."
***
Kevin Maimann is an Alberta-based freelance journalist who has covered a wide range of topics for VICE, Toronto Star, Xtra Magazine and others.
---
We hope you found this Broadview article engaging. 
Our team is working hard to bring you more independent, award-winning journalism. But Broadview is a nonprofit and these are tough times for magazines. Please consider supporting our work. There are a number of ways to do so:
Subscribe to our magazine and you'll receive intelligent, timely stories and perspectives delivered to your home 8 times a year. 
Donate to our Friends Fund.
Give the gift of Broadview to someone special in your life and make a difference!
Thank you for being such wonderful readers.
Jocelyn Bell
Editor/Publisher