I never wanted to hear Mark Driscoll's voice again, but there I was, folding laundry on my bed and listening to his voice boom over the tiny speaker on my phone. It sent shivers up my spine, and reminded me of the naive young woman I used to be.
This past spring, Christianity Today released a podcast titled "The Rise and Fall of Mars Hill" — an investigative show that explores the influence of the Seattle megachurch. The multi-site church had worldwide influence with thousands listening in to weekly sermons.
Founded in 1996, Mars Hill drew in the unchurched and was known for its controversial sermons preached by its equally contentious pastor, Mark Driscoll. By 2014, the evangelical church was embroiled in controversy, including mounting accusations against Driscoll related to plagiarism, bullying, and misogyny. By the end of that year the church disbanded.
---
More on Broadview
---
I was 19 when I stumbled on a Driscoll sermon about marriage and womanhood. I was living at my mom's house in Burlington, Ont., nursing a bad break-up and feeling spiritually and emotionally lost.
I'd never stepped foot in Seattle, but soon I was listening to all of Driscoll's sermons online, devouring his messages about the traditional roles of men and women. A woman shouldn't work outside of the home, for example, but she should definitely strip and perform oral sex on her husband — otherwise she was a prude, depriving her partner.
Driscoll was self-assured, super smart, and an incredible orator; he had a way of turning opinion into fact, and soon I was nodding my head in agreement. To follow his words was to follow the Bible, I thought.
Not long after, I met my future husband, Daniel. He didn't buy into the fire and brimstone of Driscoll's messaging, but he supported me and together we embraced evangelical conservative theology. We also bought into its archaic views on marriage and family. Soon after we married, however, I realized I wanted an equal partnership and stopped listening to Driscoll's sermons.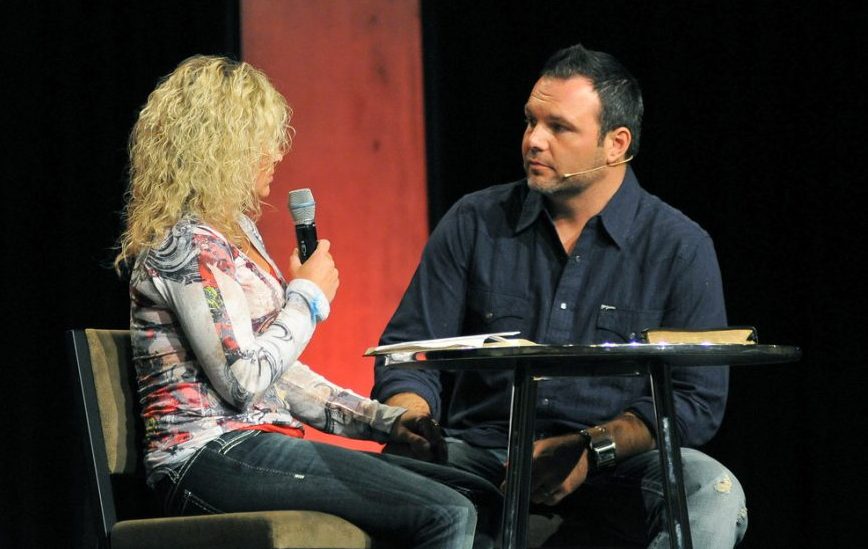 The last time I heard Driscoll speak I remember him saying his new book, Real Marriage: The Truth about Sex, Friendship, and Life Together, would be a New York Times bestseller because of God. The book was eventually removed from the prestigious list after it was revealed Mars Hill purchased the book's bestseller status.
Now, I'm a 32-year-old mother of three daughters, and I've been married for more than a decade. I'm far from the conservative woman I once was. I'm a proud feminist who hopes to empower my daughters to be whomever they want to be and to never let the church tell them otherwise. 
It took me years to undo the harm of Driscoll's messaging — I thought I had to be submissive, weak and happy to be the homemaker. Instead, I felt trapped and isolated, and I didn't know how to find my voice. I decided to find a full-time job, and my husband and I shared the school pick-up and other household chores. Entering the workforce freed me from Driscoll's vocal opposition to women working while also caring for their families. 
"It took me years to undo the harm of Driscoll's messaging — I thought I had to be submissive, weak, and happy to be the homemaker."
When I look back on my 19-year-old self, I see a young woman who felt lost and was grasping for a sense of security and belonging. My father left my family before I was born, and it wasn't until I was a teen that the pain of his abandonment really took hold. Driscoll preached against men who didn't take responsibility for their families. I felt comfort in his words — in a way, I felt like he was protecting me. In the end, his words just led to more pain; they stripped me of myself and sought to fit me into a box I wasn't meant for. 
I recently finished the first seven episodes of "The Rise and Fall of Mars Hill," but I had to fast-forward most of the clips of Driscoll speaking. I didn't need to return to his painful words — I experienced them in real-time, from a little house in Canada.
***
Brianna Bell is a Canadian writer with work published by The New York Times, The Guardian, The Globe & Mail, and more.
---
We hope you found this Broadview article engaging. 
Our team is working hard to bring you more independent, award-winning journalism. But Broadview is a nonprofit and these are tough times for magazines. Please consider supporting our work. There are a number of ways to do so:
Subscribe to our magazine and you'll receive intelligent, timely stories and perspectives delivered to your home 8 times a year. 
Donate to our Friends Fund.
Give the gift of Broadview to someone special in your life and make a difference!
Thank you for being such wonderful readers.
Jocelyn Bell
Editor/Publisher