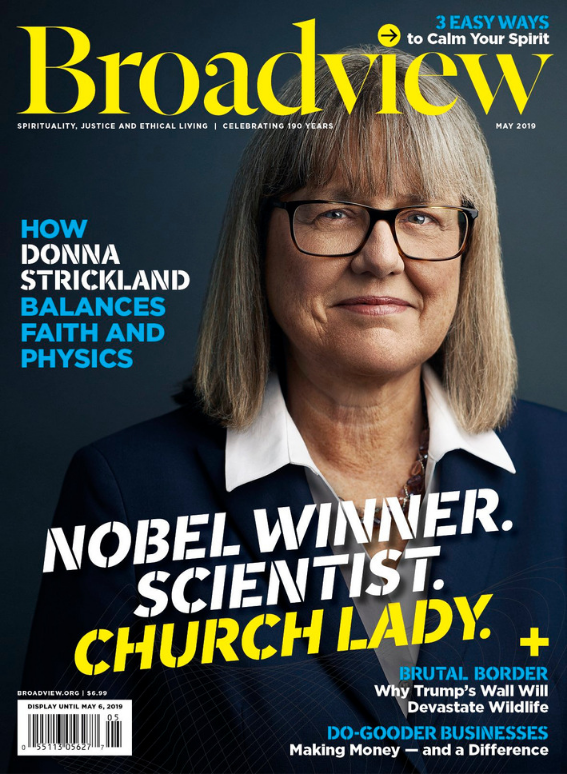 May 2019
In this issue:
How Donna Strickland balances faith and physics
Why Trump's wall will devastate wildlife
Do-gooder business are making money — and a difference
Scroll down for more content from the May 2019 edition
In This Issue
Letters
Topics: Uncategorised

Responses to our February issue (print exclusive)
Snapshot
Topics: Justice

Stunning photos showcase Muslim women's diversity

Photographer Alia Youssef captured 160 empowering photos of women from across the country

Topics: Justice

Love is love (print exclusive)

This month in 1969

Topics: Ethical Living

Survey says (print exclusive)

Attitudes toward immigration: Canada vs. the world

Topics: Spirituality

Protests and other ways churches are protecting the environment (print exclusive)

Some churches are taking the whole protecting Creation thing very seriously. These initiatives caught our attention.

Topics: Ethical Living

All about mom (print exclusive)

The second Sunday of May always marks Mother's Day — but how much do we really know about moms across Canada? We pulled together some interesting insights from Statistics Canada.
UCC in Focus
Topics: UCC in Focus

A beloved church lost to arson (print exclusive)

At 5:30 in the morning on Jan. 11, Linda Baird got an alarming phone call — Murray United, a beloved local church built in 1876, had burned to the ground

Topics: Spirituality

Church celebrates baptism with dads and surrogate mom

"We never could imagine the love we found in Cambridge Street [United] that Sunday morning," say the two dads, who live in Italy.

Topics: UCC in Focus

Church funds businesses making money — and a difference

The United Church of Canada has embraced social enterprises, which have the potential to reinvent their local communities

Topics: UCC in Focus

Retired minister reflects on living with dementia

For Rev. Dennis Landry, the condition has been difficult, but has also brought unexpected joys

Topics: Spirituality

I've never liked my voice, but a 'singcation' boosted my confidence

The writer reflects on a five-day choir retreat she attended in Newfoundland

Topics: UCC in Focus

A new kind of transplant (print exclusive)

The 'new' pipe organ at Parkview United promises to be a musical favourite with the Stratford, Ont., community of faith once installation is complete this spring

Topics: UCC in Focus

Question box (print exclusive)

Getting new faces on the church board