Three days a week, a church in Paris, Ont., turns into a gourmet kitchen. A small team gathers at St. Paul's Presbyterian to prepare homemade soups, which are sold as a premium product to local customers. They're part of The Raw Carrot, a social enterprise that hires people on the Ontario Disability Support Program.
"We've made the process less auto­mated intentionally because we're trying to give jobs to people," says co-founder Rebecca Sherbino. The hands-on cooking process allows them to create meaningful employment and stable livelihoods for workers who wouldn't be able to find a job in a trad­itional, profit-driven work environment due to physical limitations or struggles with mental illness.
The social enterprise is a separate entity from the church, but for Sherbino and co-founder Colleen Graham, its mission is grounded in faith. Sherbino says, "We can be a shining example of Jesus in our communities when we are moving forward with social justice in [his] name."
Sherbino and Graham are part of Canada's growing class of social entre­preneurs. A 2016 survey identified 7,000 social enterprises across the country, though some estimates put this number much higher. That same year, the Ontario government said there were 10,000 in that province alone.
Social enterprise is a broad cat­egory, but what separates one from a trad­itional small business is that any profit it earns is reinvested in the enterprise and — most importantly — a stated social, cultural or environmental mission underlies the company's business philosophy and is used to measure its success. Companies often refer to it as the triple bottom line: judging their performance based on their financial, social and environmental impact.
The Raw Carrot's products may be beautifully packaged and available in stores, but the mission — creating jobs for people who really need them — eats up a lot of margin. Without a variety of partners working together in concert, the paid jobs The Raw Carrot provides and their spinoff benefits simply couldn't happen.
That's where the United Church comes in. Since 2015, its EDGE Network has reached out to social entrepreneurs through grants, mentoring and Social Innovation Challenges — a more supportive version of Dragons' Den — that have been held across the country. The Raw Carrot took first place at a Toronto challenge in 2015, winning $5,000. Since then, the enterprise has expanded to oper­ate out of two more church kitchens in Ontario, providing permanent part-time work for about 15 employees.
In addition to the standard triple bottom line, the United Church uses a fourth category to measure the success of social enterprises: spiritual impact. Spiritual impact doesn't have a rigid definition. According to the assessment tool the church uses, this impact can include the potential for spiritual growth, but also the deepening of community relationships and "increased meaning, purpose, and a ground for living one's life in a new way."
While churches have always concerned themselves with social causes like education, poverty, housing and health care, this intersection of entrepreneurship and faith is new.
"I think people are skeptical as soon as you say you're making money," Sherbino says. She's encountered people who think The Raw Carrot doesn't need the same support as other types of ministry because it generates revenue.
But it's a relationship that church leaders are embracing, especially in a time of declining participation in trad­itional church activities. Social entrepreneurs have the potential to reinvent their local communities — and by supporting them, churches might even refashion how they connect with the wider world.
"Is there anything that takes more faith than starting your own business? Do you ever feel more alive?"
The United Church has been active in the field of socially responsible investing since at least 1968, when it focused on helping low-income people meet housing needs. Today's mandate is broader. Since 2015, 10 percent of the church's annual Mission & Service budget has been devoted to EDGE's Embracing the Spirit program, which distributes grants — about $1 million in 2018.
"We believe that every social entrepreneur is actually a spiritual entrepreneur," says Carla Leon, the new initiatives manager of the program, which targets innovative and educational projects.
Most of the projects funded by EDGE are created by congregations and people within the denomination. In fact, one in six faith communities in the church has worked with EDGE. But every year EDGE builds connections outside the United Church as well. In 2017, the network forged 300 non-church partnerships across Canada.
Plus, a few thousand dollars granted by the church can go a long way for the enterprises that receive it. "The aver­age money that we give is doubled or tripled by external initiatives like community foundations and municipalities," Leon says. Though the social enterprises that participate aren't always connected to a church, nor are the individuals necessarily religious, their projects have the same sort of mission at heart. Leon says some outside of the church don't always realize how connected entrepreneurship and faith can be, but she considers it a difference of semantics. For instance, starting a new business is a spiritual time, even though it's not often worded that way. "Is there anything that takes more faith than starting your own business?" she asks. "Do you ever feel more alive?"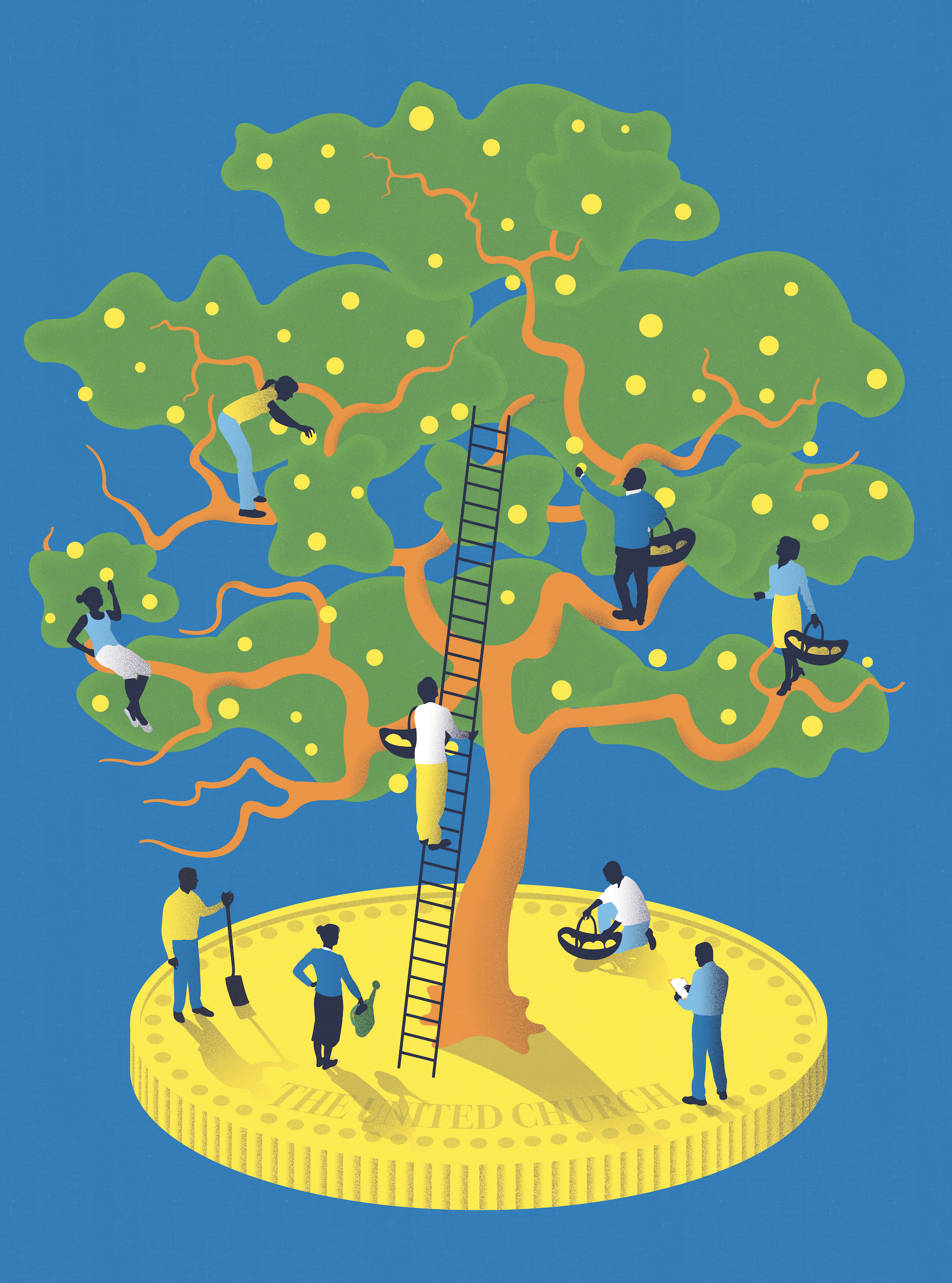 The Social Innovation Challenge is a cornerstone of the EDGE program. Since 2015, these challenges have been held in cities across Canada. Entrepreneurs start with a 60-second pitch and work their way through rounds of competition to win cash prizes and mentorship to help get their ideas off the ground.
Joshua Fernandes, event and community manager for EDGE, says that part of the reason for Social Innovation Challenges is to connect the church with a younger generation who want to do work that reflects their personal values and has an impact on their community. "An easy way to do that is to be your own boss or spend your working time to build something that you want to see in the world," he says.
A local United Church congregation supports each challenge, along with other community groups and municipal governments who might not normally work hands-on with the church. "You have more collective impact when you bring together unlikely players," Fernandes says.
So far, the challenges have built a network of about 500 participants and collaborators.
One of them is Bennett Newhook, the executive director of Greenspace, a social enterprise designed to lower costs of alternative farming and help increase local food production. He won the innovation challenge in St. John's, N.L., last May, and says the way challenge participants were pushed to better their business models and social impact was inspiring.
He used the prize money to turn a recycled shipping container into the company's first prototype farm. "The United Church provided services that really helped me work to scale up the business," says Newhook, "and they were resources that I would have other­wise not been able to access."
He sees funding innovative, socially responsible business ideas as an important role for the church. "Entrepreneurship relies so heavily on community, especially in rural locations where the church is more than just a place for spirit­uality. It's a true community centre."
Many past participants stay involved with EDGE. Erich Ko, who runs Hop In, a carpooling app that is designed to match drivers and passengers, first connected with the network by participating in a challenge in Vaughan, Ont., last June. "Every time I go and talk to Josh [Fernandes]," he says, "it kind of grounds me again and gives me a different perspective."
Participating in a Social Innovation Challenge helped inspire Ko to refocus Hop In. The app can help users save money, reduce their carbon footprint and create new social connections at the same time. But now he also sees how it could play a role in filling gaps in public transportation.
This past December, Ko returned to act as a mentor for the participants in another challenge. "The whole thing changed my mindset about how to run a social venture — how to run a company with a cause."
These kinds of companies are having an important impact on local communities and individuals. For The Raw Carrot, there's a special impact on each person who works there. Employee Suzi Gursoy told the Kitchener Post that having a job allowed her to feel "worthy of working again" after being unemployed for several years due to a disability. "We're not reaching a ton of people," says co-founder Sherbino, "but the impact we're having is deep."
This story first appeared in the May 2019 issue of Broadview with the title "Companies with a cause: Making money and a difference." For more of Broadview's award-winning content, subscribe to the magazine today.