ORRSTOWN, Pa. — Imagine you're a writer who has never received a rejection letter and you have a contract to write two novels per year plus a Christmas book.
Imagine you write in long-hand without a plot outline and you don't revise the manuscript. Now imagine that your books, which span nearly two decades, makes you a best-selling author and feature your personal faith.
Now you've stepped into the nearly no heel shoes of author Linda Byler, 63, an Old Order Amish wordsmith who began writing out of financial desperation. With 39 published novels, she has captivated Amish and non-Amish audiences (called English) — readers from around the nation who sometimes drop by her farm just to meet the writer who captures the simple life of the Amish sect, more than 300,000 strong in the United States alone.
"I don't want to be remembered for my writing," Linda Byler said, who sat sideways on her couch on a warm summer day. "I want to be remembered for being a good mother." Her white bonnet ties looped neatly behind her head, a style common for everyday life.
While writing is her vocation, she is hard pressed to recall exactly how many novels she has written. At first, she said it was 34 but counted again and decided it was 38 but with a book out on July 2, she said, "I guess that would make it 39."
The Amish in America grew out of conservative Anabaptist communities that started in Switzerland in the 1600s. They follow the teachings of Jakob Ammann, who spearheaded a split with the Mennonites over the matter of excommunication. Byler said Old Order Amish insisted on an offender being put out of the church when the person is excommunicated; Mennonites took a softer line. Old Order Amish are the largest group in America and are known for using their horse-drawn wagons and for 17th century clothing that is mostly dark in color, includes beards for men, head coverings for women in public and a prohibition on zippers. Buttons? They're OK.
Writing what she knows
The series of Christian novels that feature Amish life began in late 2003 with "Lizzie" (republished later as "Little Amish Lizzie: The Buggy Spoke Series"), a veiled autobiographical novel based on Byler's life at five years of age. Dedicated to her husband, Gideon for "having faith in my ability to write when I had none," Lizzie is not the perfect child. The character Lizzie, the youngest in the fictional family, wrestles with her desire to be taken seriously and not to be treated as the five-year-old that she is. She loves animals and, despite her family's financial struggles, finds contentment with her older sister, Emma, and her parents.
As the character Lizzie grows older, the topics of Byler's novels also follow the path of human development. "Running Around (and Such)" was the title of book 1 in the "Lizzie Searches for Love" series, which became bestsellers in some Amish and Mennonite categories on Amazon. The Amish and Mennonite communities are formidable book markets, consisting of voracious buyers and readers of printed material, partly because they eschew most digital technology. An audio book could be popular but electronics such as radios and CD players aren't exactly Amish style.
"We try to be as authentic as possible to Amish culture and the time period the book is set."

— Abigail Gehring
Some of Byler's books and series stray from the Amish settings of Pennsylvania and center on westward geographies such as the Dakota Series trilogy and the "Sadie's Montana Trilogy." And not all the themes and topics are happy, light and cheerful. One trilogy was titled, "Lancaster Burning."
Byler hasn't traveled far from her home near Harrisburg, but her wide reading of foreign locales and the grit of modern life with its tragedies keeps her aware. If she reads something in a popular novel that is counter to her strict faith, she said, "I just read over it."
She once flew in a Cessna-like airplane as a girl but never told her parents. While Gideon went on fishing trips, Byler stays home with the children. "That's life," she told ReligionUnplugged.com. The Bylers once traveled to Bar Harbor, Maine, for a 10-day trip but mostly they remain near home surrounded by farms.
Her most recent book out July 2 carries the stark title, "Banished: An Amish Romance." That story is set in the 1900s when the main character's parents die and leave her and her brother as orphans shuffled to Arkansas to work on an Amish aunt and uncle's cotton farm. The book promotion text adds more layers of drama:
"When she encounters Clinton, a young black man, on the road one day, she sees a kindness in his eyes that she's been thirsting for. He is immediately drawn to her, too, but quickly reminds her that he is Black and she is White. In that time and place, there is no chance of starting a friendship. But still, they find themselves meeting discretely, spending more time together than is proper, finding joy and solace in each other's company. When things go from bad to unbearable at the farm, May realizes she must escape from her aunt and uncle. If only she knew where Oba [her brother] had gone! Can she turn to Clinton for help? Where is God when she needs Him most?"
This series takes the reader to an Amish settlement in Wyoming and Byler's lead character becomes attracted to a logger.
"You know how vulgar loggers can be," she said. Will May end up with this lout? Readers will have to read the second and third books in the series to find out.
A writer's life
These days Byler writes between 15 to 20 pages per week to maintain her demanding schedule.
"I just sit down and think what I think out on the page," she said. "It is easy for me to write my thoughts and I try to portray life as it is, as it really is."
"As a child, I could imagine too, too much," she said. If she read about rabid bats, she became vigilant about thwarting them.
"Big foot? I would go around the house and make sure every curtain was closed because it was very real to me."
"I guess I am more perceptive than others," she said. "When I write, it's just like making a quilt. I start with one idea and just add on."
While the process may be easy, Byler's editor at Skyhorse Publishing, Abigail Gehring, said she wishes the Amish writer would use a laptop rather than writing in notebooks, which she mails to Skyhorse to find a typist to enter the manuscript into word processing software. But Gehring says she understands that Amish don't use computers and other modern technology.
"I always tell Linda that I don't want her to violate her conscience in any way," Gehring told ReligionUnplugged.com in an email. "In some ways, the fact that she writes everything by hand adds to her authenticity as an Amish novelist."
Is Byler a best-selling author? "She has not made a bestseller list. But I don't know of any other Amish romance writers who are still active in the Amish church," according to Gehring.
She went on to say, "Good Books, an imprint of Skyhorse Publishing, Inc., has sold more than 350,000 Amish romance novels by Linda Byler." And several of Byler's titles rank in the top 100 titles on Amazon for Amish and Mennonite categories.
Byler said the publisher long ago ceased sending her proofs and typically prints what is submitted. Gehring says she calls Linda by phone if she has any questions about edits to the manuscripts.
When Gehring calls Byler on the telephone—no texting: "She's very direct. She gets down to business and hangs up."
"They edit the work and I figure that they know what to do," Byler said. "I only have an eighth-grade education so they correct the sentences. I figure they are more knowledgeable."
The process works but the days of Byler drawing her own figures for the novels in a kind of one-dimensional design are long gone and the faces and clothing on the covers these days may deviate from the look most Old Order Amish possess. Gehring says Skyhorse often hires a model to wear traditional Amish attire and pose for a cover photograph. "We try to be as authentic as possible to Amish culture and the time period the book is set," she said.
Skyhorse is an independent publisher but is distributed by Simon & Schuster, where Byler has an author page that lists her as a bestselling author.
Inspired by Laura Ingalls Wilder, Byler recalls the fond times as a girl reading the "Little House" series.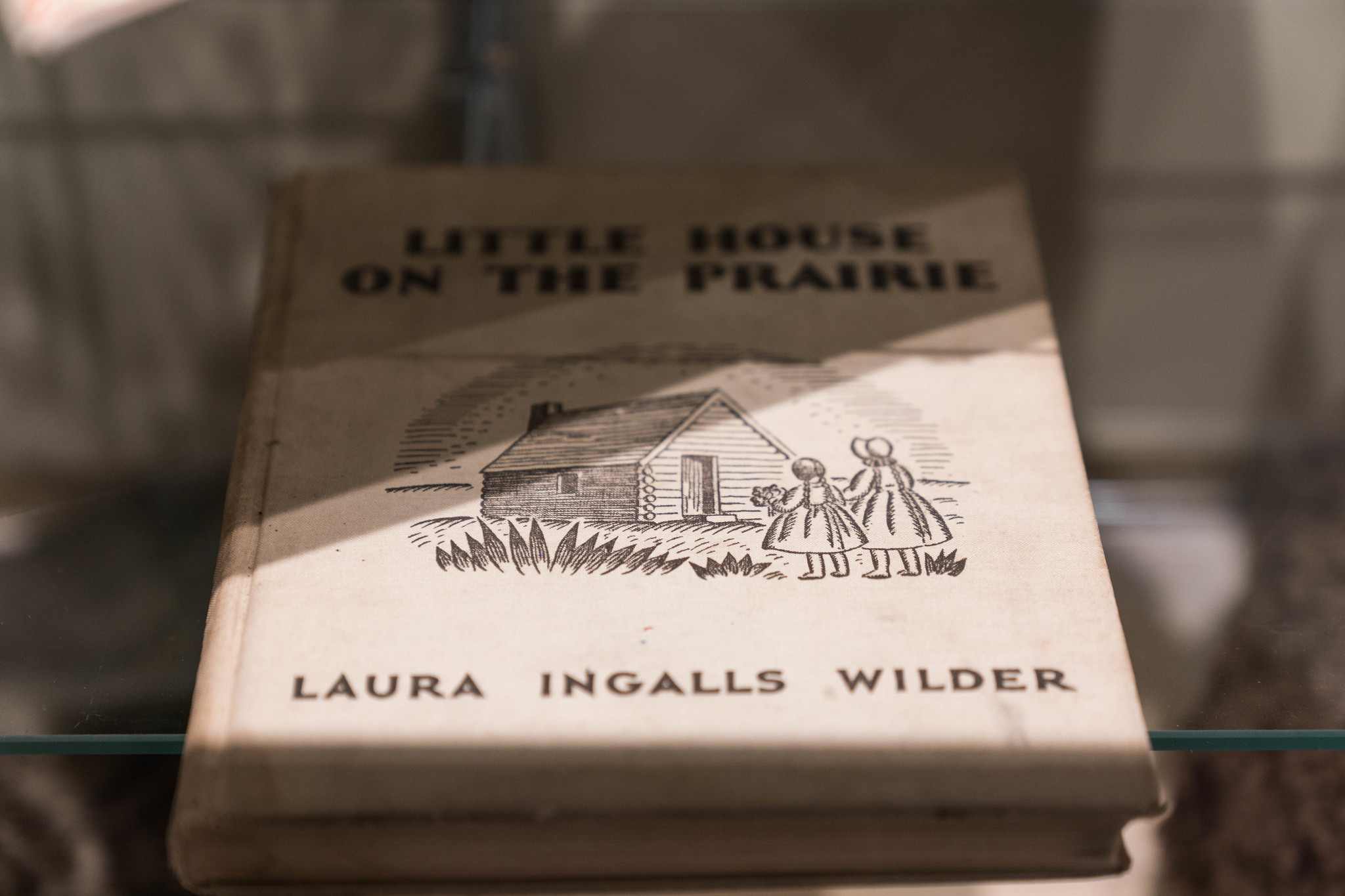 She remains an active reader and plays Super Scrabble by herself. Her tastes in reading run more to best-selling fiction, the kind found on The New York Times best-seller list.
"Being a writer can be a lonely life," Byler said. She doesn't receive much feedback. "Bestseller? I don't know about that." Byler said she isn't aware of the how her books are doing; she just keeps writing. "No one tells me anything," she laughed.
A newspaper columnist
Byler knew she had some capacity for prose when she joined the unpaid 1,200 scribes for the 16,000-circulation Amish newspaper, Die Botschaft News, which translated from the German loosely means "The Messenger" or "Tidings." Not all the contributors write each week but as many as 900 contribute weekly to fill up to 120 pages. Headquartered in Millersburg, Pa., the newspaper is published every Friday and mailed to subscribers (the paper has no digital web site as Amish don't use computer technology).
Elam Lapp, editor until his son David took over in 2019, recalls telling his wife that Linda's column included information that he wouldn't share with others but readers liked it. Editor David Lapp, 34, agrees, saying Byler is a bold writer. Despite her popularity, Lapp said his newspaper has not written a profile on Byler's novels.
In the most recent issue out July 2, Byler wrote an anecdote about her daughter Rebecca "Becky" and husband Mose Lee of Roxbury, Pa. The couple acquired a new horse that balks so much that Becky refused to ride behind it. She left Mose at the reins and obtained a ride in a car. Mose told Becky that he hoped the car broke down so he could sail on by it with his wife inside.
"I wrote about things that happened," she said. "People seemed to like to read it."
As she chatted in her two-story house—no electricity or kerosene (too dangerous)—she didn't mind a visitor taking a long look around her spacious rooms with an open floor plan and battery-powered lights. Birds chatted away outside her kitchen windows.
"Love your floors," the visitor said.
"It's not ceramic; it's linoleum."
"And your hutch is great."
"I bought that when I was told I would be paid $30,000 for my writing at the end of the year," Byler said. "Except the publisher at that time got it wrong and it was $3,000. I had to make payments." (Editor's note: Skyhorse acquired Good books in 2014.)
Byler's honesty may be the secret to her success. She is quick to tell the truth and then hint that not everything is for print.
Her own Amish romance
According to Gideon, 64, Byler's husband for 43 years, the writing keeps her busy and the newspaper column provided some levity and self-deprecation.
"She writes about how big she is but when people visit, they think she is 300 or 400 pounds and she isn't," he said.
In early July, Byler and her family went to Chincoteague Island in Virgina and enjoyed the water like any other American family—in swimsuits. And bigness wasn't an issue. Linda's author page at Simon & Schuster notes she "grew up Amish and is an active member of the Amish church today," which may indicate some modern adaptations in the family's dress.
Gideon sports a thick white beard, no moustache, and noted, "She makes good money. It's nothing to sneeze about and she is happy with her job."
Byler's work typically earns her an ongoing payment of $2,000 each month with an end-of-year bonus payment based on book sales, which can be a hard living considering the hours of toil writing compared to a sure-paying job such as cleaning houses or baking for others. Byler said the limited education—eighth grade—often limits Amish women to cleaning houses, baking or canning.
"If all I could do was baking and canning, I think I'd commit suicide," Byler said with her light laughter.
A contractor, Gideon filed for bankruptcy nearly two decades ago but built his business back with the help of his Old Order Amish community. During those years, Linda earned her living writing when the family lost the farm and relocated into a house Linda found wanting.
Today she lives on the corner of a rural road, a towering oak tree in her front yard. She has a covered porch with a deck with white supports and a four-foot-long bird feeder with lots of bird activity. Gideon's new garage is located across the road, something that tends to interfere with the birds resting in the oak. A yellow Public Opinion newspaper tube shares space with the Byler's oversized mailbox. The house and location suggest something grand but that's not the Byler's style.
A low-key celebrity
Byler is self-effacing and goes so far to call her fiction "amateurish," something of which she is a bit ashamed when compared to the writers she admires such as Laura Ingalls Wilder.
What Byler may not know is the number of frustrated writers who would love to have one book in print rather than the number published by Byler. She doesn't even have one copy of her work in her home in Cumberland County. She either gave them away or loaned them to friends and others.
"When I write, it's just like making a quilt. I start with one idea and just add on."

— Linda Byler
She is content in her Amish skin and when customers greet her as Mom at Jim's Market where Laura, the oldest of seven children, operates a deli stand in Chambersburg, Pa., Byler puts down the ham sandwich she is making for sale, smiles and allows fans to take a selfie with her.
Della Witherow, 66, of Waynesboro, Pa., was one such fan. When she moved to Waynesboro recently, she insisted on tracking Linda down. She drove around Cumberland County and stopped anywhere she thought Amish people might meet and finally found Linda's house. Gideon answered the door and directed Witherow to Jim's Market.
Even though Witherow isn't Amish, she said meeting Byler was like a family reunion, adding she has nearly 1,000 novels commonly called Christian fiction and written by authors who feature the Amish including Beverly Lewis, Barbara Cameron and Shelly Shepard Gray.
"I asked Linda if we could take a picture together," Witherow recalled, saying how surprised she was when Linda agreed. "I love her to death," Witherow said, adding that Linda's latest book, "Banished," is on her reading list.
Many non-Amish fans of the niche Amish romance genre such as Witherow rave over Byler, while the Amish are a bit more taciturn. Yet sometimes Amish readers who attend the all-day Sunday worship services with Byler let it slip that they like the books for the twists and turns.
"It keeps them up at night," Byler said with a quick smile. The books include an awareness of Christianity, "but it's not preachy."
And Romance? "That's what sells," she said.
***
Michael Ray Smith, Waynesboro, Pa., is a research fellow with LCC International University in Lithuania. He's written nearly 3,000 articles and eight books.
This article is republished from Religion Unplugged under a Creative Commons license. Read the original article.