Data on the climate crisis can be confusing and overwhelming, especially for non-­scientists. Yet we all need to understand what exactly is happening to the Earth's ecosystems. To bridge the gap, science communicators need to find compelling ways to accurately convey what their discipline is — and isn't — saying about our changing climate. This imperative is what drove Jill Pelto, a 26-year-old with degrees in both studio art and Earth science from the University of Maine, to merge her two worlds together and create what she calls "glaciogenic art."
Pelto developed her creative style while in university. She used to bring a small paint kit along during her field studies and would use art to further observe the landscapes she was studying. Using mostly water­colours, Pelto layers line graphs that visualize climate and environmental data atop colourful paintings that illustrate the numbers. In doing so, she captures a sense of emotion and loss in a way the data alone can't. For each painting, the first step is intensive research, she says, including reaching out to other scientists for information. "A lot of the stories are complicated, and I don't want to misportray them or simplify them," Pelto says.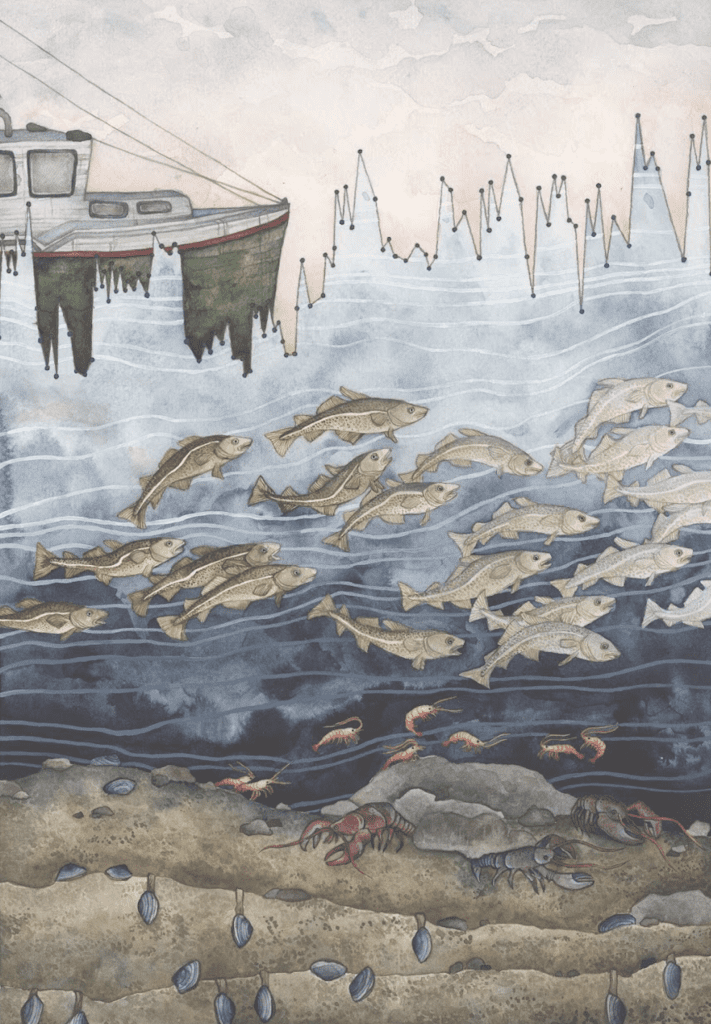 A large portion of Pelto's work focuses on glaciers and mountains, which have been a part of her life for as long as she can remember. She comes from a family of glaciologists, and often accompanies her fath­er on his annual field pro­jects in Washington's North Cascades mountain range. Because of her familiarity with these environments, the changes they are going through — such as shrinking glaciers and growing melt ponds — are even more striking for her. Pelto says that the impact of the climate crisis on glaciers is particu­larly strong, and that the changes glaciers are undergoing also affect the other ecosystems that surround them.
Ultimately, Pelto wants her art to visualize the realities of the climate crisis and to be accessible to a wider audience. But most importantly, she wants to empower change, and "provid[e] people with an avenue that makes them feel more hopeful or more inspired to take action."
This story first appeared in Broadview's December 2019 issue with the title "Painting the climate crisis."
Broadview is an award-winning progressive Christian magazine, featuring stories about spirituality, justice and ethical living. For more of our content, subscribe to the magazine today.