A jar of tealights, a guitar and printer-paper sheets of shiva prayers were laid on the ground in downtown Toronto's Matt Cohen Park as approximately 100 Jewish people and their allies gathered for a shiva and vigil on Oct.15. Just over a week earlier, Hamas, a political party and militant movement that governs the Palestinian territory of Gaza, carried out a series of surprise land, sea, and air attacks that killed over 1,400 Israelis. But that night, members of the local Jewish Canadian community weren't just gathering to mourn the most lethal assault on Israel in over 50 years and call for the safe return of about 210 Israelis Hamas is holding hostage. They were also calling for a ceasefire in Gaza and an end to Israel's half-century occupation of Palestinian territories.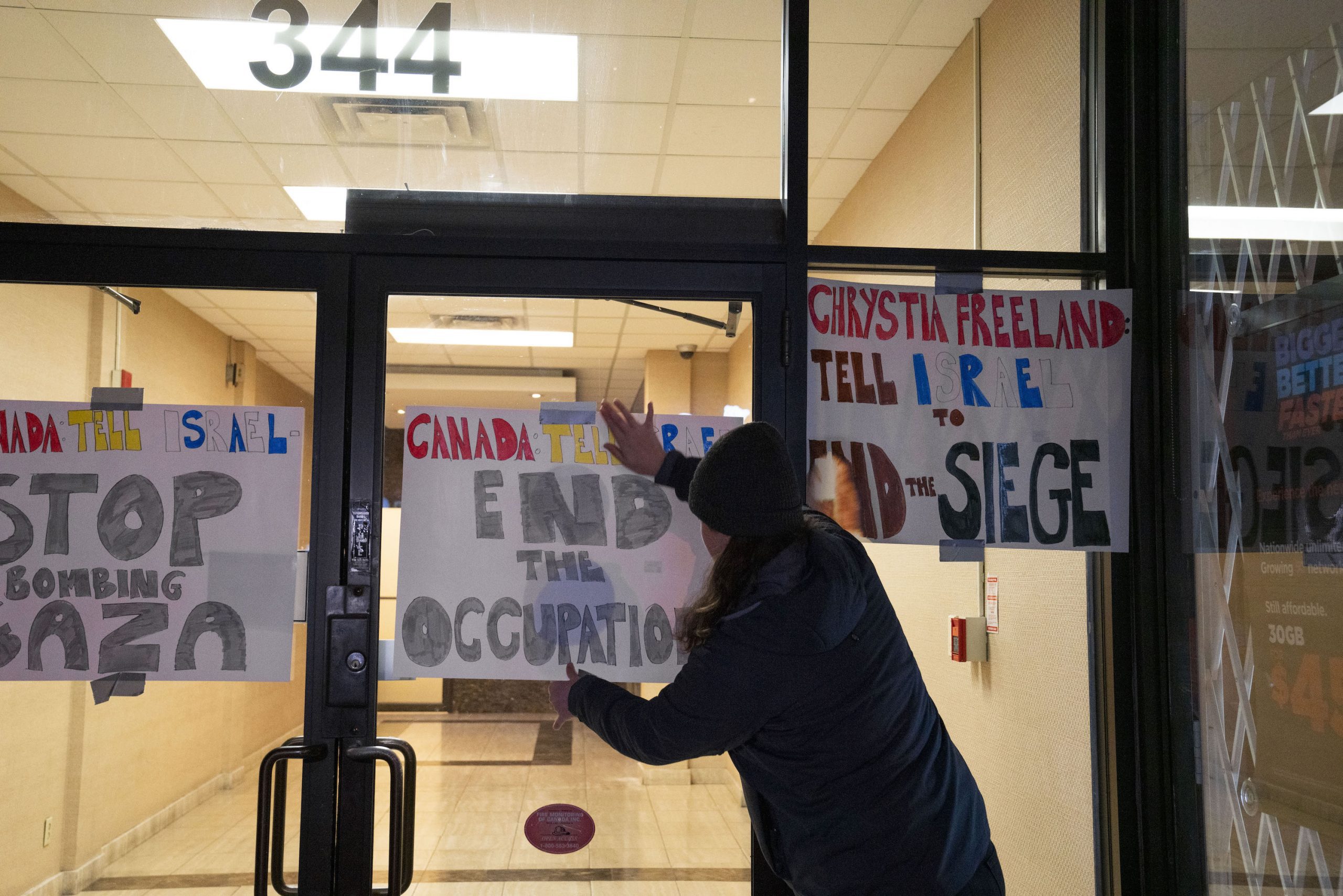 In response to Hamas' Oct. 7 attacks, Israeli Prime Minister Benjamin Netanyahu said Israel was at war and vowed to turn the Gaza strip, home to 2.3 million people, into a "deserted island." That same day, Israel began a campaign of retaliatory airstrikes that has since leveled neighbourhoods, wiped out entire families and left over a million Gazans homeless. Israel also escalated its 16-year-old blockade of Gaza, cutting off water, food, power and fuel.
"We are fighting human animals, and we will act accordingly," Israeli Minister of Defense Yoav Gallant said.
Israeli Holocaust scholar Raz Segal warns that these events amount to a "textbook case of genocide."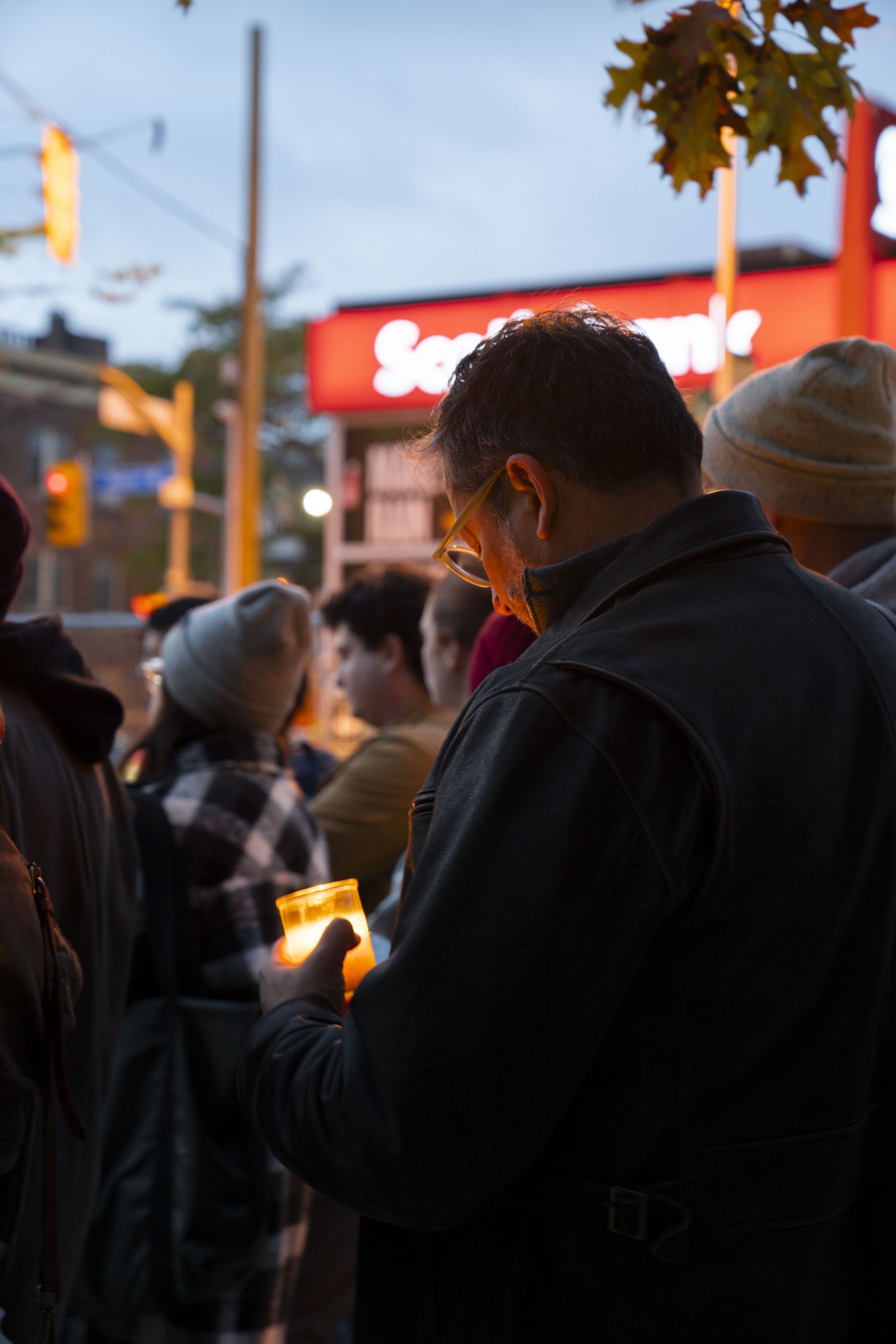 Jewish Canadian Karen Isaacs, who is an Israeli citizen, was at a Shabbat dinner with her partner and some friends on Oct. 13 when the idea of organizing a vigil and shiva came together. She told Broadview that they saw a need for a voice in the Jewish community to say, "we don't accept what's happening in Gaza right now, and we don't want to have any part in war crimes being done to the Palestinian people in our name."
Isaacs said she doesn't believe bombing Gaza will help keep Israelis safe, but noted that back in Israel, people who view the situation similarly are facing government repression.
---
Want to read more from Broadview? Consider subscribing to one of our newsletters.
---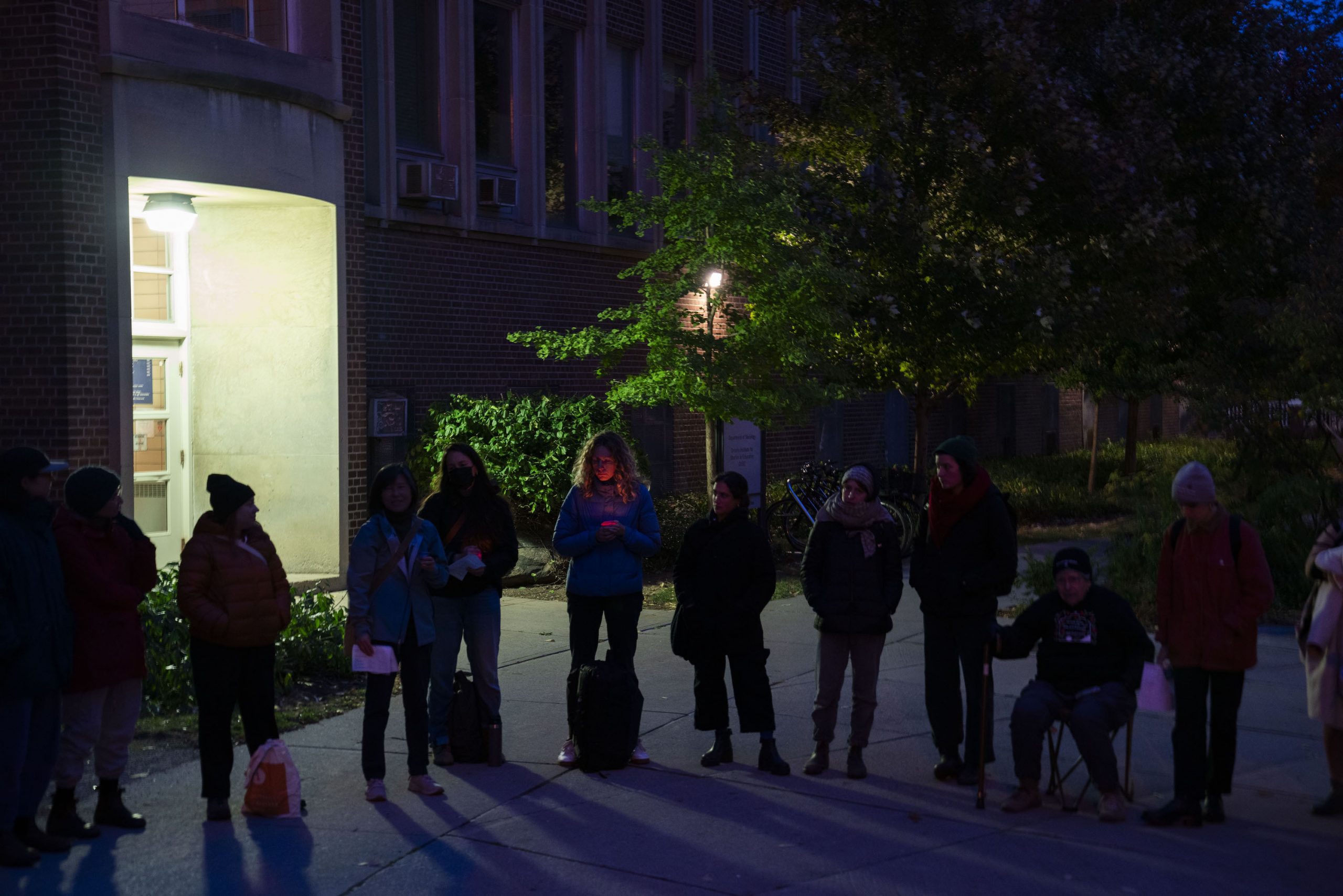 Two days after the Shabbat dinner, gathered in two large circles in the falling dusk, community members shared their reasons for attending the Sunday evening shiva. Some spoke of deep personal connections to the Israeli communities impacted by the Oct. 7 violence. Others shared their feelings of grief and complicity. Some said they know Israelis that Hamas is holding hostage. Many felt that peace was urgently needed. As they listened to one another, a handful of them cupped candles in their palms, shielding the flames from the breeze.
Isaacs and her partner lived in Israel for a decade, where they engaged in activism against the Israeli occupation in the West Bank. While the two haven't lost anyone close to them, people in their wider circles have been impacted by the violence on both sides. Isaacs said it was affirming to know she wasn't the only one who needed a space to grieve without that grief getting pulled into justifications for violence against Palestinians.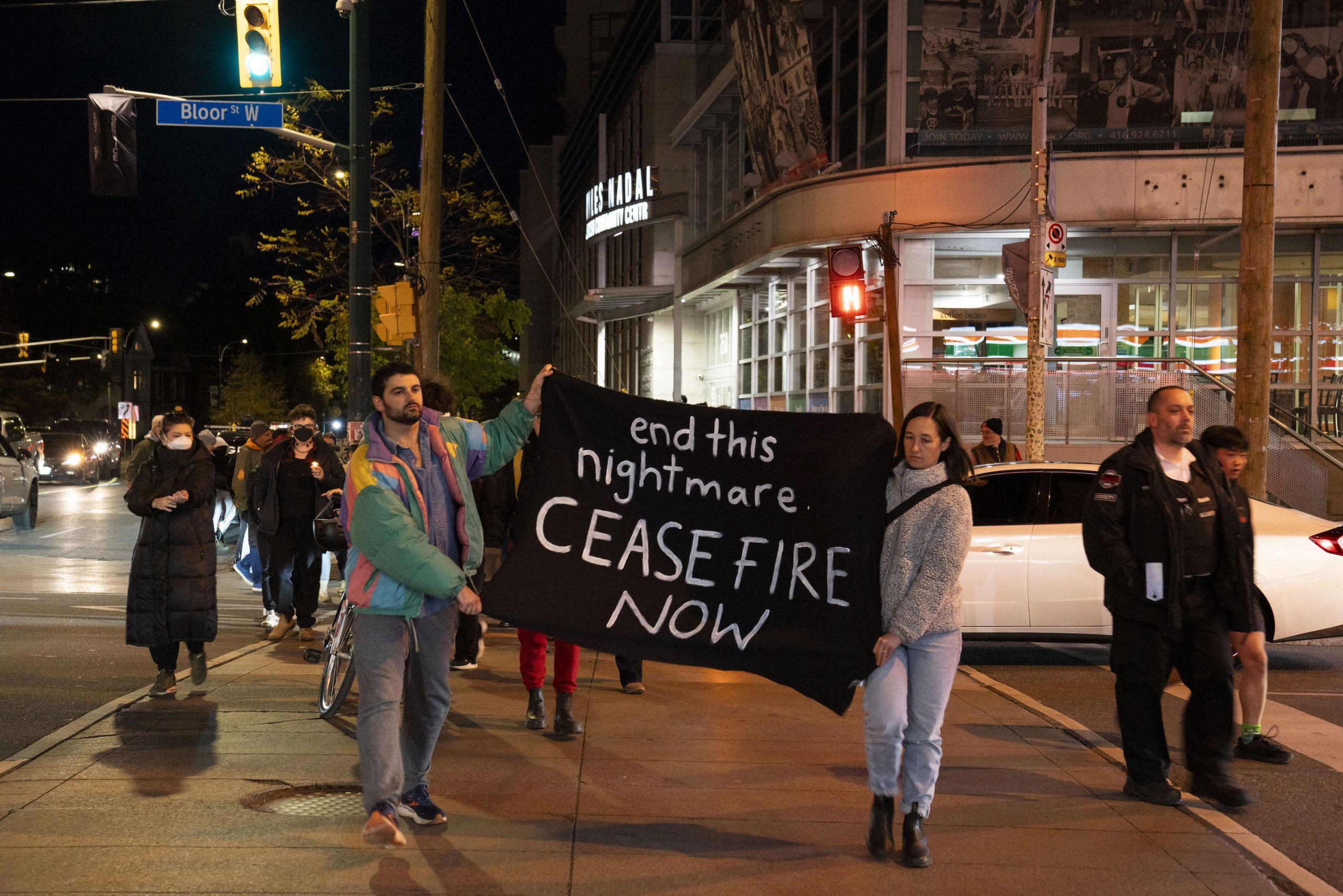 After everyone had a chance to listen to one another's stories, one of the organizers, guitar in hand, led attendees in some songs and a recitation of the mourner's Kaddish, a Jewish mourning prayer. Then the group crossed the intersection to Deputy Prime Minister Chrystia Freeland's office, where some taped up paper signs asking Canada to help end the occupation, the siege and the bombings. Isaacs and a friend, Robbie Solway, walked at the front of the crowd, carrying a banner calling for a ceasefire.
---
More on Broadview:
---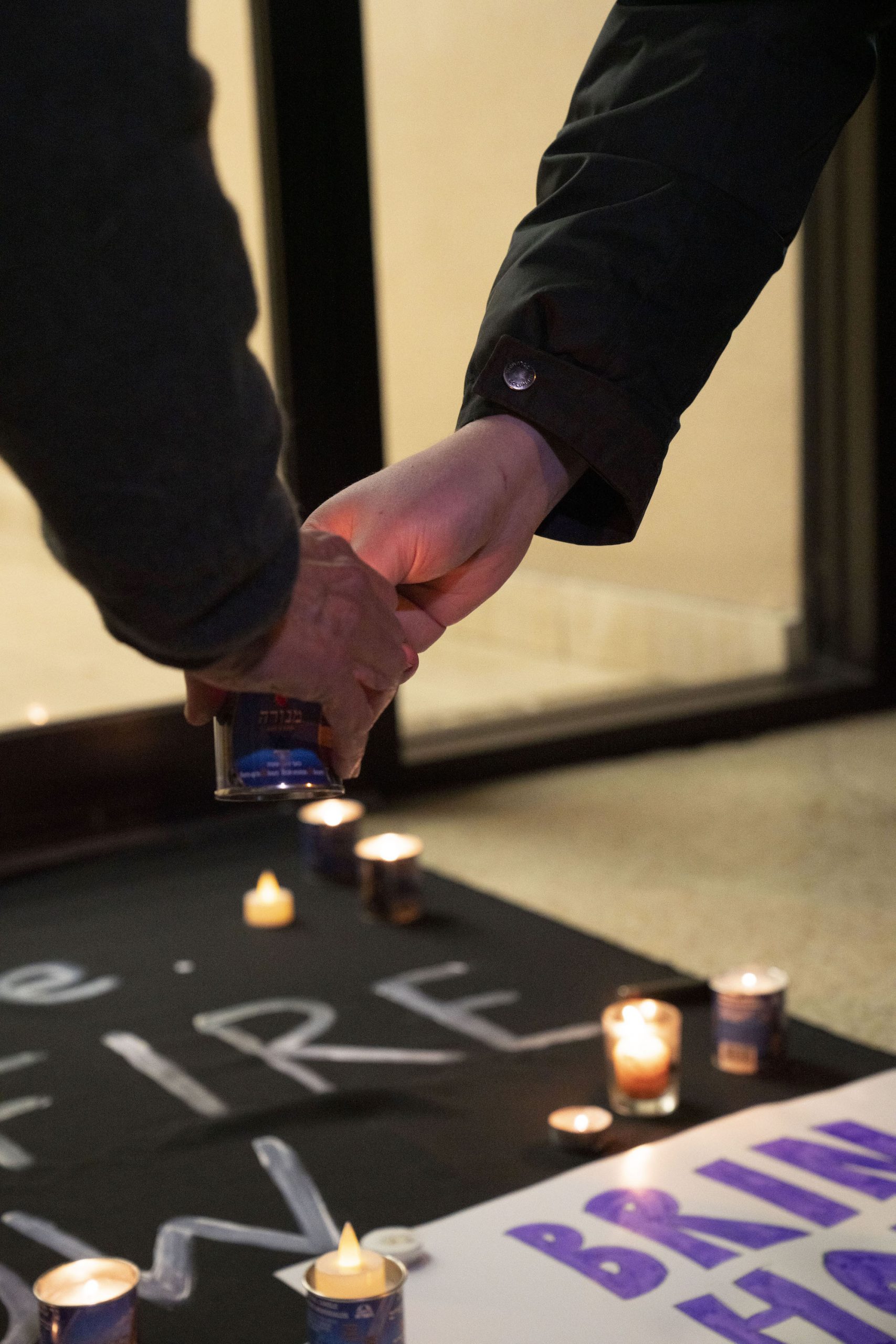 In the days following the event, the vigil organizers began circulating an open letter calling for action from the Canadian government. By the following Sunday, 600 Jewish Canadians from coast to coast had signed.
Meanwhile, Israeli airstrikes in Gaza have continued, alongside airstrikes in Syria, the West Bank and Lebanon. With few exceptions, Hamas has yet to release the Israeli hostages. On Oct. 17, an explosion killed 500 people at al-Ahli Hospital in Gaza, prompting protests across the Middle East and around the world. Israeli authorities say a misfired rocket from Gaza militants caused the hospital explosion, while Palestinian officials say the destruction came from Israeli airstrikes.
Isaacs acknowledged that it may be overwhelming to fully understand the history of the Jewish and Palestinian people, but she said it doesn't take much knowledge to affirm that civilian deaths are not justifiable.
By Oct. 22, the death toll in Gaza included at least 4,651 people, including over 1,870 children.
"The longer this goes on, the more innocent civilians are going to pay the price," Isaacs said.
***
Jadine Ngan (@jadinengan) is a National Magazine Award-nominated journalist based in Toronto. She was one of Broadview's summer interns in 2021.
---
We hope you found this Broadview article engaging.
Our team is working hard to bring you more independent, award-winning journalism. But Broadview is a nonprofit and these are tough times for magazines. Please consider supporting our work. There are a number of ways to do so:
Thank you for being such wonderful readers.
Jocelyn Bell
Editor/Publisher