In March 2020, Food Secure Canada reported that one in eight Canadians were food insecure, while Indigenous households experienced food insecurity two or three times higher than the national average. Typically, individuals who experience food insecurity are thought of as those who are forced to skip meals or are underfed. Yet, food insecurity can also mean not having access to fresh, nutritious produce or being unable to access preferred cultural foods that make up a majority of your diet.
According to PROOF, a research program through the University of Toronto committed to studying food insecurity and policies, food insecurity has many negative impacts on one's physical and mental health. Individuals who experience food insecurity are at a greater risk for developing conditions such as diabetes, arthritis, heart disease and more. Food-insecure individuals are also at a greater risk of developing mental health issues such as depression, mood disorders or even suicidal thoughts. For communities impacted by food insecurity, these challenges can make it harder for individuals to focus and succeed in school or even perform everyday tasks.
Although initiatives such as food donations and increasing access to grocery stores are aiming to tackle food insecurity in such communities, what's often undiscussed is that Indigenous food security looks different for diverse Indigenous communities. Listening to local Indigenous communities and hearing what they need will allow for more culturally responsive and effective food security solutions in the long run. Asking different Indigenous food organizations across the country might be the first step in better serving these communities in the future.
Qajuqturvik Community Food Centre, Iqaluit
In Iqaluit, the Qajuqturvik Community Food Centre fills a large need in the community, with over half of Nunavut households being food insecure. In response, the centre offers daily community meals, a healthy food box program and cooking classes. Starting in November, the centre will begin offering "country food" boxes, filled with traditional Indigenous food.
On average, the food centre serves around 100-150 meals per day, while the healthy food box program serves around 65-75 households per week. With food prices in the territory estimated in 2016 at two or three times the national average, healthy food is unobtainable for many.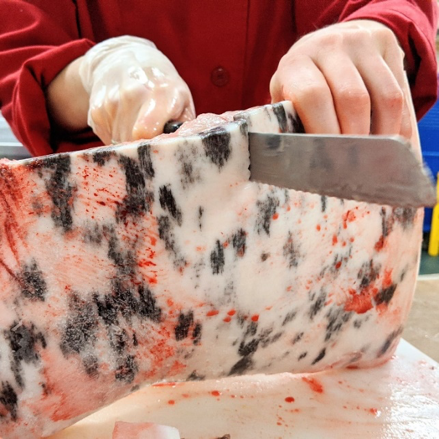 Rachel Blais, the food centre's executive director, emphasizes the importance of local food systems in tackling food insecurity, given the high costs of food. Local hunters have played a crucial role in obtaining, distributing and sharing traditional foods with those in need.
"Hunters are doing more to address food insecurity in Nunavut than many factions of government," Blais says.
Hunters' role in supplying culturally relevant food is vital to the community, considering how expensive country food is to purchase. Country foods that are needed in this community include seal, narwhal, beluga, caribou, muskox, and char fish.
---
Interested in more stories like this? Subscribe to Broadview's weekly newsletter.
---
"The atmosphere at the food centre totally shifts when country food is on the menu," she says.
Blais hopes that in the future, there will be more focus on tackling food insecurity by supporting local food systems through more investments in Nunavut's harvesting infrastructure as well as fair wages that account for the harvesting and food processing times that hunters experience.
"Support local food systems in the north instead of thinking the solution is to import cheaper and more foods from the south," she says.
Saugeen First Nation Food Bank, Southampton, Ont.
The Saugeen First Nation Food Bank is a local organization offering monthly food packages to Indigenous households in need. On average, the organization's food programs and services regularly serve about 150 people. The food bank also runs a community garden full of fresh produce that is available from early spring to end of October. Despite being able to grow traditional Indigenous crops such as the Three Sisters (squash, corn, and beans), the organization says a greenhouse would make food supply much easier.
"It would be nice to have a greenhouse where we could have healthy choices, where we wouldn't have to go to the grocery store to purchase them. We could just grow them here," says Erin Kewaquom, a food bank worker.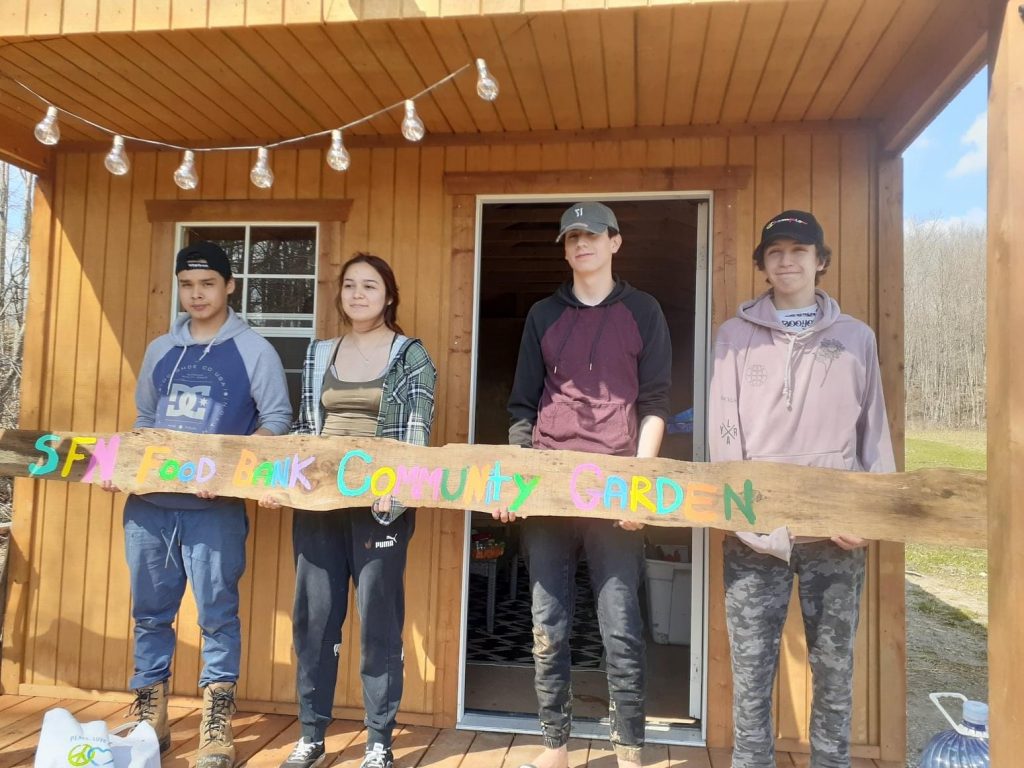 Kewaquom explains that a greenhouse would help foster more food sustainability in the community as households could plant, harvest, and care for their produce rather than relying on grocery stores. This would also help community members learn transferable harvesting knowledge and skills that they could use in their own homes.
For fish and meat supply, the food bank relies on a neighbouring community to supply fish while traditional meat is acquired through food donations. With very few hunters in the community, who only hunt seasonally, acquiring traditional meat can be difficult.
"It would be nice if we could have deer meat available," Kewaquom says.
Even though traditional foods can be challenging to obtain, Kewaquom says they are important to not only Indigenous culture but also the community's overall well-being.
"Culturally-based foods are very important to our culture and our health … If we were able to eat the foods we would normally be eating, our health would improve," she explains.
Turnor Lake & Birch Narrows Community Food Centre, Turnor Lake, Sask.
The Turnor Lake & Birch Narrows Community Food Centre plays an important role in making sure many people do not go hungry. The food centre uses a "land to plate approach," teaching Indigenous youth how to get their food from the land as well as traditional food preparation methods.
During the pandemic, the food centre also began offering food boxes containing produce, meat and dried goods to those in need. According to the food centre's program manager, Rebecca Sylvestre, the centre has spent over $300,000 on food boxes for local communities in recent months.
---
More on Broadview:
---
The food centre also supplies households with traditional food such as duck, moose, deer and rabbits. Sylvestre says that it is important for both elders and Indigenous youth to have access to their traditional diets.
"I want to make sure that our elders are able to continue on the diet that they were raised with," she says. "Our children need to learn that this diet helped their elders grow, and it was so healthy for them … They [elders] were living 'till they were 90 or 100," she adds.
This past summer, the region was also hit with natural fires that burned many of the community's traplines, which have been used for generations to source food. Sylvestre's father's trapline was one of those impacted by the fires.
"It's going to take him so many years to replace it. He'll pass away by the time he could show his grandchildren how to use them again," she says.
Despite the challenges the community has faced, Sylvestre is grateful for both the financial and emotional support the centre has received.
"They're [non-Indigenous people] starting to realize what's important to us," she says
***
Russul Sahib is a writer whose work has focused on a variety of social issues, as featured in Broadview Magazine, THIS Magazine, and The Newcomer Magazine. 
---
We hope you found this Broadview article engaging. 
Our team is working hard to bring you more independent, award-winning journalism. But Broadview is a nonprofit and these are tough times for magazines. Please consider supporting our work. There are a number of ways to do so:
Subscribe to our magazine and you'll receive intelligent, timely stories and perspectives delivered to your home 8 times a year. 
Donate to our Friends Fund.
Give the gift of Broadview to someone special in your life and make a difference!
Thank you for being such wonderful readers.
Jocelyn Bell
Editor/Publisher