Hana Shafi is not a perfectionist. The Toronto illustrator and writer, also known as Frizz Kid, sees her artwork as doodles; if she makes a mistake, she almost always leaves it uncorrected. And it's this embracing of flaws that resonates with her thousands of followers on Instagram. "I like making things that look polished, but I also like work that almost lacks that bit of polish," she says. "There's something very intimate about it."
In her well-known affirmation series, Shafi presents validating phrases with an accompanying doodle. Her new book, Small, Broke, and Kind of Dirty: Affirmations for the Real World, features artwork from this series accompanied by short personal essays to help readers feel less alone while living life at its messiest.
Shafi makes it clear that this is not a self-improvement book: rather, she wants to assure readers that it's okay if it seems like they're constantly fumbling — even the tiniest of successes are still worth celebrating. And while her work is confessional, it isn't a morbid display of her trauma. "I had to remind myself that there are important stories to tell that are joyful and to try to lean in to that rather than baring myself at the expense of my own safety," she says.
---
More on Broadview…
---
This doesn't stop her from sharing some of her most vulnerable moments, like having to borrow underwear from her friend at a water park during her childhood years, or locking herself up in the only bathroom at house parties while her irritable bowel syndrome flares up. But she relates these stories with endearing humour. "Getting to laugh at myself was really fun, because there's a lot of embarrassing stuff in the book," Shafi says.
Small, Broke, and Kind of Dirty is an effortless read and feels like a relaxed conversation with a good friend. At the same time, the book doesn't shy away from political subjects. Shafi dedicates an entire section to activism that she has personal stake in, like rallying against white supremacy when Doug Ford became Ontario's premier, and volunteering with Ryerson University's Reproductive Justice Collective.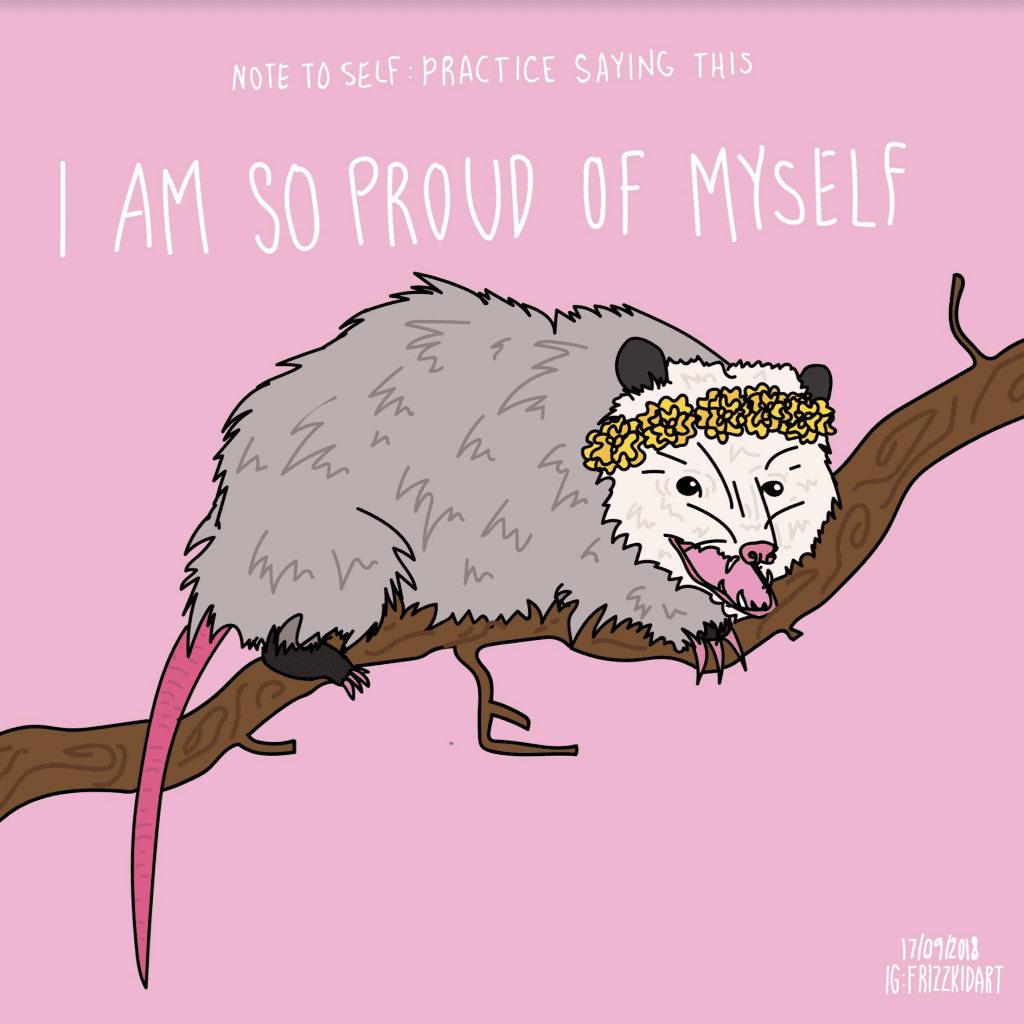 "Art is inherently political. If you feel you're making apolitical art, I think that's very indicative of [your] privilege," Shafi says. She views her messages of kindness and self-love as radical in a culture that uses money and productivity as indicators of a person's worth. As a Muslim woman who immigrated to Canada as a child, she also creates art with marginalized identities in mind, including people of colour and the LGBTQ2 community. Her debut book, the 2018 poetry collection It Begins with the Body, is praised for its raw and funny account of her growth as a brown girl.
Cute animals are another theme in Shafi's work, and while they may not be the first images you'd associate with social revolution, there's something liberating about Shafi calling herself a "marsupial queen" in her section on self-love. In fact, the book's title is inspired by an affirmation featuring an opossum decked out in a crown of yellow marigolds. "They're one of my favourite animals," she says. "But people have such weird feelings about them. The affirmation attached to it is this little opossum saying, 'I am so proud of myself.' And I thought it was adorable and kind of grimy at the same time."
Shafi wasn't expecting her second book to come out in the midst of a global pandemic, but this might be the perfect moment for her work. Small, Broke, and Kind of Dirty is filled with messages of hope and perseverance that are badly needed in these uncertain times. It may even leave you wanting to crown yourself as marsupial nobility, too.
***
This review first appeared in Broadview's December 2020 issue with the title "Embracing our flaws."
Celina Gallardo is a freelance writer in Toronto.
---
We hope you found this Broadview article engaging. 
Our team is working hard to bring you more independent, award-winning journalism. But Broadview is a nonprofit and these are tough times for magazines. Please consider supporting our work. There are a number of ways to do so:
Subscribe to our magazine and you'll receive intelligent, timely stories and perspectives delivered to your home 10 times a year. 
Donate to our Friends Fund.
Give the gift of Broadview to someone special in your life and make a difference!
Thank you for being such wonderful readers.
Jocelyn Bell
Editor/Publisher