Over 20 years ago, writer and scholar Rinaldo Walcott described blackness in Canada as "an absented presence always under erasure" in his seminal work Black Like Who? His words still ring true today — most mentions of Canada's real relationship to Black people are met with the refrain that "things here are not as bad as in the United States." Then and now, Black Canadians have written against this erasure by insisting that what happens to Black people in this country matters.
Desmond Cole builds on this legacy with his first book, The Skin We're In: A Year of Black Resistance and Power. Cole gained prominence as a journalist thanks to a story he wrote for Toronto Life in 2015 detailing his own experiences with police carding. He later became a Toronto Star columnist, but left the position after an editor informed him that his protest at a police board meeting violated company policy (even if the paper had given columns to activists in its past).
Despite this break with one of Canada's largest papers, Cole's journalism continues. By diligently documenting Black resistance in this country over the course of 2017, The Skin We're In creates a living archive of the struggle for Black freedom, and an incriminating account of institutionalized white supremacy.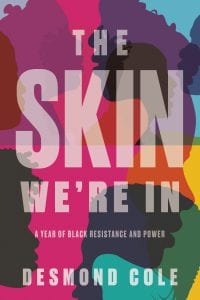 The Skin We're In proves that oppressive systems rely on silos to uphold their power: the fact that injustices are rarely mentioned in relation to one another in popular discourse allows patterns to remain hidden. But it is impossible to ignore the similarities between the stories of Abdirahman Abdi, the Ottawa Somali man who was killed by a police officer in 2016, and Andrew Loku, a Toronto man of South Sudanese origin also killed by a police officer in 2015, after they are brought together in this book — both men lived with mental health issues, and both were engaged in conversation with a civilian who was "listening and de-escalating, immediately before the police acted violently."
Cole also emphasizes that the treatment of Black people in Canada cannot be separated from the fact that this settler state exists on Indigenous lands — our oppression is but a continuation of this colonial legacy.
Through illuminating parallels like these, Cole shows how "white supremacy thrives in large part by avoiding being named or identified." He leaves no room for such evasion in his work: education, policing, immigration, border services and all levels of government are implicated in his critique of systemic racism. "White supremacy has a mission for all of us, if we choose to accept it," Cole writes. His book demonstrates that Canadian institutions have chosen to play their parts well.
By documenting Black resistance, The Skin We're In also maps Black activism across the country: countless advocates, community members, artists, parents and youth whose names we often ignore contribute daily to our collective history by demanding it become more just. Recognizing these people and their struggle combats revisionist versions of Black history, past, present and future.
The Skin We're In is bound to become a staple of Canadian writing at large, and of Black Canadian writing more specifically. Cole writes about events so close we remember seeing them on our social media timelines, moments so real they are still palpable — there's no hiding behind the veil of values from times past. The Skin We're In asks us to judge our society at face value and acknowledge our role in upholding white supremacy, because we were all here when these things were happening. The truth is here and it speaks, Cole reminds us, if we only have the courage to pay close attention, to truly listen and to understand what it has to tell us.
Broadview is an award-winning progressive Christian magazine, featuring stories about spirituality, justice and ethical living. For more of our content, subscribe to the magazine today.