The Christmas Eves of my childhood started well after most people had eaten their festive cookies and packed away the sparkling lights. As part of the Coptic Orthodox denomination, a Christian minority in our home country of Egypt, my family marked the occasion at midnight on Jan. 6, much like other Ukrainian and Russian communities that follow the eastern tradition. Christmas Eve was about breaking the fast — instead of spending December snacking on Advent calendar surprises, Copts abstain from meat and dairy, a mark of self-control, obedience and piety.
Before coming to Canada in 2008, my family and I settled and resettled in the United Arab Emirates, Cyprus and Egypt because of my father's work. Experiencing a collision of cultures across the Middle East and Mediterranean, we managed to retain our Coptic identity and clung to the diaspora in every new city.
---
Interested in more stories like this? Subscribe to Broadview's weekly newsletter.
---
On the morning of Christmas Eve, my mother would disappear into our kitchen. There, she assembled the fattah, a dish of buttery rice, crispy flat bread and tender beef drenched in a vinegary broth; warak enab, ground beef, tomato sauce and rice meticulously wrapped in grape leaves; and kibda, beef liver seasoned with salt and pepper and fried in unholy pools of oil and butter. These treats remained concealed in pots until after the evening church service.
The Christmas Eve ritual wasn't just about food (though that was my favourite part). My sister and I would put on new outfits and parade into my mother's bedroom, where she opened a little box of gold treasures passed down from family members. One year, I'd get to wear a turquoise ring; another, I'd put on gold studs that had been presented at my baptism. Then, we'd head out to a crowded midnight service. Some years, I was transported by the incense and transfixed by the sermon about the birth of Christ; other years, my head would slide down the bench and I'd snooze to the sound of the cymbals and Coptic hymns.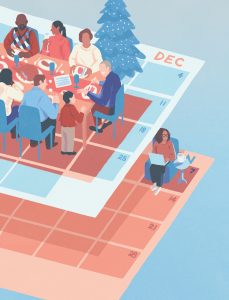 The following day, Jan. 7, after a rich breakfast, we'd head to the park with at least six other families to barbecue piles of meat and eat chocolate Santas purchased weeks in advance and stowed away for this moment. For me and other Coptic kids, Christmas was an opportunity to spend time with friends or cousins we hadn't seen in weeks or months. What I didn't realize at the time was how important these gatherings were for a religious minority like ours.
Now, those traditions feel like someone else's life. In the early days of our move to Mississauga, Ont., I found myself waiting on a dark suburban street corner for a bus that was often late while the snow seeped through my best church outfit. Eventually, I skipped the evening service because of the frigid weather.
I only celebrate with my mother, my sister and our husbands (neither of whom are Coptic). Most years, we shift the celebration to another day because Jan. 7 falls during the work week and one of us can't get the time off. In 2021, we missed the celebration altogether because of the pandemic, and I worry that this sets a precedent for a disappearing holiday.
I know my story is not unique. Michael Akladios, the founder of Egypt Migrations, an organization that works to archive the experiences of Coptic migrants to Canada, says celebrations have become smaller over the years and the atmosphere has changed. He believes the biggest cause isn't our attempt to adapt to North American culture, but rather a result of families being scattered and displaced around the world, making it almost impossible to gather even on the holiest holidays.
---
More on Broadview:
---
Still, it's hard not to feel responsible as the holiday recedes. More than anything, I feel like I've subconsciously betrayed my culture, which is increasingly foreign to me and moves on without me. I see it in the foods I've never been introduced to and the references that pass me by when I scroll through my Facebook feed full of posts by old Sunday school friends. Perhaps it's the cycle of betrayal that feels the worst: the more I pulled away, the more I didn't fit in, which made me pull away more.
Lately, I find myself clinging to the culture I fear losing. In the last year, I've spent hours scrolling through Instagram accounts that document centuries-old Coptic culture, history and art. I've proudly texted my mom on Sunday evenings after successfully recreating her liver recipe (even though it's one of the easier dishes). And, recently, I've found myself heading to the small Coptic church near Toronto's Little Italy. There, I stand in the back, taking in the chimes of the cymbals and breathing in the incense — and, for a moment, I feel like I'm home.
***
Carine Abouseif is a writer and editor based in Toronto.
This story first appeared in Broadview's December 2021 issue with the title "Rituals Lost and Found."
---
We hope you found this Broadview article engaging. 
Our team is working hard to bring you more independent, award-winning journalism. But Broadview is a nonprofit and these are tough times for magazines. Please consider supporting our work. There are a number of ways to do so:
Subscribe to our magazine and you'll receive intelligent, timely stories and perspectives delivered to your home 8 times a year. 
Donate to our Friends Fund.
Give the gift of Broadview to someone special in your life and make a difference!
Thank you for being such wonderful readers.
Jocelyn Bell
Editor/Publisher