WASHINGTON (RNS) — A group of clergy protested outside Sen. Mitch McConnell's office on Tuesday (Aug 6), calling on the Republican Senate majority leader to take action to address gun violence in the wake of two mass shootings over the weekend.
The band of around two dozen faith leaders, who called themselves the Coalition of Concerned Clergy, prayed and challenged what they said was the Senate's inaction on the issue of gun violence.
Helping lead the event was the Rev. Rob Schenck, who serves as president of the Dietrich Bonhoeffer Institute, a nonprofit organization that addresses social issues from a Christian perspective. He listed a number of possible policies lawmakers could pass to address gun violence, such as universal background checks or "extreme vetting" for citizens wishing to purchase an assault rifle, but stressed the issue is a moral one.
"As a Christian … we are required to rescue those who are perishing, to come to their aid, and the Bible says if you fail to do it God will hold you to account," Schenck, who is also a founding signer of an evangelical Christian pledge to take action on gun violence, told Religion News Service. "That's our message to the senator today. Maybe he fears the NRA more than God. He shouldn't."
Also in attendance was Bishop Mariann Budde, the Episcopal bishop of Washington, D.C. A longtime advocate for gun violence prevention, Budde said Congress could pass a number of laws to prevent future bloodshed.
"I am among those who believe weapons of war don't belong in the hands of civilians," she said. "We've just been lulled into this sense of false helplessness that I find to be one of the greatest manifestations of sin that we need to fight against."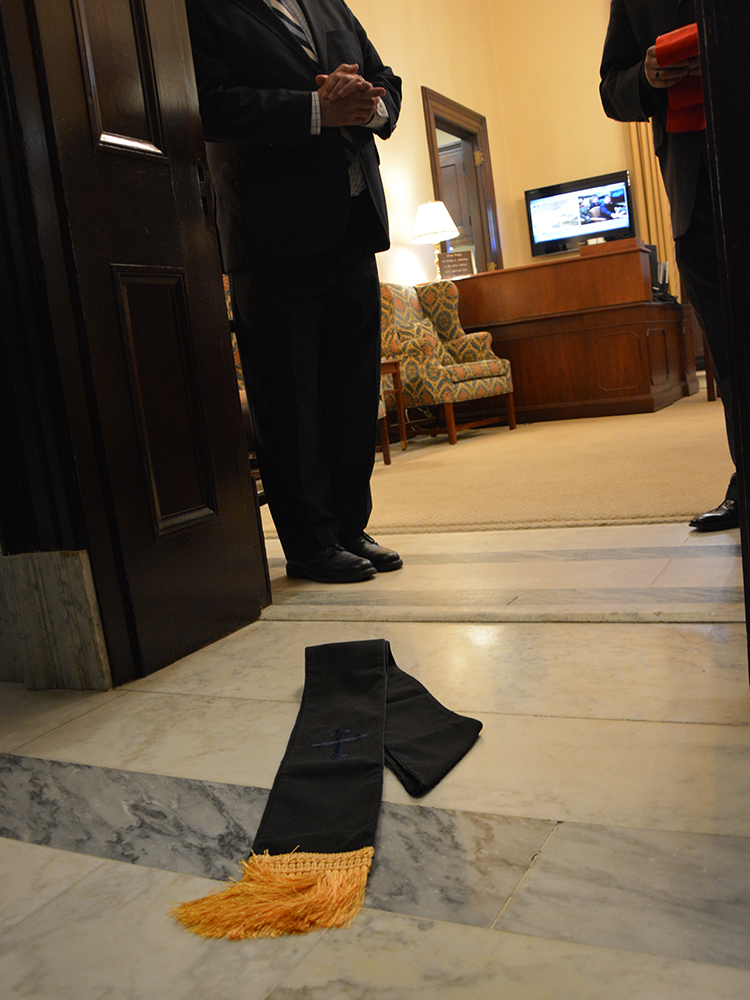 Speaking to the crowd a few minutes later, Budde compared the scourge of gun violence to the rash of lynchings in America's past, expressing hope that future generations will recollect mass shootings with disdain and disbelief.
"We will look back on these days and wonder how it was that we could have been so collectively aligned to such a needless proliferation of weapons meant to take human life," she said.
As they stood outside McConnell's office, faith leaders read the names of those recently felled during mass shootings in El Paso, Texas, and Dayton, Ohio.
Rabbi Jack Moline, president of the advocacy group Interfaith Alliance, also addressed the gathering.
"Enough thoughts and prayers," he said. "It is about guns. Guns. Guns. Guns. Guns."
McConnell, who is reportedly recovering from a fall, was not in his office. But faith leaders presented his staff with a letter, signed by the group, calling for action on gun violence.
"We represent a growing coalition of religious leaders from Christian, Jewish and other traditions who are deeply concerned about the inaction of the Senate when it comes to common sense gun regulation," the letter reads. "No more words need to be said. What is required now is action that results in effective, measurable legislative outcomes that the President can sign, enforce and report on to the American people."
It concludes: "We are watching, we are praying, and we are demanding."
As the demonstrators left, Schenck left a black clergy vestment he called a "stole of mourning" on the ground outside McConnell's office.
The group is part of a long line of faith-led activism centered around preventing gun violence. Faith leaders played a prominent role in efforts to pass gun control legislation in the aftermath of the 2012 shooting at a school in Newtown, Connecticut, that left 26 people dead — most of whom were children. Two days later, the dean of the Washington National Cathedral declared that "the gun lobby is no match for the cross lobby," and a variety of other faith groups called for legislation that could prevent further shootings. And in 2018, several religious groups participated in the March for Our Lives protest, which drew thousands to Washington, D.C., to demonstrate against gun violence.