(RNS) — More than half of American Jews continue to experience or witness anti-Semitic incidents in the form of comments, slurs or threats according to a new poll released by the Anti-Defamation League on Wednesday (March 31).
The poll, conducted in January by YouGov, also reveals that nine percent of American Jews reported being physically attacked in the last five years.
---
More on Broadview:
---
The poll is the second in a row conducted by YouGov for the ADL and it shows a slight uptick in anti-Semitic incidents, with 63 percent of respondents saying they had experienced or heard anti-Semitic comments, slurs or threats targeting others, up from 54 percent a year earlier.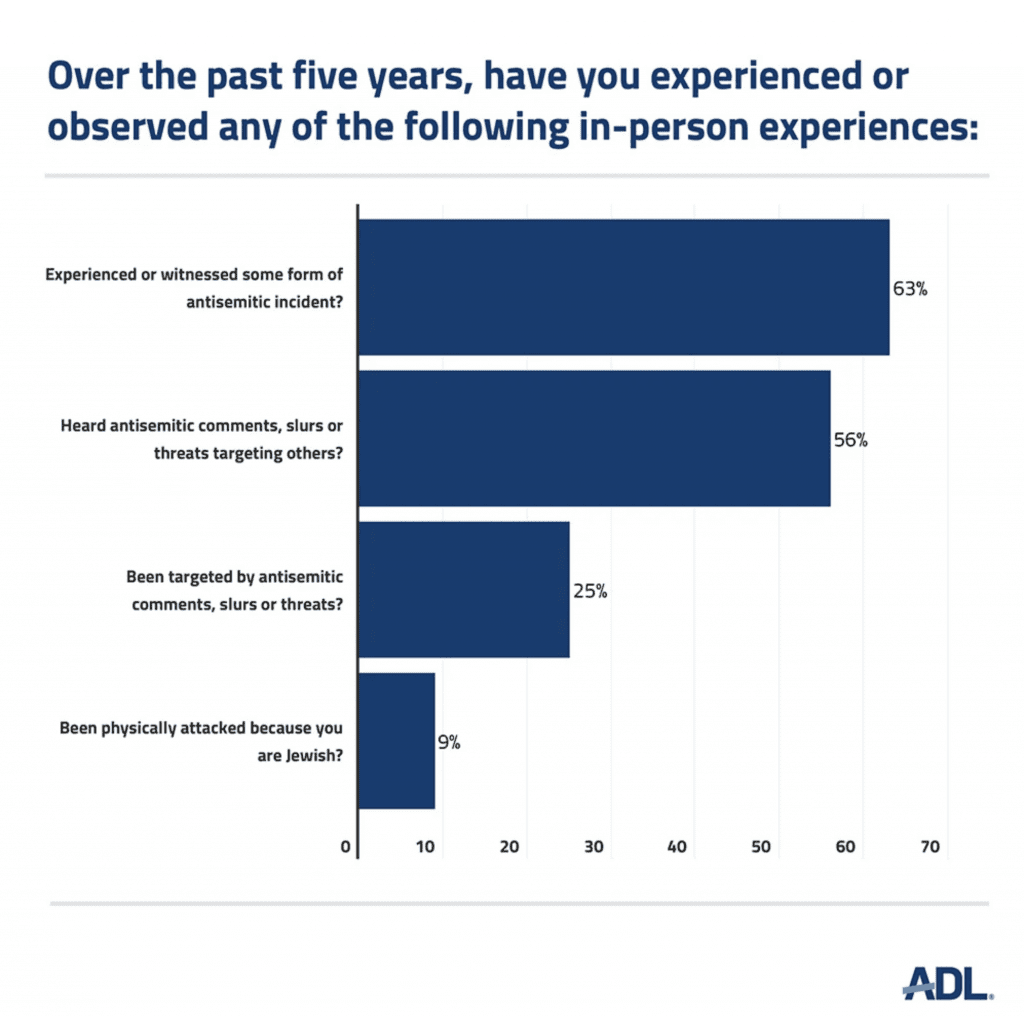 "In the aftermath of major anti-Semitic attacks in Pittsburgh, Poway, Jersey City and Monsey, American Jews are reporting that they feel less safe in the U.S. today than they were just a decade earlier," said the ADL's chief executive officer, Jonathan Greenblatt, referring to the fatal shooting and stabbing of Jews in those cities in 2018 and 2019.
In the past year, many of the anti-Semitic incidents took place online, with 36 percent saying they had experienced some form of online harassment, mostly on Facebook. Most Jews said they had been called offensive names, but 13 percent said they were physically threatened online. The poll showed the vast majority of Americans want online platforms to better address harassment and make it easier to report hateful content.
Jewish vulnerability, which had gone down in the decades following World War II is up dramatically, with 59 percent of Jewish Americans saying they feel less safe in the U.S. today than they were a decade ago.
And nearly half (49 percent) reported being afraid of a violent attack at a synagogue. Most synagogues in the U.S. beefed up security in the wake of the Pittsburgh massacre at the Tree of Life synagogue that killed 11 Jews.
The survey of more than 503 Jewish American adults over the age of 18 was conducted from Jan. 7-15, 2021 and has a margin of error of plus or minus 4.4 percent.