(RNS) — The day after Juneteenth, the celebration of the end of American slavery, Yehudah Webster woke up with an idea: What if his fellow Jews undertook a 40-day period of mourning for the violence inflicted on Black lives?
He checked the calendar and found that 40 days out would fall on Tisha B'Av, the Jewish day of mourning for the destruction of the Jerusalem Temple.
Wow, he thought. This must be divinely inspired. So the community organizer for the New York-based Jews for Racial and Economic Justice quickly typed up a proposal for "40 Days of Teshuvah" (return or repentance in Hebrew).
On June 21, five Jews gathered at Brooklyn's Grand Army Plaza with a shofar, or ram's horn, to cry and wail to the heavens for justice.
Every day since then, a couple of dozen Jews have gathered with Webster at the plaza carrying shofars and hand-drawn signs reading "Defend Black lives" and "Defund the police."
"Scripture says to raise up our voices like a shofar," said Webster, a Black Jew of Guyanese ancestry. "I thought, 'What would it look like to bring back the sound of the shofar as something that we hear and to do it for a significantly spiritual amount of time and to humble ourselves and cry out?'"
The daily action will culminate Thursday (July 30), on Tisha B'Av, a day when observant Jews fast, read the Book of Lamentations and sit low to the ground to mourn the destruction of the first Temple by the Babylonians in 586 B.C.,  and the second by the Romans in the year 70.
Until recently, most American Jews paid little attention to Tisha B'Av. For years, the Reform movement, the largest of the American Jewish denominations, did not observe Tisha B'Av, holding that it was inconsistent with contemporary Judaism.
But the rise of anti-Semitism and the growing crisis of many issues dear to American Jewish interests — the crackdown on immigration, the rise of white supremacy and most recently, the belated awakening to injustices against African Americans — have led various groups to reevaluate the message of collective mourning inherent in Tisha B'Av.
"Now more than ever, having access to the language of lament, having a means to channel our grief into some kind of meaningful action or activity, what an important spiritual tool and practice to be able to offer — to grieve together and to take that grief and make something out of it," said Rabbi Nora Feinstein, director of organizing at T'ruah, a network of rabbis and cantors that fights for human rights.
T'ruah is having its own Tisha B'Av online event dedicated to action on behalf of immigrants in U.S. detention facilities.
But many groups are focusing on Black lives this year, with some urging members of Congress to formally introduce the BREATHE Act, a sweeping bill to close federal prisons and immigration detention centres, abolish U.S. Immigration and Customs Enforcement and reallocate funds from policing to social welfare, health care, education and environmental programs. The bill is proposed by the Movement for Black Lives.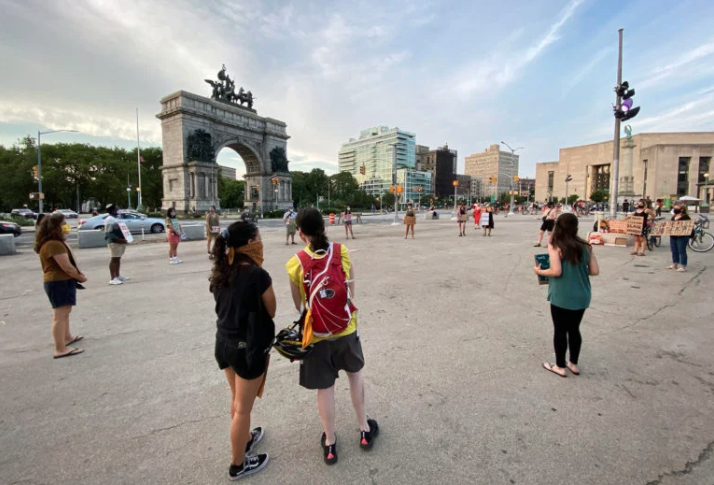 Bend the Arc, another Jewish organization focused on community organizing and leadership training, is also holding a Facebook Live event on the eve of Tisha B'Av — to mourn violence against Black people.
In addition to grieving injustices past and present, the event will try to steer participants toward action.
"We're looking at this opportunity to be thinking about what the world to come looks like, what is the world of possibility if we keep up the fight?" said Graie Hagans, national organizer and training manager at Bend the Arc.
In contrast, Webster focused his "40 Days of Teshuvah" (or "return" in Hebrew) on the spiritual act of crying out to God.
"So much of our political scene doesn't make room for collective mourning," he said. "This is a part of our tradition we've been cut off from. Our ancestors in moments like these would wail together. What would it look like for a great cry to go up? Perhaps it's time to admit our own devices are not enough. We must look to the heavens and cry out for a spiritual intervention."