Is your church struggling with the impact of COVID-19? Are you looking for practical tools to help navigate these times of change? Thriving Churches: Urban and Rural Successes shares the features that have helped successful urban and rural United churches not only survive, but thrive—before and during the COVID-19 pandemic.
The manager of the United in Learning webinar series on Thriving Churches, Rev. Stephen Fetter, writes, "I'm not surprised we had over 200 participants in this first round of webinars. The topic could not be more timely. This book sparkles with good ideas and enthusiasm. It must have been really exciting to listen to folks sharing their vision and dreams for the ministry in each of those congregations. I bet those meetings were lively, with lots of laughter and energy. It sure comes across that way in the book."
The Rev. Loraine MacKenzie Shepherd, minister at Westworth United in Winnipeg, and the Rev. Tammy Allan, minister at Olds-Sundre Pastoral Charge, Alta., travelled across Canada visiting flourishing United churches to uncover the reasons for their success. This book shares what they discovered so that you can learn from the insights of the 17 congregations they visited.
Thriving Churches identifies six characteristics shared by successful churches and 14 spiritual attributes that connect to the early churches, as described in scripture. Filled with concrete examples from congregations of various sizes, this book will inspire. It includes an easy-to-use study guide on spiritual attributes of thriving churches to use with your congregation in person or online.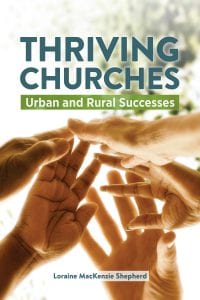 After churches around the world closed their buildings due to COVID-19, Shepherd and Allan reconnected with the congregations they had visited to see how well they were doing. They discovered that when the pandemic crisis hit, these thriving churches shared the characteristics they needed to meet this significant challenge. They were able to quickly respond to the crisis, such as adopting online worship and finding creative ways to connect with their communities.
Carman United in Carman, Man., is one of the rural congregations highlighted in the book. The Rev. Harold Kenyon describes Carman's experience during the pandemic. "We are excited to present worship and study in new ways and believe that this new reality will be a part of our ministry going forward," he notes. "It's clear that worship and studies shared online, by e-mail, by Canada Post, and in person have increased engagement in a significant manner."
Eagle Ridge United in Coquitlam, B.C., is one of the urban congregations whose experience Shepherd shares. One congregant spoke of how Eagle Ridge has responded to the new realities: "During this pandemic, truth/honesty, love…and responsibility have sustained our congregation and enabled it to respond quickly with flexibility and creative adaptation of ministry priorities."
In his foreword, the Very Rev. Gary Paterson, former moderator, sums up the book's value: "So many of us are trying to figure out how to respond to God's call to be the church in these times…. Thriving Churches will spur your thinking about the church of the future, combining hope and challenge, spiritual attributes, and practical suggestions."