Garnet Angeconeb was sitting in his living room in Sioux Lookout, Ont., when news from Kamloops, B.C. flashed across his television: 215 bodies of buried children were found at the Kamloops Indian Residential School. On May 27, Tk'emlúps te Secwépemc Kukpi7 (Chief) Rosanne Casimir released a statement about the students' remains.
A 65-year-old survivor of Pelican Falls Residential School originally from Lac Seul First Nation and a member of the Order of Canada for his advocacy work on behalf of other survivors, Angeconeb cycled between wanting to cry, to feelings of anger and validation.
"One question that came to mind was: when is this all going to be over?" he said. As a longtime activist who has witnessed Canada's reckoning with the residential school system, Angeconeb is frustrated that the Catholic Church, which oversaw a majority of residential schools including the one in Kamloops, has evaded responsibility for so long, and he wants it to pay the millions it originally promised survivors.
---
More on Broadview:
---
From 1890 to 1969, a Catholic entity called the Missionary Oblates of Mary Immaculate ran Kamloops Indian Residential School on the traditional territory of the Secwépemc people, before the federal government assumed control, turning it into a day school until 1978. Throughout the school's history, there were widespread reports of abuse and starvation. 
Angeconeb emphasizes that the findings at Kamloops reflect the legacy of Canada's residential school system, set up to forcibly assimilate Indigenous children and excise any traditions, cultural practices, or languages they knew. "This is living history," he said. The first residential school opened in the 1830s, and the last one closed in 1996. "We have survivors of the Indian residential schools still alive today that are dealing with the pain of historic trauma."
The Catholic Church has recently come under fire in particular for its involvement in residential schools. It ran roughly 60 percent of the schools in Canada, according to The Globe and Mail, and the Missionary Oblates of Mary Immaculate operated approximately 47 percent overall, according to The Canadian Press. Now, there are even calls from United Nations experts to formally investigate the Church's role.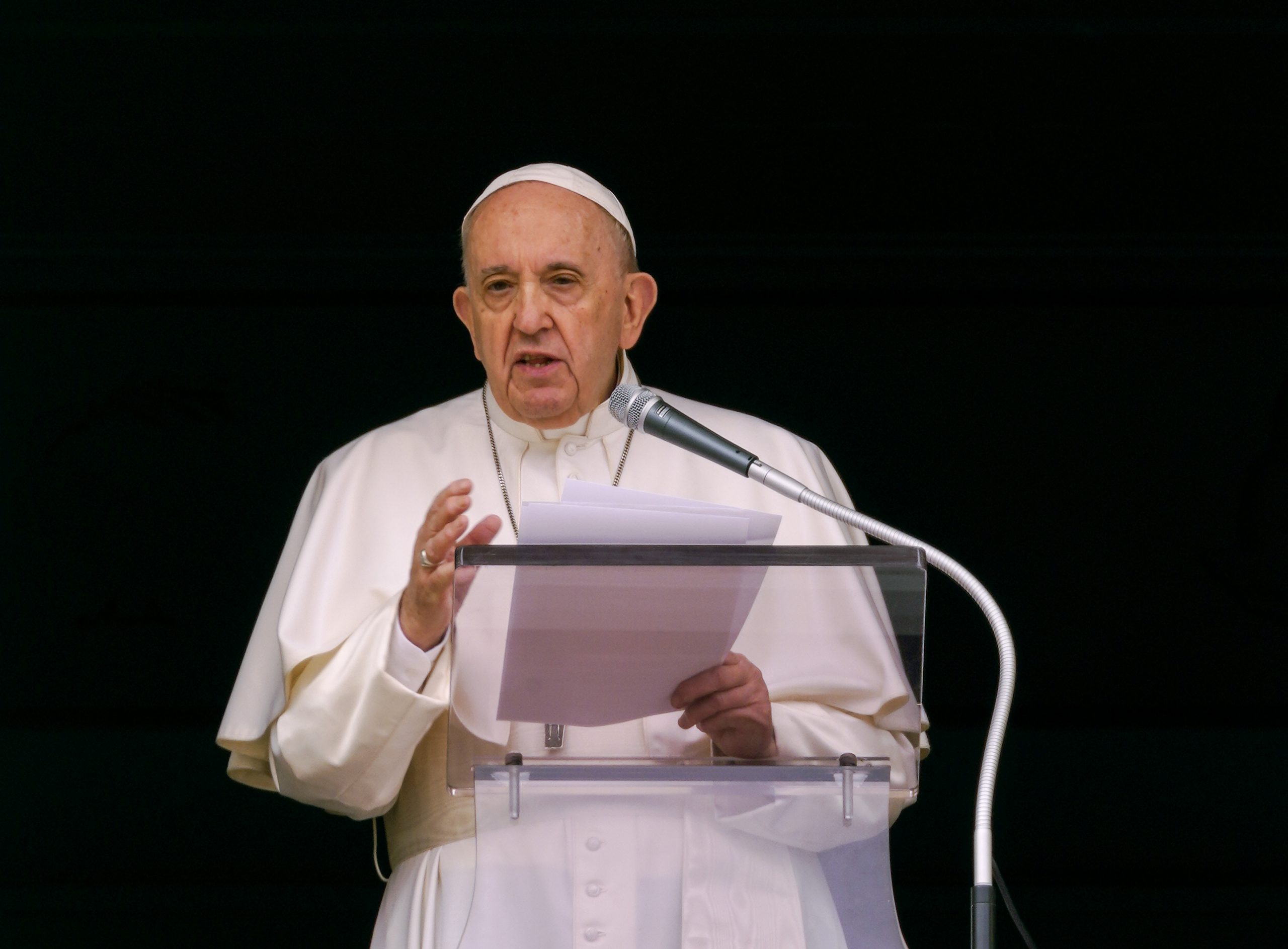 Yet, after the discovery of the burial site at Kamloops, Pope Francis has only said he felt "pain" to learn of the "sad discovery." Although the Canadian Conference of Catholic Bishops has voiced their "deepest sorrow," when Archbishop J. Michael Miller of the Vancouver Archdiocese called on other Catholic organizations to open access to their residential school archives containing essential information for identifying remains, he has been met by silence from the Missionary Oblates of Mary Immaculate. 
In their statement, the Missionary Oblates of Mary Immaculate expressed "sincere regret" for their participation in the residential school system, but they have not confirmed if they will release their records, which they have refused to do in the past.
"The Catholic Church has played hardball with the Indigenous peoples," Angeconeb said. 
He knows this better than most. He was a former board member of the Aboriginal Healing Foundation, which ran from 1988 until 2014, when the Stephen Harper government cut off its funding. This organization, dedicated to bringing community-based healing supports to Indigenous peoples nationally, was included in the Catholic Church's original commitments in the Indian Residential Schools Settlement Agreement (IRSSA). This agreement came into effect in 2007 and is the largest class-action suit in Canada's history. 
Under the IRSSA, the Catholic Church agreed to pay $79 million overall as restitution for their involvement in the residential school system. $29 million would be paid in cash, the majority of which was supposed to go to the Aboriginal Healing Foundation. Another $25 million would go to unspecified "In-Kind Services," and the Church also committed to fundraising through its "best efforts" an additional $25 million for healing supports for residential school survivors, families, and communities. 
However, an investigation from The Globe and Mail in 2016 found that a legal misstep in a 2013 lawsuit got the Catholic Church off the hook for over $20 million. The government filed the lawsuit against Catholic entities, alleging that they were $1.6 million short in their payment to the Aboriginal Healing Foundation. 
The Globe examined court documents, which revealed that during email negotiations, Gordon Kuski, the Catholic entities' lawyer, was allegedly led to believe that Alexander Gay, the government's lawyer, had accepted a proposal by the Catholic entities. This would allow the Catholic entities to pay $1.2 million in return for being released from all other financial obligations in the IRSSA that had not yet been met.
"The Catholic Church has played hardball with the Indigenous peoples."

— Garnet Angeconeb
The proposal effectively meant that the Catholic Church dodged its original commitments to survivors, including its agreement to fundraise through its "best efforts" $25 million for healing supports. The investigation found the Church had only raised $3.7 million of this amount, and a financial statement suggested that less than $2.2 million was actually donated. Broadview reached out to the Crown-Indigenous Relations and Northern Affairs Canada Department and the Canadian Conference of Catholic Bishops for comment, but did not receive a response. 
"The Catholic Church did not honour its commitments in the [Indian] Residential School Settlement Agreement," Angeconeb said. "In fact, they choose to play games with survivors."
The Globe reported that although the government had no intention to accept Kuski's proposal, a judge ruled otherwise, and the Catholic Church was no longer bound to its original commitments to fund residential school survivors' healing. Angeconeb sees this as a monumental loss. In an open letter calling for a review of the IRSSA, he also says that now, more than ever, after the discovery in Kamloops, Indigenous peoples need adequate community-based healing initiatives. He believes that the money originally promised by the Catholic Church under the IRSSA could have helped sustain those supports. 
"When you heal one person, it has a multiplying effect on the community," he said. "But it does take resources to do that." 
Although the Catholic Church is no longer legally obligated to fundraise the entire $25 million, Angeconeb contends that the denomination should hold itself accountable to its initial promise. "It's time to satisfy these agreements … and then just honour its commitment that it said that it would do," he said. "I think that would be a good gesture."
Those funds can aid the healing process of residential school survivors and their surrounding communities. The community-based healing initiatives that Angeconeb participated in during his time with the Aboriginal Healing Foundation empowered Indigenous peoples by allowing them to design their own healing programs. 
"It brought about a sense of restoration," he said. "And it brought back a sense of who we were as a people."
To find any further measure of closure though, Angeconeb believes the Catholic Church must also begin with an apology. Despite long-standing calls from figures like Prime Minister Justin Trudeau for the Pope to issue a formal apology to residential school survivors, the Vatican has remained silent. Angeconeb sees this as a sign of a lack of sincerity in efforts to mend relations with Indigenous peoples.
"[An apology] is an acknowledgement of the truth," he said. "Without that, there's no real meaningful way to heal."
"There can be no real reconciliation."
***
Stephanie Bai is Broadview's 2021 digital intern. 
Emotional support or assistance for those who are affected by the residential school system can be found at Indian Residential School Survivors Society toll-free 1 (800) 721-0066 or 24 hr Crisis Line 1 (866) 925-4419.
---
We hope you found this Broadview article engaging. 
Our team is working hard to bring you more independent, award-winning journalism. But Broadview is a nonprofit and these are tough times for magazines. Please consider supporting our work. There are a number of ways to do so:
Subscribe to our magazine and you'll receive intelligent, timely stories and perspectives delivered to your home 8 times a year. 
Donate to our Friends Fund.
Give the gift of Broadview to someone special in your life and make a difference!
Thank you for being such wonderful readers.
Jocelyn Bell
Editor/Publisher