From time to time, Broadview brings you information from our partners that we think you'd be interested in. This content supports our work. 
This holiday season, we'll all be looking for a chance to get away from our screens, reflect, learn and read good stories. Here are some great ideas for the readers on your list.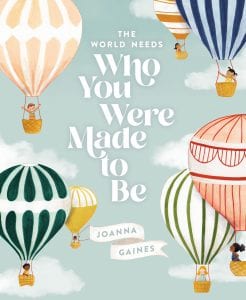 The World Needs Who You Were Made to Be
By Joanna Gaines
The World Needs Who You Were Made to Be, by bestselling author Joanna Gaines, illustrated by Julianna Swaney, celebrates how creativity and acceptance can come together to make for a bright and beautiful adventure. The book follows a group of children as they each build their very own hot-air balloons. As the kids work together, leaning into their own skills and processes, to fill the sky with beautiful colours, we discover that the same is true for life; it's more beautiful and vibrant when our differences are celebrated.
The kids in your life will take a journey of growth and imagination as they learn that:
We should celebrate every child's one-of-a-kind strengths as well as teamwork and acceptance of differences
Everything can be made more beautiful when we share our talents and abilities
We should lend a helping hand and do our best to take care of one another
---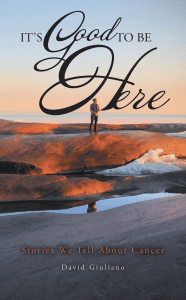 It's Good to be Here: Stories We Tell About Cancer
By David Giuliano
From award-winning author David Giuliano, It's Good to be Here: Stories We Tell About Cancer is a courageous and deeply personal book about the author's more than 20-year journey with cancer.
It is part memoir, part spiritual meditation, in which Giuliano challenges the ubiquitous and one-dimensional "battle with cancer" narrative, with alternative narratives about temples, treasure, light, pilgrimage, wolves and love. It is a deeply personal offering of Giuliano's wisdom and humanity, and maps a creative spiritual route to hope in difficult situations.
It's Good to Be Here is a fiercely honest, at times funny, book about the metaphysics of medicine and the power of story to heal.
Other publications by David Giuliano: Postcards from the Valley: Encounters with Fear, Faith and God, and children's books: The Alligator in Naomi's Pillow, and Jeremiah and the Letter E.
Find all of these and more at The United Church Bookstore.
---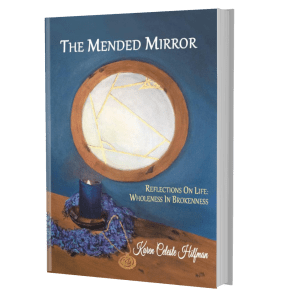 The Mended Mirror
By Karen Hilfman
The Mended Mirror by Karen Hilfman is a new book for 2020 and beyond, exploring how we can see goodness and possibilities in the midst of brokenness and chaos. While this is the story of the author's life dealing with the complexities of a mother with the undiagnosed mental health challenge of having eight alter personalities and the shocking DNA news of an extra biological father in the family, it is also a story that explores our universal longing for authentic connection with our self and each other.
Through Karen's life passion to create authentic connection culture, readers engage stories that reflect the principles and practices that help us move past the clutter to tap into the wisdom and creativity within us and amongst us to identify a way forward that focuses on the well-being of all.
The book has been described as intriguing, inspiring, fascinating and thought provoking. The stories span a lifetime of experiences filled with insights and learnings, chaos and how to both uncover, and grow, goodness and love.
Book Circle guide in book. For more about Karen Hilfman, please go to www.themendedmirror.ca.
Available at Indigo, Amazon, Manticorebooks.ca and the United Church Bookstore.
---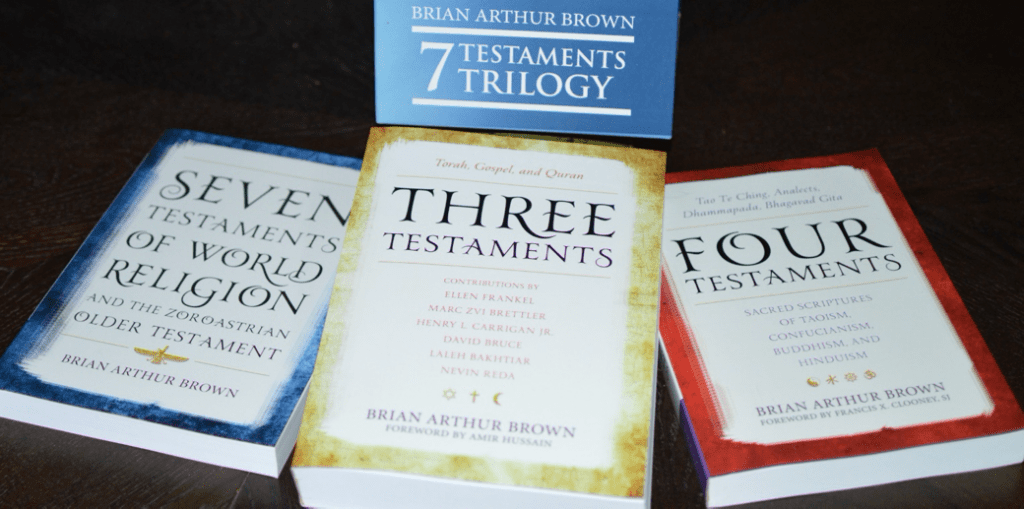 Seven Testaments of World Religion
By Brian Arthur Brown
Boxed sets of Evergreen Award-winning Seven Testaments of World Religion trilogy are available in Canada from Wood Lake Publishing at an introductory promotional price of $99 Canadian. Watch for ads in the next issue of Broadview for instructions on how to get codes to join a world-wide Zoom launch for the trilogy, sponsored by Rowman & Littlefield (the publisher), Wood Lake Publishing (the Canadian distributor), Religions for Peace (the largest interfaith body in the world) and the United Nations Association (kicking off the United Nations Week for Religious Harmony). Associate Registrar James Christie describes this trilogy as certain to become the main go-to resource for interfaith studies. You may obtain your set prior to the United Nations Week launch.
Individual copies are available from all booksellers, but so far, the legacy edition in the boxed set is only available in Canada at customerservice@woodlake.com. Introductory promo price of $99.