In tiny Elliott Park, a spartan municipal campground with seven gravel-topped campsites, visitors can stay for five dollars a night with no check-ins and no permits required. The Exeter, Ont., park is maintained by volunteers and operates on an honour system similar to the roadside vegetable stands that dot this community of 4,800 people in Huron County, about 40 kilometres north of London, Ont.
In 2016, complaints started about campers overstaying. Some allegedly left drugs and drug paraphernalia scattered on lots a few blocks from the busy downtown shopping district. But as the municipality moved to clean up the park and ban long-term camping in 2019, the larger community was forced to confront deeper issues that had previously festered out of sight.
Homelessness has always been a concern in Huron County, but as in many other rural communities, it was mostly hidden. Without the park as an option, people began sleeping on benches downtown, in doorways and between stately 19th-century storefronts.
Nearly half of Huron County residents made less than a living wage in 2019, and the COVID-19 pandemic pushed many more into precarious situations. Apartment vacancies are exceedingly rare and increasingly expensive, and Exeter has no emergency shelter.
With so many factors at play, local faith groups sprang into action. They wanted to change the abrasive discussion about poverty that had erupted on social media. They wanted to develop strategies for addressing homelessness immediately, before the first snowfall, while also pushing politicians for meaningful long-term change.
"If we don't want to see homelessness in our parks or on our streets then we need to start having real conversations about affordable housing, about transitional housing, about temporary shelters," Heather MacKechnie, office administrator at Exeter United, wrote in a letter to South Huron council in August 2019. "We need to find a way to support people so they can access the basic necessities that so many of us take for granted." On social media, she countered negative comments with pleas for compassion and understanding.
---
More on Broadview:
---
One of MacKechnie's posts caught the attention of Andrea Loohuizen, a volunteer co-ordinator at Exeter Pentecostal Tabernacle who runs her church's thrift store and free meals program. Together, they made presentations at local council meetings and formed From Street2Feet, a grassroots response to rural poverty. Several other faith communities, including Exeter Christian Reformed Church, Emmanuel Baptist Church and Centralia Faith Tabernacle, also became integral members.
"We've seen churches come together as one to solve some of these issues," says Loohuizen. "The most encouraging thing about this is, when you do that, nothing can stop you….The sky's the limit."
On a dark, snowy evening late last January, about 55 people gathered in the sanctuary of Exeter United for a community forum on homelessness organized by From Street2Feet. A similar meeting the previous November drew about 140 people, and while tonight's crowd was smaller, they listened quietly and intently to presentations from a representative of the local women's shelter, a lawyer from a legal clinic that helps people on low incomes, mental health and addictions experts, and other specialists.
"No one chooses to be homeless," said Ryan Erb, executive director of the local United Way, speaking softly into a microphone at the front of the room. "Maybe it's the loss of a job, maybe it's a broken relationship that begins the process, and then there's five or six things that happen along the way that keep building until the person is in that situation. And once they're there, it's really difficult for them to get out."
After the presentation, the majority of the crowd stayed to ask for more information about how they could help. What should they do if they see someone sleeping outside in a snowstorm? What number should they call if someone is in crisis? Why hadn't they heard more about this before? Jenni Boles, the head librarian in Exeter, was moved to tears as she spoke about people she's come to know through her work. "Sometimes it's eight o'clock at night and there's a blizzard outside, and you know that you have to close up and you're sending somebody out in the cold," she says. "That's a really hard reality."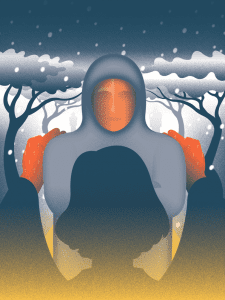 The efforts of From Street2Feet to promote change among local politicians seem to be having an effect. Local mayor George Finch has recently said he supports a housing-first approach and promised to push his colleagues for action until homelessness in Huron County is adequately addressed. In May, the local council agreed to partner with the United Way in a feasibility study for a new affordable housing development in Exeter, and zoning changes have allowed for the creation of new apartments in properties that were previously family homes, churches and schools. Municipal politicians also agreed to form a regional homelessness task force that will work with community groups to implement a cohesive homelessness strategy. This follows a provincially mandated 2014 plan to end chronic homelessness within 10 years.
In the meantime, From Street2Feet stepped in to fill the gaps. Volunteers started providing homeless people with free daily lunches — usually soup and sandwiches — at Exeter United and Exeter Pentecostal Church, in addition to a long-running community meals program that offers two suppers and one hot lunch each month. Exeter United provides grocery gift cards to people in need and has a room full of winter clothes at the church to lend out. From Street2Feet also partnered with McDonald's to distribute gift cards that can be used to buy a hot meal.
Last winter, From Street2Feet volunteers co-ordinated free taxi rides to get people to the county's only emergency shelter in Goderich, Ont., about 50 kilometres north. When the municipality condemned a downtown building in June, several tenants were forced to move out with less than a month's notice. From Street2Feet helped pay for storage units and organized a group of volunteers to move people's belongings into new apartments elsewhere in town. "It was hard. It was scary — to be homeless, suddenly," says Bev Richards, one of the affected tenants. "They're wonderful. If you need help, they're there for you. They're really good."
"We need to find a way to support people so they can access the basic necessities that so many of us take for granted."
In February, From Street2Feet and the United Way of Perth-Huron organized a Coldest Night of the Year walkathon that drew nearly 300 people and raised more than $40,000. As of June, the group had collectively raised $82,000 through online and mail-in donations to the United Way, a GoFundMe page and various smaller fundraisers, including a 10-day period in April when two local pastors agreed to shave their heads in exchange for donations to poverty support programs. These efforts doubled the number of beds available at the Turning Point transitional housing facility in Exeter, which provides stable temporary accommodation for men as they try to bridge the gap from homelessness to permanent housing.
Just as From Street2Feet's fundraising efforts seemed to hit their stride, the COVID-19 pandemic pushed most of Ontario into a prolonged lockdown. Community meal programs were shut down, and churches had to suspend Sunday services.
From Street2Feet pivoted to providing food hampers — with eggs, milk, meat, produce, canned goods and other items — once a week. They also keep cash on hand to help people experiencing homelessness get cellphones so they can access social services. Although the province placed a moratorium on apartment evictions during the early stages of the lockdown, the group is bracing for what might happen when the moratorium ends. The belief is that rural poverty and homelessness in South Huron will get worse before they get better. "We're determined, we're hopeful, but we recognize that there's a lot of work ahead," says MacKechnie.
Although there is a great deal of anxiety about what the future may hold for Exeter's homeless population, the pandemic has been a reminder of the level of privilege many enjoy, and the responsibility faith groups have to feed the hungry and clothe those who need clothing. Those sentiments from the Gospel of Matthew had a huge impact on MacKechnie when she started attending Exeter United about 10 years ago, and they have stayed with her.
"We need to treat each and every person we encounter as though they are Jesus," she says. "And I think that was really what started to form this type of ministry in my mind. We all have that piece of God within us. We are all God's children, and we all deserve to be treated with love and dignity and respect."
This piece first appeared in Broadview's November 2020 issue wth the title "Rural crisis."
Ben Forrest is a writer and editor in Exeter, Ont.
---
We hope you found this Broadview article engaging. 
Our team is working hard to bring you more independent, award-winning journalism. But Broadview is a nonprofit and these are tough times for magazines. Please consider supporting our work. There are a number of ways to do so:
Subscribe to our magazine and you'll receive intelligent, timely stories and perspectives delivered to your home 10 times a year. 
Donate to our Friends Fund.
Give the gift of Broadview to someone special in your life and make a difference!
Thank you for being such wonderful readers.
Jocelyn Bell
Editor/Publisher