This summer, Pearce Williams Summer Camp executive director Joe Richards won't accidentally eavesdrop on two children talking excitedly about something he doesn't understand. 
"[It's what] grown adults rarely get to see — it's just the magic that camp allows kids to be kids and allows them to be who they are," he says.
For the first time in decades, the United Church camp and retreat facility in Fingal, Ont., a half-hour's drive from London, likely won't run any onsite summer programs. Instead, they've started offering those who register access to activities online throughout the week, including crafts, Bible stories, music and fitness activities. 
The COVID-19 pandemic has spurred church camps across the country to cancel traditional overnight programs for the summer. Most provinces aren't allowing sleepover camps, and the cozy cabins, crowded dining halls and big group activities that children treasure are difficult settings in which to control viral spread. Most jurisdictions now permit day camps to operate, but some camps have opted not to risk staff or campers' health and are offering online programs instead.
Rev. Cheryl Kukurudz, the registrar at Anglican Memorial Camp, in Manitoba's Riding Mountain National Park, says the camp is effectively closed this summer. The uncertainty around COVID-19 forced them to delay hiring staff, and now there isn't enough time to do so. 
"If [we do] anything, it would be on a spontaneous level, where we would have the camp committee itself run a family camp or something in August when things open up," she says. 
"It's impossible to run a camp with social distancing, right? We can't even do a day camp."
Anglican Memorial Camp is a smaller operation — roughly 25 kids participate each week. But Kukurudz says that week is meaningful for many young Indigenous campers that come from communities a five- or six-hour drive north. 
"We've developed quite an amazing family with our northern brothers and sisters," she says. "We go up [to their communities] for graduations.
"They're not able to leave their reserve. They're sort of on lockdown up there. So it's a sad thing for them too."
Our Lady of Victory Camp, a summer camp run by the Catholic Archdiocese of Edmonton, will stay closed too.
"We were preparing for opening the summer programs, but things change, and COVID really hit us hard in many ways, and that's why we are not going that way this year," says Lucy Kaakyo, the chair of the Archdiocesan Camps Renewal Committee. In an online note, she called on people to financially support previously planned maintenance work to both Our Lady of Victory and Camp Encounter, another archdiocese-run property.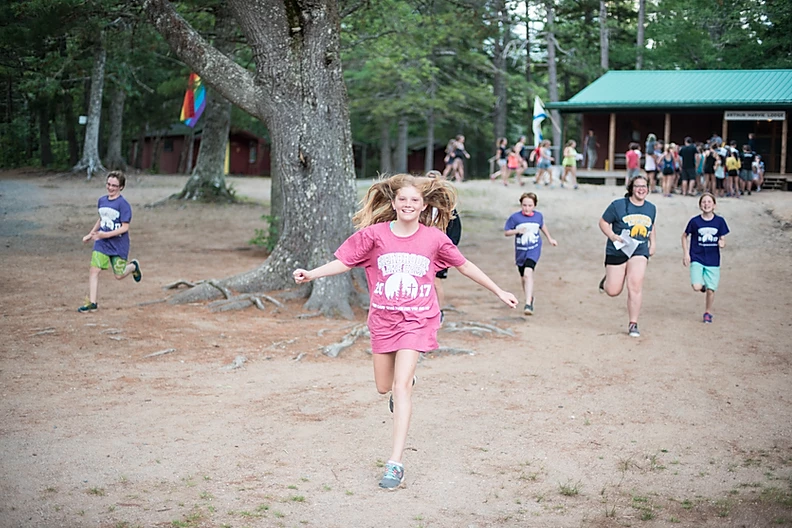 Revenue loss from cancelled programs could be a big problem. Pearce Williams lost more than $75,000 from March to June. The camp recently posted an emergency appeal urging financial help to "save" the camp. 
Richards is also counting on the income from partnerships with area farms to host migrant farm workers that need to quarantine for 14 days before starting work, and he says he expects some to be on site near the end of the month. Five Oaks Retreat Centre in Paris, Ont. has similar arrangements. 
Now that Ontario has released guidelines for day camps, Richards says staff are also now looking at whether or not it makes sense to offer that sort of programming, but that it's not the focus this year.
"We're in the survival mode for Pearce Williams," he says. "So we need to think about how we can generate any income to get us through the next year, and that's to say that summer 2021's going to be normal. It might not even happen, if there's no vaccine."
Richards is hoping this year's fundraising campaign raises between $250,000 and $500,000. The latter amount would give them a cushion for 2021 to be prepared for whatever happens.
Sherbrooke Lake Camp in Lunenburg, N.S. plans to offer a virtual "Rec Box" program for children, as well as a "day pass" so that families can use the United Church camp's beachfront. Executive director Mat Whynott says he's also still looking into whether the camp can allow families or family household bubbles to rent a cabin.
Nova Scotia also recently put out guidelines for day camps in the province, but that will likely mean nothing for Sherbrooke Lake, Whynott says. 
"So we need to think about how we can generate any income to get us through the next year, and that's to say that summer 2021's going to be normal."
"Typically when you run an overnight summer camp, you're in the middle of nowhere anyway," he says.  "That's a 45-minute drive for most families — over that — so that doesn't make much sense for people."
He says he hasn't looked at the guidelines in detail, but thinks that the sheer number of extra precautions required for day camps to keep people safe would mean operation wouldn't make sense for an organization such as his. 
"Every time a kid touches something, somebody should be coming behind them to clean it," he says.
He says camp is a very traditional place, so he knows that campers will have to adjust. 
"When kids only get to come for five days at a time, they want to experience the same thing they experienced last year, right? And so they want to sing the same songs, they want to do the same skits, they want to see the same staff," he says.
But he hopes the virtual programming is so successful that campers and parents want to see more of it.
"So this opens up a whole plethora of opportunities for the future. Do we know what that is? No, but there's more potential for us in the long term, for sure," he says. "Is it going to hurt us financially? Yes, absolutely. But it's not all about finances."
Regardless, he's still lamenting the loss of a summer.
"There are so many people that think that camp is the best community in the world, and it is, but it sucks that we can't do it this year."
---
I hope you found this Broadview article engaging. The magazine and its forerunners have been publishing continuously since 1829. We face a crisis today like no other in our 191-year history and we need your help. Would you consider a one-time gift to see us through this emergency?
We're working hard to keep producing the print and digital versions of Broadview. We've adjusted our editorial plans to focus on coverage of the social, ethical and spiritual elements of the pandemic. But we can only deliver Broadview's award-winning journalism if we can pay our bills. A single tax-receiptable gift right now is literally a lifeline.
Things will get better — we've overcome adversity before. But until then, we really need your help. No matter how large or small, I'm extremely grateful for your support.
Jocelyn Bell
Editor/Publisher